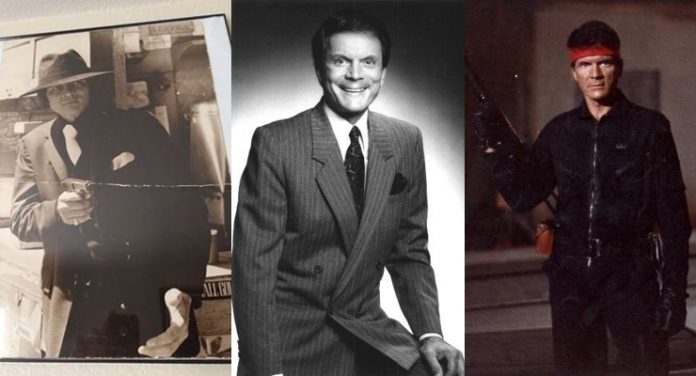 Martial arts legend and quintessential action movie villain Mel Novak has the distinction of battling a who's who of legendary Hollywood heroes and martial arts icons in some of the greatest films in that genre. He is best known as the iconic Stick the Assassin in Bruce Lee's Game of Death (1978) opposite Bob Wall. This noted actor and action film star has worked with the greatest martial artists of all time. Mel has also starred opposite Jim Kelly in Black Belt Jones (1974), Chuck Norris in An Eye for An Eye (1981), which Mel also produced. An Eye for An Eye helped take Norris' career to the next level. He also starred opposite Richard Norton, Joe Lewis and Benny the Jet Urquidez in Force: Five (1981), which was Benny's first film. Mel also starred opposite Bill "Superfoot" Wallace in A Force of One (1979), which was also Bill's first film. The two also starred in Sword of Heaven (1985). Ever the noted martial arts movie villain, Mel has had the opportunity to be directed by legendary filmmaker Robert Clouse (Enter the Dragon) several times including as Stick in Game of Death (1978). Mel shares about working with Clouse on the final fight scene in Game of Death:
"This fight was from 8 PM until 8 AM…in the rain. Had a bruised rib…skin torn on my shoulder and broke a knuckle on my right hand. Director Robert Clouse told me that he was happy he cast me…that I gave him more that he hoped for. Those words blessed me. For 2 weeks he had me work out with world martial arts champs to set the karate fight scenes. Got my butt kicked , but learned a lot and got pretty good…as to what they said. Then 2 days before the big fight, Director said, "I changed my mind…I want Stick to fight like a street fighter"…so that is how the big fight was set up. I did 4 major studio films with Robert Clouse. Loved him. He has since passed away."
Mel Novak was born on June 16, 1942 in Pittsburgh, Pennsylvania. His given name is Mi'lan Mrdjenovich. He played professional baseball with the Pittsburgh Pirates before he began acting. His baseball career was cut short by a massive rotator cuff injury. Mel Novak made his film debut in 1974, appearing in two blaxploitation films, as Doctor in Truck Turner (1974) starring Isaac Hayes and Blue Eyes in Black Belt Jones, starring Jim Kelly. He played parts in The Ultimate Warrior (1975) starring Yul Brynner, Cat in the Cage (1978), starring Sybil Danning, and others followed.
Besides action films, Mel has starred in many genres such as westerns, dramas, romantic comedies, and sci-fi and has done many independent features, such as in Lovely But Deadly (1981) for director/producer David Sheldon, starring B-movie heroine Lucinda Dooling. In the 90's, he appeared in two films for director Garry Marshall, Exit to Eden (1994), based on the novel by Anne Rice, and Dear God (1996). In 2005, he appeared in the action/horror film Vampire Assassin (2005), also featuring Gerald Okamura, (with whom Novak has acted in several films), and Rudy Ray Moore.
In 2008 Mel Novak was inducted in the Martial Arts Hall of Fame in London. Mel was inducted into Alan Goldberg's Action Martial Arts Hall of Fame in 2013 and in 2016 he was inducted into the prestigious All Pro Tae Kwon Do Hall of Fame. He was also bestowed with a Living Legend award from the popular Action on Film Festival in 2016. He also was honored with a Champion Award from the Bridge of Hope Community Centers.
Besides action films, Mel has starred in many genres such as westerns, dramas, romantic comedies, and sci-fi. He played Lippert in The Ultimate Warrior (1975) opposite Yul Brenner and in Tom Horn opposite Steve McQueen. He has also acted in Garry Marshall's films such as Exit to Eden opposite Dan Aykroyd and Rosie O'Donnell and Dear God opposite Greg Kinnear and Tim Conway.
More recently, he starred in Gregory Hatanaka's Samurai Cop 2: Deadly Vengeance opposite Bai Ling. Mel also stars in the ensemble cast of Thomas J. Churchill's upcoming film Checkpoint opposite William Forsythe, Bill Goldberg, Fred "The Hammer" Williamson and Kenny Johnson.
Other upcoming projects include Syndicate Smasher where Mel stars opposite Laurene Landon (Maniac Cop, Sky), Joe Estevez (Dexter), and Arthur Roberts (Revenge of the Ninja) as well as a guest starring role in the three time Peabody award-nominated The Suspense Hour.
He recently wrapped shooting Tales of Frankenstein opposite martial artist TJ Storm, which was written and directed by Don Glut, cult filmmaker and prolific writer of many books such as the National #1 best-selling novelization of The Empire Strikes Back. This film also stars John Lacy (TV's Dark Shadow), Ann Robinson (War of the Worlds), Beverly Washburn (Old Yeller), John Blyth Barrymore (of the legendary acting dynasty), and comic book legend Len Wein, creator of Wolverine.
His first film appearance was a villainous role, where he portrayed a Nazi opposite Jerry Lewis in Which Way to the Front. His first villainous TV role was as a hitman opposite Mike Connors and Abe Vigoda in the classic series Mannix. This role was also his first kill. While he is the ultimate villain on screen, in real life, he is a true hero. He has been bestowed with numerous awards for his acting work as well as humanitarian awards for all his numerous charitable endeavors. He has been volunteering on Skid Row for over 30 years and has counseled prisoners at the most dangerous prisons in the country and has also volunteered with the Special Olympics for 16 years.
Today Mel Novak is an ordained minister known for officiating funerals and memorials for celebrities including Chuck Connors' son Jeffrey Alan Connors and Tim Burton's father Bill Burton. Mel has worked in skid row and has had a prison ministry for over twenty years. In 2014 he became the host of the L.I.F.E. Worshop Hour podcast with Sherri Emily on WLOR where they share stories from the Bible, inspirational poetry, inspirational and Christian songs, and interview special guests.