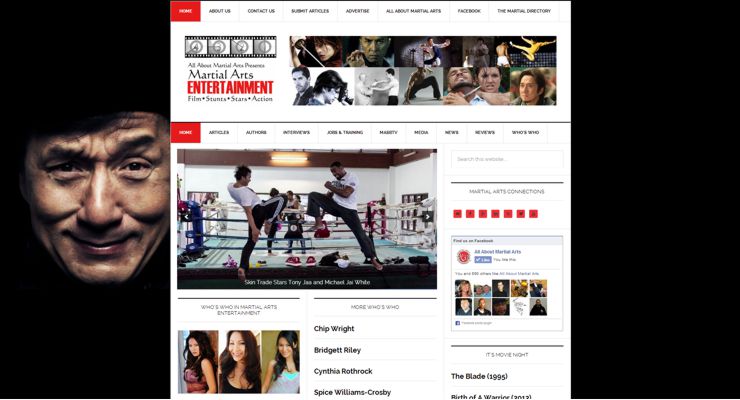 About Martial Arts Entertainment
Martial Arts Entertainment is a sister web site of AllAboutMartialArts.com and is continually developed by Martial Arts Enterprises, (MAE, Inc.), also the owner of the Martial Arts and Action Entertainment Directory   USAdojo.com,  WorldWideDojo.com,  FightCon.com,  University of Martial Arts, and  Martial Arts and Businesses Schools Directory.
Martial Arts Entertainment covers martial arts and action in the entertainment industry. We have entertainment news about martial arts movies, documentaries, television, radio and theatrical releases. We cover martial arts entertainment related activities including conventions, seminars and events. Our Who's Who in the entertainment industry includes stunt performers, action actors, action directors and action choreographers. We offer information about job opportunities, casting calls, and more. We are the #1 web site covering martial arts in entertainment. One of our goals is to help martial artists expand their contributions to the entertainment industry.
Martial Arts Entertainment authors share articles that inform and educate with the goal of improving careers for martial artists in the entertainment industry and to provide information making it easier for those in the industry who wish to add martial arts action to their projects.
If you work in the entertainment industry and would like to share an article that will inspire, educate, or help improve careers for martial artists who work in the entertainment industry, we would love to have you share your knowledge with others through MartialArtsEntertainment.com. If you are a martial artist working in the industry as an Action Director or a Stunt or Fight Choreographer, or as an Actor and/or Stunt Person, send us your biography and a link to your demo reels or trailers on YouTube or Vimeo. Also feel free to send us your press releases if they are related to news about martial arts in entertainment.
Our sister site, All About Martial Arts is all about martial arts, and provides information about martial arts systems and styles and has hundreds of martial arts biographies from instructors around the world. We also have some of the most knowledgeable writers on martial arts topics. All About Martial Arts, has the Martial Arts Learning Center with an extensive Martial Arts Dictionary, and vocabulary and word pronunciation information. Our Instructor's Center offers information for Martial Arts instructors. Martial Arts Entertainment is the Entertainment section of All About Martial Arts.
It is our goal to benefit the Martial Arts Community world wide through our sites and we love to receive input to help us improve what we do. All our sites reach out to martial artists every where.
Another way we reach out to the Martial Arts community is by sending out our newsletter called The Martial Blast.
We also invite you to visit Fightcon.com, our video web site were  you can upload and watch thousands of martial arts videos.
Martial arts instructors and promoters can list their schools, seminars, tournaments and other events and martial arts businesses and organization also list on the Martial Arts and Schools and Businesses Directory
We invite you to join us on Facebook.
INFORMATION ON THIS SITE
We have attempted to organize the information on Martial Arts Entertainment in a logical manner. Input that would improve the site is always appreciated. The hierarchy of names will be in alphabetical order, not in order of rank or importance, accept where responsibility may prevail.
We decided not to separate out the biographies in the Who's Who section because so many martial artists are both actors, stunt persons, directors and choreographers etc. so you will find only one category for Who's Who. Remember, you can always search for an individual, and you may find both a biography and articles about that individual.
We receives hundreds of emails daily, many of these emails requesting that we add the attached information to this site. We attempt to make sure that we have permission to use any information submitted and that the information is correct and credit is give to the proper source. Sometimes, however, we make mistakes. If you find information on our site that shouldn't be here or that has incorrect credits, please contact us and we will rectify the information by removing the information if so desired, or by correcting the credits. We in no way wish to do harm to anyone, we simply want to promote martial arts entertainment and martial artists in the best atmosphere possible.
GET LISTED
Another sister site of All About Martial Arts and Martial Arts Entertainment is Martial Arts Schools Directory,  where you can list your martial arts schools, businesses, organizations, events including seminars and tournament and edit your listing information whenever you want. Visitors use The Martial Directory to search for martial arts schools, businesses events, and organizations. (More Info)
Listing on The Martial Directory is an automated process and any martial arts entity can list. Just because you find a School, Business, Organization Event, Seminar or Tournament listed in our martial arts directory does not mean that we have personal knowledge of these entities or that we are recommending these entities. Please use wisdom and discretion when choosing to work or train with anyone.