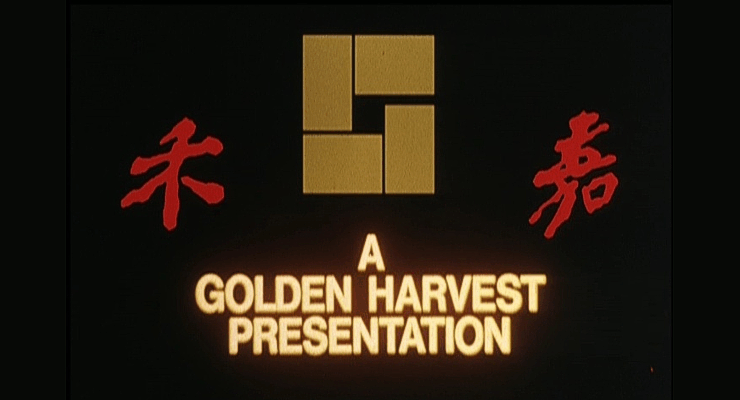 Golden Harvest (Orange Sky Golden Harvest) is a film production company that dominated the Hong Kong box office from the 1970s through the 1980s. Golden Harvest played a major role in introducing Hong Kong films to the West, especially Bruce Lee and Jackie Chan movies. Besides film production, Golden Harvest is also well known for film distribution and is one of Asia's biggest film exhibition groups. The company is based in Hong Kong and was foundered by veteran film producers Raymond Chow and Leonard Ho. Below is a list of Orange Sky Golden Harvest films.
Fast Sword [Duo ming jin jian] (1971)
Zatoichi Meets the One-Armed Swordsman (1971)
Two of Japan and China's greatest heroic swordsman find themselves caught in a plot to protect a young child. But will national distrust and simple misunderstanding keep the two kindred spirits apart?
Tian long ba jiang (1971)
The Blade Spears None (1971)
Angry River (1971)
Gui liu xing (1971)
Hurricane (1971)
Thunderbolt (1971)
The Invincible Eight [The Invincible 8] (1971)
Back Alley Princess (1971)
Chase (1971)
Comet Strikes (1971)
Invincible Sword (1971)
During the Sung dynasty, Ch'in Kuei, a corrupt premier, orders the arrest of Yüeh Fei, an heroic general. Ling Yu Fong, an idealistic follower of the general, recruits a small force to free him, failing miserably, losing most of his troops and sustaining wounds. He's hidden and nursed back to health by a troupe of traveling acrobats, two brothers and two sisters. One of the sisters falls in love with Ling. He asks them to help him free the general, and the five undertake this quest against great odds. The general himself brings an element into the story that his liberators do not anticipate. Written by J Hailey [jhailey@hotmail.com]
The Big Boss [Fists of Fury] (1971)
A young man sworn to an oath of non-violence works with his cousins in an ice factory where they mysteriously begin to disappear.
Slash: Blade of Death (1971)
Fist Of Fury [The Chinese Connection] (1972)
A young man seeks vengeance for the death of his teacher.
Hapkido [Lady Kung Fu] (1972)
Hapkido takes place in Korea in 1934. During the Japanese occupation, there is open warfare between rival martial arts schools. There is a fight in the marketplace, and three Chinese students can't stand the unfair way of the students that side with the invaders and gang up and assault one of the fighting men. The three Chinese students send the aggressors away, but they retaliate heavily by destroying their school and getting the Chinese students banished. The students return to China and start their own school and set out on good-will visits to the other martial arts schools. They soon discover that all the schools in their neighborhood are already dominated by the Japanese. They eventually manage to establish peace, but not before winning many kung fu fights.
Lady Whirlwind [Deep Thrust] [Deep Thrust: Hand of Death] (1972)
Sonny Comes Home (1972)
Way Of The Dragon [Meng long guo jiang] [Return of The Dragon] (1972)
A man visits his relatives at their restaurant in Italy and has to help them defend against brutal gangsters harassing them.
One Armed Boxer [Chinese Professionals] [One-Armed Boxer] (1972)
After his schoolmate and master are killed, Tien Lung loses an arm and must learn the art of one-arm boxing.
Bandits From Shantung (1973)
Bruce Lee The Man and The Legend (1973)
A documentary that examines the life and the untimely death of superstar Bruce Lee.
Super Man Chu: Master of Kung Fu [Stormy Sun] [Supermanchu] (1973)
Kung Fu Brothers in the Wild West (1973)
Leng mian hu (1973)
A young man, Chin Fu, suspects his father's suicide was actually a murder committed by gangsters. With his expertise in martial arts, Chin Fu is hired as a strong arm man by a rival gang of the gangsters whom he suspects are responsible for his father's death. His new found connections with the underworld provide him with knowledge and opportunity to uncover the truth about his father's death.
Ma lu xiao ying xiong (1973)
Tie wa (1973)
Tattooed Dragon (1973)
When Taekwondo Strikes [Sting of The Dragon Masters] (1973)
Young Dragons (1973)
7 Magnificent Fights [Seaman No. 7] (1973)
Beach Of The War Gods [Blood Dragon] (1973)
The famous swordsman Hsia Feng gathers five other fighters and rallies the local fishermen to fight off a band of Japanese pirates.
The Devil's Treasure [Night Interlopers] (1973)
Enter the Dragon (1973)
A martial artist agrees to spy on a reclusive crime lord using his invitation to a tournament there as cover.
Nu wang feng (1973)
The Devil's Treasure (1973)
The Screaming Tiger [Screaming Ninja] (1973)
The Devil's Treasure (1973)
Bedevilled (1974)
Dragon Tamers (1974)
Man From Hong Kong [Dragon Flies] (1974)
Manchu Boxer (1974)
Shaolin Boxer (1974)
Tournament (1974)
Whiplash! (1974)
The Skyhawk (1974)
Slaughter In San Francisco [Yellow-Faced Tiger] [Chuck Norris Vs. The Karate Cop] (1974)
The Association [Operation Ironman] [Heugmusa] (1974)
Himalayan (1975)
The Seven Coffins [7 Coffins] (1974)
Hand Of Death [Countdown In Kung Fu] (1976)
Killer Meteors (1976)
New Fist Of Fury (1976)
Shaolin Chamber Of Death [Shaolin Wooden Men] (1976)
Tiger Of Northland (1977)
Broken Oath (1977)
To Kill With Intrigue (1977)
The Shaolin Plot (1977)
Iron Fisted Monk (1977)
Half A Loaf Of Kung Fu [Karate Bomber] (1978)
Sword (1977)
Naked Comes The Huntress (1978)
Game Of Death (1978)
Magnificent Bodyguards (1978)
Spiritual Kung Fu [Karate Ghostbuster"] [Keum-kang Bloody Man] [Geumganghyeol-in] (1978)
Warriors Two [The Number One] (1978)
Knockabout [Jade Warriors ] (1979)
Last Hurrah For Chivalry (1979)
Cheeky Chap (1980)
Encounters Of The Spooky Kind [Ghost Against Ghost] (1980)
Game Of Death 2 [Tower Of Death] (1980)
Magnificent Butcher (1980)
Rebellious Reign (1980)
The Big Brawl [Battle Creek Brawl] (1980)
The Young Master [Shi di chu ma] (1980)
Dreadnaught (1980)
Phantom Killer (1980)
Prodigal Son [Pull No Punches] (1980)
Miracle Fighters (1982)
Postman Fights Back (1982)
The Dead and the Deadly (1982)
Bruce Lee The Legend (1983)
Cannon Ball Run 2 (1983)
Duel To The Death (1983)
Winners & Sinners (1983)
Young Taoism Fighter (1983)
Zu: The Warriors from the Magic Mountain [Time Warriors] (1983)
Project 'A' [Pirate Patrol] [Spartan X] (1983)
Law With Two Phases (1984)
Wheels On Meals [Million Dollar Heiress] (1984)
Taoism Drunkard [Miracle Fighter 3] (1984)
Heart Of The Dragon [First Mission] (1985)
Mr. Vampire (1985)
Police Story [Jackie Chan's Police Force] (1985)
Protector (1985)
Twinkle Twinkle Lucky Stars (1985)
My Lucky Stars (1985)
1000 Ways To Murder Your Wife (1986)
Shanghai Express [Millionaire's Express] (1986)
Armour Of God [Armor Of God] (1986)
Eastern Condors (1987)
Heroes Shed No Tears [Sunset Warrior] (1987)
Long Arm Of The Law 2 (1987)
Raymond Chow
Promising Young Boy [Action Taekwondo] (1987)
Project 'A' Part 2 (1987)
China O'Brien (1988 )
China O'Brien 2 (1988)
Dragons Forever [3 Brothers] (1988)
Mr. Vampire Saga 4 (1988)
Police Story 2 [Police Force 2] (1988)
Saga Of The Phoenix [Peacock King 2] (1989)
Best Of Martial Arts (1989)
Armour of God II – Operation Condor [Project Eagle] (1991)
Operation Scorpio [Scorpion King] [Pallete] (1991)
Robotrix (1991)
Story Of Ricky [God of The Knife] [Caged Fury] (1991)
Zodiac Killers (1991)
City Hunter (1992)
Naked Killer (1992)
Once Upon A Time In China (1992)
Once Upon A Time In China 2 (1992)
Once Upon A Time In China 3 (1992)
Police Story 3 [Supercop] (1992)
To Be Number 1 (1992)
Twin Dragons [Double Dragon] [Duel of Dragons] [When Dragons Collide] (1992)
Blade Of Fury (1993)
Crime Story (1993)
Iron Monkey [Once Upon A Time In China 5] (1993)
Drunken Master 2 (1994)
First Strike [Police Story 4] (1994)
Rumble In The Bronx (1994)
Thunderbolt (1995)
Blade (1995)
God Of Gamblers 3 – The Early Stage [Legend of The God of Gamblers] (1996)
Mr. Nice Guy (1996)
Who Am I? (1997)
The Accidental Spy (2001)
Extreme Challenge [C3 Fighters] (2001)
Para Para Sakura (2001)
You Shoot, I Shoot (2001)
2002 (2001)
Woo dung saai yan si gin (2002)
Loving Him (2002)
Hung wun chiu yun (2003)