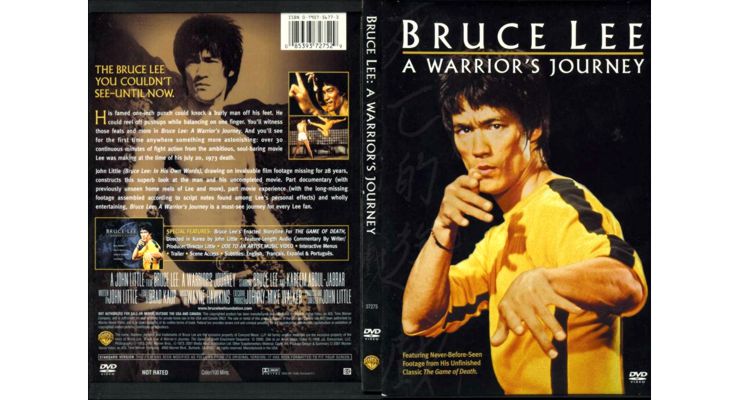 Bruce Lee: A Warriors Journey (2000) is a documentary on the martial artist Bruce Lee and Jeet Kune Do. Bruce Lee was an enigmatic, legendary figure at the time of his death in 1973. His popularity has never waned and this 2001 documentary on the Black Belt movie star attempts to explain some of his magnetic appeal. Included in this biographical film is footage of the Game of Death (1973), the film that Bruce Lee was involved in at the time of his death. Pieced together by Lee aficionado John Little, the film's finale is a flurry of images of the master in action for over 30 minutes.
'Warrior's Journey' is a documentary in its own right, but it can be found as a bonus feature on the release of the 2004 edition of Enter the Dragon on DVD along with the documentary, Bruce Lee: The Curse of the Dragon. This is considered one of the best documentaries made on his life as it strongly emphasizes Bruce Lee's philosophy, way of life and thinking, and also the racial problems which he faced in America.
This is a documentary about Lee's life, career, and untimely death, which uses rare behind-the-scenes footage to paint a portrait of both the star the world knew and the man behind the image. It also includes rare, recently discovered film shot for Game of Death (1973), the project Lee was working on at the time of his death.
This documentary marks the first time the surviving Game of Death material has been assembled according to Lee's script notes, in an attempt to honor Lee's ambitious intentions for the film.
Bruce Lee was unarguably the greatest martial arts star of his generation, and his intense on-screen charisma and astounding fighting skills make him the standard by which other martial arts heroes are measured.
Bruce Lee: A Warriors Journey (2000) was released on VHS and DVD by Warner Home Video.