Blu-Ray review of GRIDLOCKED (2015 Canada)
TITLE: Gridlocked
CAST: Dominic Purcell, Cody Hackman, Trish Stratus, Vinnie Jones, Stephen Lang, and Danny Glover
DIRECTOR: Allan Unger
WRITTEN BY: Allan Unger and Rob Robol
STUNT COORDINATOR: Neil Davison
RUN TIME: 113 min.
RATING: R- for language and strong brutal violence throughout
LANGUAGE: English 5.1 DTS-HD
SUBTITLES: English SDH, Spanish
SPECIAL FEATURES: Deleted scenes, blooper reel, "Kicking it Old School: The Making of Gridlocked, Inside the Action, Trailers for "The Wave" and "Hi-Rise."
DISTRIBUTOR: Magnolia Home Entertainment
REGION: A (Blu-Ray)/ 1 (DVD)
SRP: $29.98- Blu-Ray, $26.98- DVD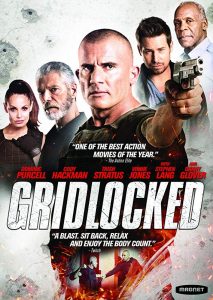 THE STORY
Former SWAT leader David Hendrix (Dominic Purcell) is down on his luck and has failed to receive medical clearance after taking a bullet on the job, Despite being highly trained and competent, his efforts have been reduced to routine tasks for the NYPD. As if things couldn't get any worse, he's forced to babysit Brody Walker (Cody Hackman), a hard partying celebrity that's been sent on a mandatory ride along as part of his probation. Pampered and irritation, Walker is the last thing Hendrix needs. But all things changes when a police training facility comes under attack by a team of ruthless mercenaries led by the mysterious Korver (Stephen Lang).
Now Hendrix and Walker must band together with the remaining survivors to fight back and keep the mercenaries from overtaking the compound… if they don't kill each other first.
THE REVIEW
The story harks back to some of the better action films of our time- "Die Hard" and "Lethal Weapon" with a sprinkling of "The Hard Way" that starred James Woods and Michael J. Fox… but on a much lower budget. The film starts off with a bang. We get some decent action and funny one-liners that we have come to love and expect from these odd couple/buddy films. As a result, I had developed high hopes for this one!
But once the 2nd act starts, the pacing starts to slow down a bit and the humor and charm gets diluted. This has to also do with the character development of Korver, who first comes off as deadly and mysterious, but there's no depth or cunningness to his character and actions. A great hero needs an even greater villain and you feel their presence of impending doom even though they might not be in the scene. However, you don't feel that here and the film. Also the relationship between Hendrix and Walker does not develop after the first act. It feels as if another writer took over after the first act just for the paycheck and phoned it in. Unfortunately, as a result, this is where the film becomes a standard straight to video action film.
The action scenes are the main selling point in this film. The gun fights are somewhat standard, but it's the hand to hand fight scenes that really pop in this movie. Purcell holds himself well in the action sequences with a nice fight in the end with Vinnie Jones. Former WWE world champion, Trish Stratus, appears in a supporting role as Gina (in a Pvt. Vasquez-like role from Aliens), one of the SWAT Team members. She's more than capable in her role and has a satisfying fight scene in the end. I can only hope Ms. Stratus gets a chance to showcase her skills in bigger films in the future.
SPECIAL FEATURES
DELETED SCENES (11:34 min)- We get 8 scenes that were deleted from the movie that are not listed separately or selectable. It's easy to see why these scenes were deleted, except for a scene that involves an additional gun battle that occurs right outside of the training facility.
BLOOPER REEL (6:03 min)- A compilation of miscues and flubbed lines.
FEATURETTES
• "Kicking It Old School: The Making of Gridlocked (15:53 min)- Allan Unger, the Director talks about how he came up with the idea for the film and the rest of the cast talk about their characters and experiences.
• "Inside the Action" (6:40 min)- The cast members talk about their experiences in training and preparing for the stunts in the film.
TRAILERS- We get trailers for "The Wave" and "High Rise" along with promos for Charity Network and AXS TV.
Rating 5/10