Jean-Claude Van Damme is a Belgian actor, martial artist, screenwriter, film producer, and director. He is best known for his martial arts action films including Bloodsport (1988), Kickboxer (1989), Double Impact (1991), Universal Soldier (1992), Universal Soldier: The Return (1999) and many more. This is a through-the-years history of Jean-Claude Van Damme.
1960 – 1972
Brussels, October 1960. This large European city is the capital of a kingdom of 10 million inhabitants, Belgium, enclosed between France, Germany and Holland and this is where Jean-Claude Van Varenberg is born and grows up. He is timid and unsure of himself.
In school, he loves drawing and sports, but his studies do not interest him much. He prefers to observe and read. The muscular heroes of comic strips fascinate him, but they seem so inaccessible!
Jean-Claude Van Damme is twelve years old when his father takes him to the Centre National de Karaté (National Center of Karate) where he trains under the guidance of Claude Goetz. Goetz courses are effective, but difficult, and reserved for adults. The young teenager is not gifted, he is stiff and apprehensive, but he wants to progress and his savage determination does not escape Coach Goetz.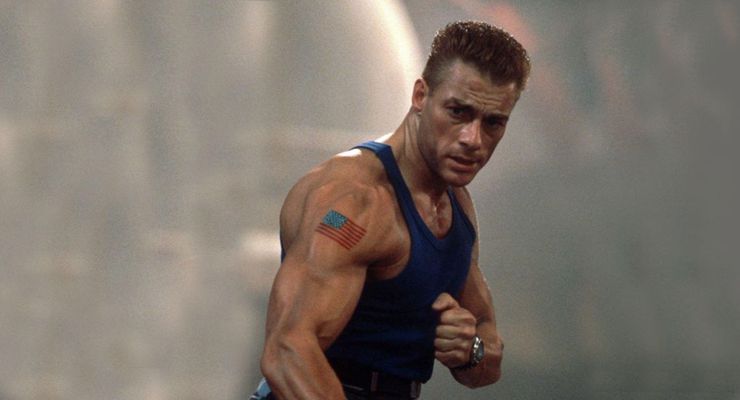 1972 – 1980
The young Van Varenberg suffers through the training. He gives up several times but returns again and again. He feels an inexorable strength in him which binds him to his future. He begins body-building, working out for hours and hours, repeating jabs in the air with weights in his hands. He works on stretching and doing the splits. He builds his endurance while continuing to learn the karate techniques, but training with Goetz is never easy.
At seventeen years old, Jean-Claude has developed physically and his self-esteem has improved. He loves classical music, and he begins taking ballet lessons continuing for four years During this time he continues studying karate, which is his priority. He succeeds in controlling his fear and takes part in more and more demanding fights. His opponents fear his speed and the strength of his legs.
After defeating European teams in 1979, Jean-Claude Van Damme takes part in the World Championship held in Wako, Florida, but begins missing training as he discovers the wonders of the USA. He is defeated by fellow Belgian fighter, Patrick Teugels who becomes a world champion of the World.
After returning to his strenuous training and with a rage to win, within a few months, Jean-Claude takes his revenge and beats Teugels in less then two minutes. Van Damme will not make the same mistake again and neglect his training.
1980 – 1987
Jean-Claude Van Damme loves America and he returns to California in 1979 and 1980. He discovers the famous "Gold's Gym" and meets his future first wife, Melly. Back in Belgium, he decides to open a Bodybuilding gym in Brussels and calls it the "California Gym". The gym is a big success. Jean-Claude Van Damme trains for hours, he muscles up naturally till he weights 219 pounds (99 kg) and he can bench 365 pounds (166 kg).
But his interest are elsewhere as he wants to make movies. He makes lots of contacts in Brussels and Paris but nothing pans out and he decides to go to Los Angeles in 1982. He doesn't know a word of English, doesn't have any references and his name is very difficult to pronounce, Jean-Claude then opts to change Van Varenberg to Van Damme. He continues to work out, but he has to find work to survive and takes jobs driving cabs, delivering pizza, teaching dance and numerous other jobs.
For four years, the young Belgian attempts to meet with producers and major actors including Stallone, Schwarzenegger, and Chuck Norris. who gives him a bit-part in Missing in Action(1984). Other little parts are offered to him in movies like No Retreat No Surrender (1986). But Jean-Claude Van Damme knows he can do much better. He then decides if he wants to get anywhere he will have to take a risk.
1987 – 1995
In 1986, Menahem Golan is one of the best-known producers in Hollywood. Jean-Claude decides to attempt to talk to Golan as he leaves a restaurant. Jean-Claude performs a lightning fast mawashi geri or spinning kick just inches from Golan's face. Impressed, the producer invites him to come to his office in the morning. Van Damme waits for six hours to see Golan and convinces him to take him on. He leaves Golan's off with a script in hand.
Unfortunately the budget for Bloodsport (1988) is  quite limited and a couple of months later, Golan, disappointed, wants to release the film on video. Jean-Claude doesn't give in. He re-edits the movie himself and convinces his producer to release the movie in the theaters, without any advertising.
Bloodsport (1988) becomes an immediate success and so does Van Damme. He has used  his impressive fighting style combining shotokan, taek-won-do and kickboxing. Jean-Claude Van Damme is on his way and making life even better is the fact that his third wife, Gladys Portugues, gives him a son they name Kristopher.
New movies follow quickly for "The Muscles from Brussels". He had stared with Sho Kosugi in the class B movie, Black Eagle (1988), shortly before Bloodsport (1988).
The next year, Cyborg (1989) comes out. It is another science fiction adventure film which is followed by Kickboxer (1989), a spectacular action movie which sees him developing more characters and new fight choreography.
With Full Contact (1990) and Death Warrant (1990), Jean-Claude Van Damme confirms his charisma as an actor, showing off his physical qualities and his gifts as a screenwriter. Double Impact (1991) is a spectacular movie and a personal challenge for the star since he must play a set of twin brothers.
After the impressive Universal Soldier (1992), Jean-Claude Van Damme plays in two very beautiful movies, Nowhere To Run (1993) and Hard Target (1993), which show his talents as a dramatic actor. One year later, he comes out with Timecop (1994), Street Fighter (1994) and Sudden Death! (1994).
1995 – 2000
At the age of 35, the Belgian actor decides to bring together the best martial arts athletes in karate, kung fu, sumo etc. for his movie The Quest (1996).
Jean-Claude and his teacher, Claude Goetz have stayed in touch during the previous 23 years, united by their very deep friendship. He asks his Goetz, to prepare him physically and mentally and also to coordinate the fight scenes for The Quest (1996).
A perfectionist, Jean-Claude Van Damme sets up a tight schedule for the whole team and they shoot 12 hours a day, sometimes more and combine shooitng with personal training. The Quest (1996) beomes e mark of an important area for the Belgian karateka.
In 1996, Jean-Claude Van Damme settles in Monaco and creates his own company. His last movies, Maximum Risk (1996), Double Team (1997) Legionnaire (1998) and Knock Off (1998) are big successes. He is now writing and producing as well as acting.
Inferno (1999) and Universal Soldier II (1999) confirm his reputation as an actor and an international star. He has matured and gotten more experienced and is capable of living his life on his own, however the pressure is always on to be the best, and this takes its toll both physically, and mentally and life is often painful. He finds it difficult to satisfy his fans, to stay creative, to keep his athleticism, and yet find a way to preserve his private life. Life continues to be a challenge for Jean-Claude Van Damme.