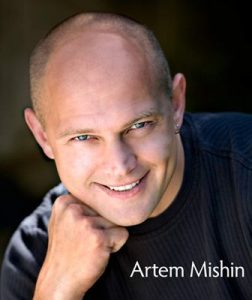 Artem Mishin was raised in a very progressive family in the former Soviet Union where his parents both worked in the arts and his grandparents had a solid military background. His mother is an actress and a stage director in St. Petersburg, and his father is a renowned poet and a writer.
The first time Artem stepped onto a professional stage was at the of age twelve in a production of Your Name by P. Proskurin. That same year he was in a feature film from "LenFilm Productions", one of the most highly esteemed film studios in the Soviet Union. He also received musical training in piano in St. Petersburg and later he would earn a Masters Degree in Engineering from Baltic State Technical University.
Years later Artem came to the United States and worked as an engineer, but he continued to pursue his passion for acting and studied at the Jean Shelton Actors Lab in San Francisco for six years.
Artem Mishin has performed in numerous stage productions, short and feature films, and is a member of both the Screen Actors Guild and AFTRA.
Several of the feature titles Artem has performed in have gained international distribution, played in film festivals around the world, and have received favorable notices in several publications, including the New York Times and Daily Variety.
Artem Mishin has a wide range as an actor and his various other skills including dancing, fight choreography, modeling, military experience, etc., have allowed Artem the opportunities to portray a broad spectrum of characters, from dangerous gangsters to romantic lovers. Artem has earned Black Belts in martial arts, freely jumps out of perfectly normal planes, races motorcycles and other dare-devil stunts, going wherever his body takes him.
He is constantly working to improve his skills and dig deeper into his craft. He is a courageous actor who enjoys new artistic challenges and is a born collaborator.