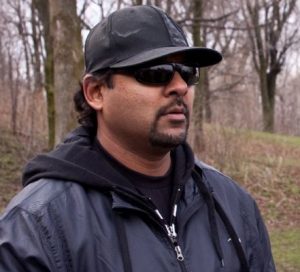 Bobby Razak is universally recognized as a Mixed Martial Arts producer and director who enthralls hard core action sports fans with his films and commercials, all of which convey the brutality and beauty of combat sports. He is known for Fallen Soldier (2013), Mexican Fighter (2013), History of MMA (2012), The Striking Truth 3D (2010), Pit Fight (2004), and Love Pain Eternal (2008).
Bobby Razak grew up in Tottenham, England, where he was fascinated with the people who surrounded him and with films like Spartacus and Enter the Dragon. He was enthused by an interest in the art of cinematographic capture, and his passions lead him to become a filmmaker, and, in pursuit of his dream, he moved to Los Angeles.
Bobby Razak has directed commercials for national and global brands. These brands include TapOut, Dethrone, BadBoy Apparel, WearHead, Metro PCS, and Hayabusa, as well as others and his commercials have aired on channels such as FOX Sports, Fuse and Spike TV. Bobby Razak has over 100 commercials to his credit and has directed and or produced over 12 films which include a combination of full length features and shorts. A few of his titles include The Striking Truth, Fallen Soldier, Sangre Nueva, Mask, and The History of MMA.
Bobby Razak has been featured in Sundance and the Berlin Film Festival, and iNDemand pay-per-view for his acclaimed film Rites of Passage.
Founder of Tapout Films
Tapout Films, was founded by Bobby Razak, who has been called "The King of MMA Filmmaking" by Sports Illustrated. Razak was an early pioneer and promoter of mixed martial arts. As a talented film director, Bobby brings together his passions, film making and Mixed Martial Arts and captures the action surrounding the emerging and exciting sport. Originally from London, he moved to Los Angeles which would allow him to better share his vision with the world.
After arriving in Los Angeles Bobby Razak met with the crew of Tapout and discovered that they shared his burning passion for Mixed Martial Arts. Bobby then asked them to join him in filming Pit Fight, one of his early MMA works, which featured MMA Legends Mark Coleman and Kevin Randleman. The film was a revolutionary look at Mixed Martial Arts and achieved notoriety for featuring real bare knuckle fights.
After the success of Pit Fight and Razak's follow up, the critically acclaimed MMA documentary "Rites of Passage", Razak and Tapout decided to join forces and create Tapout Films. With a strong vision and unquenchable passion for depicting the real and raw emotion in MMA, Tapout Films was on the cutting edge of of promoting the fastest growing sport in the world during its infancy.
Since the inception of Tapout Films, the sport of Mixed Martial Arts has exploded into the mainstream as the fastest growing sport in history. Despite the new found popularity of MMA the mission of Bobby Razak and Tapout Films remains the same, To capture the most realistic, raw, in depth and entertaining look at Mixed Martial Arts possible and to bring it to the fans of the sport. For Bobby Razak, the founding of Tapout Films is another step toward cementing his title as the number one mixed martial arts director in the world.