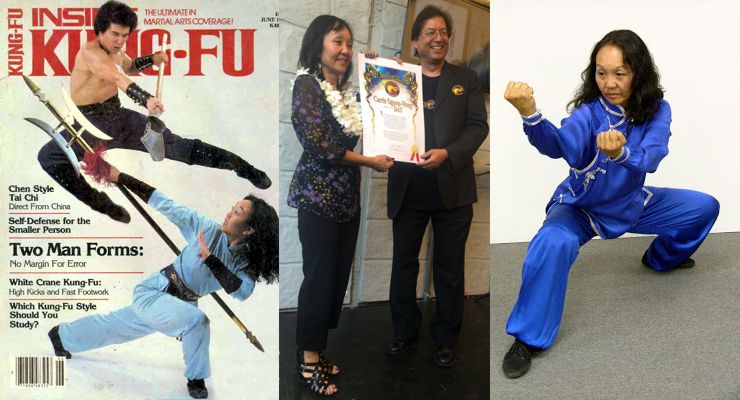 Carrie Ogawa-Wong is a 2005 inductee into the Martial Arts History Museum Hall of Fame and an energetic mother, wife, martial artist, author, instructor, and competitor. She manages to balance her heavy schedule so she can enjoy her love for the martial arts and her family.
In addition to White Lotus Kung Fu, Carrie Ogawa-Wong has studied:
Aikido under Kensho Furuya
White Tiger under Master Doo Wai
Taiji under Master Wen-Mei Yu
Five Animal Sil Lum Kung Fu and Yau Kung Mon under Master Wilson Quan
Five Animal Sil Lum Kung Fu and Matrix under Master Tom Chan
Matrix under Master Al Garza
Kamishin Ryu (karate)
Ballet, modern dance, and tap
Her other credits include training videos, TV and film roles, live performances, and several feature articles in Inside Kung Fu. With her husband, Master Douglas Wong, Sifu Carrie Ogawa-Wong has trained actors including Jason Scott Lee, Kevin Sorbo, Lucy Lawless, and Ryan Gosling.
Sifu Carrie Ogawa-Wong teaches Children's Kung Fu, Adult Kung Fu, Tai Chi Chuan, and private classes.