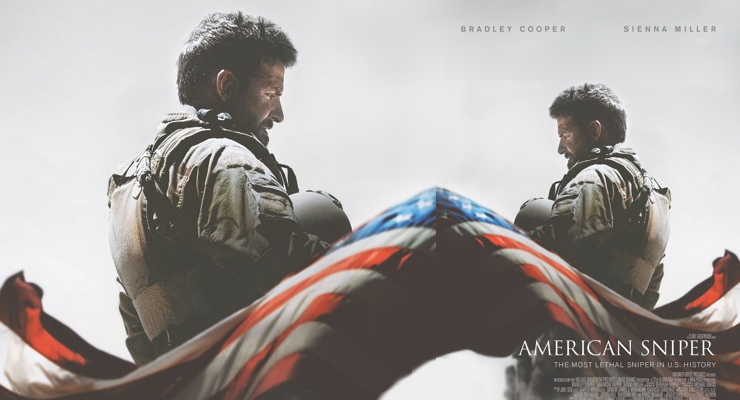 Update: (February 24, 2015) American Sniper (2014) is becoming Eastwood and Bradley's Cooper's highest grossing live action film of all-time making $320.8M. The film won an Oscar for Best Sound Editing.
American Sniper (2014) is an American biographical action film directed by Clint Eastwood. The film is based on Chris Kyle's autobiography American Sniper. The script was written by Jason Dean Hall. The film stars Bradley Cooper, Sienna Miller, Luke Grimes, Kyle Gallner, Sam Jaeger, Jake McDorman and Cory Hardrict.
Principal photography for the movie began on April 17, 2014 in Los Angeles, CA. American Sniper (2014) is scheduled to receive a limited release on December 25, 2014, before opening wide on January 16, 2015.
In American Sniper (2014) a Navy SEAL recounts his military career, which includes more than 150 confirmed kills.
Director: Clint Eastwood
Writers: Jason Dean Hall, Chris Kyle (book)
Stars: Bradley Cooper, Sienna Miller, Jake McDorman
About Chris Kyle
Chris Kyle was born on April 8, 1974 and was murdered on February 2, 2013. He was a United States Navy SEAL and he is considered the most lethal sniper in American military history. He has 160 confirmed kills out of 255 claimed kills. Kyle's claims are based on individual shooter logs, however, U.S. Special Operations Command treats sniper kill counts as "unofficial".
Chris Kyle served four tours in the Iraq War and was awarded several commendations for acts of heroism and meritorious service in combat. He received two Silver Star Medals, five Bronze Star Medals, one Navy and Marine Corps Commendation Medal, and two Navy and Marine Corps Achievement Medals. The Jewish Institute for National Security Affairs awarded him the Grateful Nation Award. Iraqi insurgents dubbed him the Devil of Ramadi Chris Kyle claimed, and placed a bounty for his head. Chris was wounded twice and was involved in six IED attacks.
In 2009, Chris Kyle was honorably discharged from the US Navy. He wrote a New York Times bestselling book, American Sniper, a gripping, eye-opening, and powerful autobiography. He continued to remained in the spotlight after leaving the Navy, but on February 2, 2013, Chris Kyle, was shot and killed while at a shooting range near Chalk Mountain, Texas. The man accused of killing Chris Kyle is awaiting trial for murder.
Source: Wikipedia