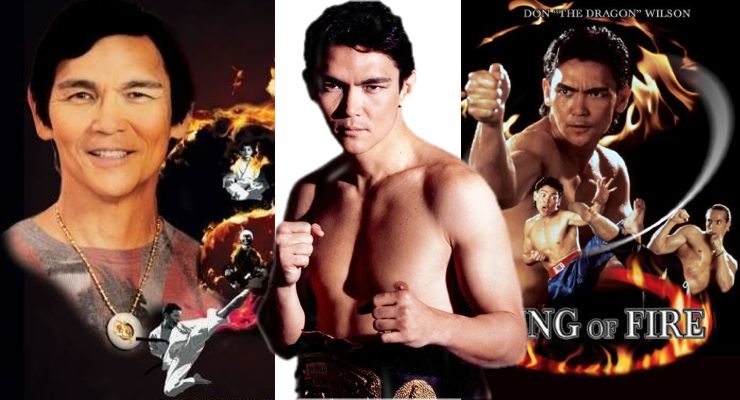 Don "The Dragon" Wilson is a Japanese American martial artist and actor. He is considered the greatest kick-boxing champion in the history of the sport. He was born on September 10, 1954 in Cocoa Beach, Florida. He began fighting in the late 1970s and his career spanned 4 decades. He won 11 world kick-boxing championships, among them the WKA, STAR, WKC, PKO Lightheavyweight World Championships, WKA, STAR, ISKA World Cruiserweight Titles, and the WKA and STAR Super-Lightheavyweight World Championships. He posted a record of 72-5-2 with 47 wins by knockout. Don Wilson defeated such world champions as Dennis Alexio, Oaktree Edwards, and Dick Kimber. He retired from the sport in 1990, but launched a comeback on May 14, 1999. Since his return he has knocked-out Dick Kimber and defeated Dewey Cooper.
Don "The Dragon" Wilson began his martial arts training by studying Goju-ryu Karate with Sensei Chuck Merriman for a year and in the 1970's he was trained by his brother Jim in Pai Lum Kung-Fu.
In July 1977, Don "The Dragon" Wilson defeated Howard Hayden. Official Karate Magazine reported on the event and said, "Don Wilson's showboat tactics have seen him through a couple of fights, but the Flash won't last long when the going gets tough." Don said he was hugely insulted by what was said and a few people began to refer to him as Don "The Flash" Wilson. This nick name really annoyed him and it was this fight and its aftermath that inspired Don "The Dragon" Wilson to prove them wrong and he did just that. Below are the martial arts titles earned by Don The Dragon Wilson.
Martial Arts Titles Earned By Don "The Dragon" Wilson:
71 wins, 5 losses, 2 draws, 47 KOs, and 6 Kick KO's
2000 ISKA North American Cruiserweight Title
1999 IFK Cruiserweight World Champion
1989 PKA Light-Heavyweight World Champion
1988 ISKA Cruiserweight World Champion
1984 STAR and WKA Super Light-Heavyweight World Champion, STAR Career Champion: Highest Rated Kickboxer of All Time, Black Belt Hall of Fame, and Official Karate Hall of Fame
1983 STAR and WKA Cruiserweight World Champion, KICK Light-Heavyweight World Champion
1982 WKC Light Heavyweight World Champion
1980 STAR and WKA Light-Heavyweight World Champion
1979 PKA Middleweight US Champion
1978 PKA Middleweight Florida State Champion
As an actor Don "The Dragon" Wilson is well known for his martial arts movies. Some of his past movie credits include: Futurekick (1991), Bloodfist 1-8, Ring of Fire 1, 2 & 3, Out for Blood, Operation Cobra, Blackbelt, Cyber Tracker 1 & 2, Terminal Rush, Redemption, Say Anything… Capitol Conspiracy, and Batman Forever as the leader of the Neon Gang.
More recently he worked on White Tiger (2014), and on Michael Baumgarten's The Martial Arts Kid (2015) and an interesting television series called The Reel Deal which pairs celebrities with talented up and coming actors, directors, writers and composers and asks them to create a short film from scratch within a 4 day period.