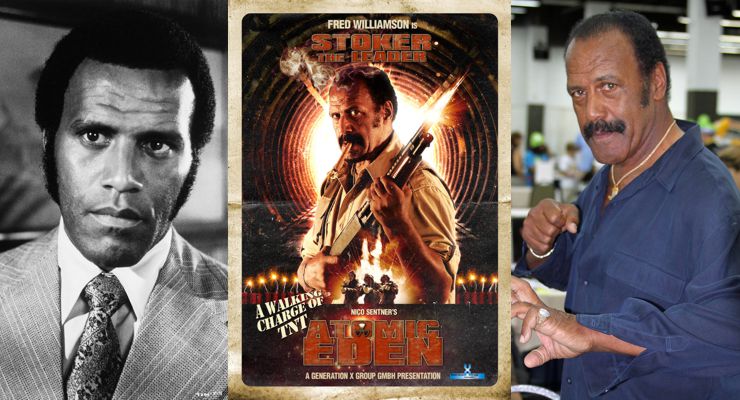 Martial artist Fred Williamson is a Black Belt in Kenpo, Shotokan Karate, and Tae-Kwon-Do. He earned his nickname, The Hammer, because he used martial arts techniques against opposing players as a pro football star for the Oakland Raiders and the Kansas City Chiefs. He rose to prominence as one of the first African-American male action stars of the "blaxploitation" genre of the early 1970's playing strong black action heroes. He has gone on to an almost 50 year long career as an actor, director, writer, and producer.
A handsome, well built, 6′ 3″ Williamson first came to attention in the TV series Julia (1968) playing love interest, Steve Bruce. However, his rugged, athletic physique made him a natural for action roles and he quickly established himself as a street wise, tough guy in films including That Man Bolt (1973), Black Caesar (1973), and Mean Johnny Barrows (1976).
Fred Williamson established his own production company Po 'Boy Productions in 1974, which has produced over 40 movies to date. Fred often recruited fellow heavyweights of the era like Pam Grier, Ron O'Neal, Richard Roundtree, and Jim Brown for revivals like One Down Two to Go and Original Gangstas. Like many young American stars of the 1960s and '70s, Williamson was noticed by Italian producers who cast him in a slew of B-grade action movies that occupied a lot of his work in the 1980s.
Beginning in the late 1980s, much of Fred's work has gone straight to video and he is often seen playing police officer roles. He has kept actively busy in movies and TV for over three decades, both in front of and behind the camera. Indie director Robert Rodriguez cast Fred and FX guru Tom Savini as vampire killing bikers, in his bloody action film From Dusk Till Dawn (1996), and Fred used his wonderful comedy skills on screen, playing grumpy Captain Dobey in Starsky & Hutch (2004).
On Friday, February 13, 2015 the Toronto Black Film Festival held "An Intimate Night with Fred 'The Hammer' Williamson," and Fred received the Toronto Black Film Festival 2015 Pioneer Award. The evening included a a Q&A session with Fred Williamson and a screening of his 1975 film, Boss. In anticipation of his Toronto appearance, we spoke to him about his 47-year acting career, and being black in Hollywood.