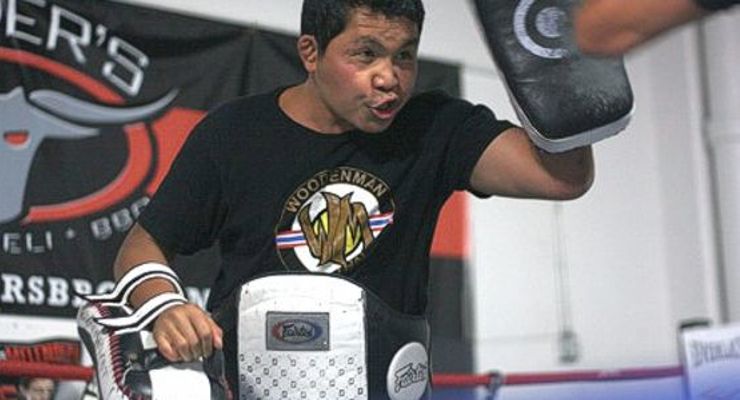 The Muay Thai trainer Anucha Chaiyasen documentary is called Win. Lose. Forgive. and documents a childhood of severe poverty in Chaiyaphum, Thailand.
The head kick that crashed into the neck of an 11-year-old boy — leaving him in an unconscious heap in a makeshift muay thai prize ring somewhere in Thailand's countryside many years ago — was assuredly a hard one.
But not as hard as Anucha Chaiyasen's upbringing.
"That's hard, hard life. No life, no nothing," Chaiyasen said of his prior village existence in Chaiyaphum, Thailand, a place where poverty was vast and opportunity minute, where electricity and running water yielded to wilderness and country boys resorted to farming or fighting.
Chaiyasen, 38, a five-time muay thai world champion and claimant to two Lumpinee and Rajadamnern stadium titles, chose the latter for his family.
"But my family gave me a good life. Just good people," he said. "That's what taught me to win, lose and forgive. To be happy for what you have."
Better known still by his prizefighting moniker Jongsanan "Woodenman," the retired fighter-turned-renowned trainer is the subject of the half-hour documentary "Win. Lose. Forgive." which explores the interlocking lives of three men and their pious infatuation with Thailand's national sport.
The film's two other protagonists are Monlit Sitpohdaeng, Thailand's 2010 muay thai Trainer of the Year who guided Chaiyasen to a world title when he was 17, and Santa Rosa-based muay thai instructor Ben Brown. Brown has trained under Chaiyasen since 2007 and was recently certified, becoming the first American to be certified by both Sitpohdaeng and Chaiyasen.
The majority of the Anucha Chaiyasen documentary, which debuts Saturday at the 3rd Street Cinemas in Santa Rosa, was filmed at the El Niño Training Center in San Francisco, where Chaiyasen co-owns the gym with UFC contender Gilbert Melendez.
After making his debut 27 years ago, Chaiyasen joined the famed Fairtex camp. He kicked and kneed and elbowed his family out of poverty, and several world titles later punched his ticket to San Francisco.
As his fighting prime neared its end, Chaiyasen turned trainer. He was unwilling to give up the sport that gave him everything.
"Muay thai is my life," he said. "I love what I'm doing. I don't think I can live without it."
By Alexix Terrazas – SF Examiner