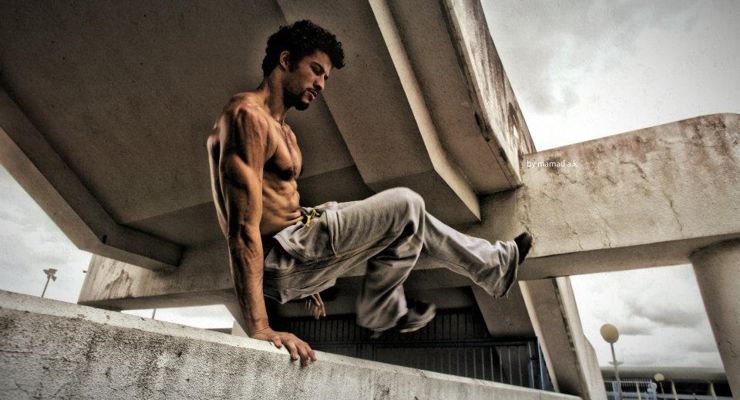 From BZ Film ~ Jawed El Berni has been relatively unknown to the martial arts movie fans a few years ago.
Today, the expertly trained martial artist from France is slowly building up his reputation as the new leading martial arts superstar.
In 2011, Jawed got lucky, as Salman Khan himself – one of the leading actors of Hindi cinema, wanted him to be his double on the set of "Ready" (2011) and "Ek Tha Tiger" (2012).
In 2012, El Berni stars in "Fighting Fish" – a Thai martial arts movie, where he for the first time played the leading part (read the review of the film here), and now he's filming "Ninja 2″ with Isaac Florentine, Scott Adkins and Kane Kosugi.
Below is an exclusive BZFilm interview with Jawed El Berni, where he talks about his beginnings, and the movies he stars in.
INTERVIEW
Mr. El Berni, the movies you've been in, showcase your fantastic martial arts skills. Please tell us about your martial arts background…
I started with Karate when I was 6 or 7, and did it for 2 years. I then did a year of French Savate followed by about 4 years of Yoseikan Budo in which Karate, full contact, self defense and Nunchucks represented my practice. Later I started doing shows on TV and festivals. My Sensei was Eric Ianetta. He was the first to give me real strong basics in martial arts and a first approach to the philosophy.
Then in 1999 I met Alain Deselle who taught me the principles of JKD (Jeet Kune Do), the essentials of the practice of Wing Chun and Kick Boxing after learning directly from Carter Wong, Benny "The Jet" Urquidez and a few Bruce Lee students such as the late Jesse Glover, Taky Kimura and Dan Inosanto.
Later I did a bit of Capoeira, Judo and Muay Thai. I recently studied Muay Boran which is the ancestor of the modern Muay Thai Boxing. I have also been practicing Parkour and acrobatics for several years now.
Speaking of Parkour, there's a video on Youtube, where you showcase your skills…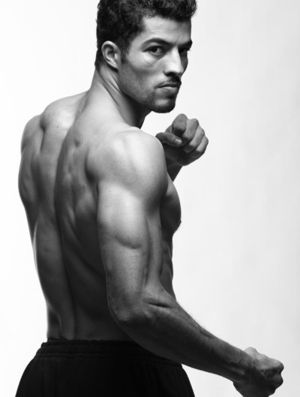 You might be referring to the "Parkour Jam" that took place in Kuala Lumpur in December 2012. It was a Parkour and Free Running gathering/ training with athletes coming from different parts of the World. During training we grabbed a camera with my friends from Brunei, and we made a video out of it.
Where did you study stunt work? Why you decided to become a stuntman in the first place?
I never officially studied stunt work. I learned on the field, with and without safety equipment. While practicing martial arts and gymnastics, local stuntmen in Bangkok offered me to be in touch with the local stunt coordinators, such as Baanrig and Jaika and it started from there. In 2010 I got noticed by Salman Khan and he personally asked through a stunt coordinator in Thailand, to have me as his stunt double ("Ready" 2011 and "Ek Tha Tiger" 2012). Besides that I did many things but those were my main stunt works.
Tell us about "Fighting Fish", where you had your first major starring role. How were you approached for the project?
Before the "Fighting Fish" project came, I worked on 2 different projects with David Ismalone and his wife Ying who later directed the movie. Mentioning the fact that I had the physical ability and the acting skills for a leading role, they thought of me for the main part and called me to talk about a cage fighting style movie. A few weeks later, I signed the contract.
There have been news floating online about the film "White Tiger", where you star alongside Don Dragon Wilson, Cynthia Rothrock and the late Joe Lewis…there is not much of information on this movie…
I can't really provide much on post production regarding "White Tiger". But what I can say is that I am playing Peter, the main "Action" villain in it. I got the chance to face Don Wilson and Matt Mullins, who plays the lead. Cynthia Rothrock and I are teammates in the film. My character uses Khrav Maga, weapons, Wing Chun as well as Parkour for a nice opening in the movie.
Toby Russel directed the film and Kazu Tang (Ragging Phoenix) directed the action. The cast was great to work with, and the opportunity to meet Joe Lewis and the main cast was outstanding. We all worked hard and well, and I hope everyone will have the chance to see the movie soon.
What was your best, most vivid experience on the movie set? What was the most useful thing you learned while working with more experienced actors and fighters on a movie?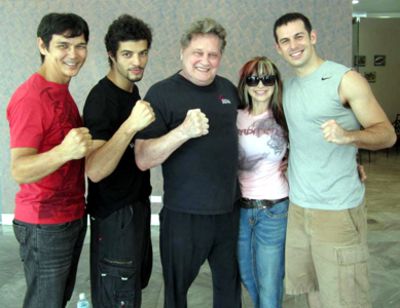 I just had the chance to play a role in the movie "Ninja 2″ directed by Isaac Florentine and starring Scott Adkins. My character is involved in a fight and dialogues with Scott Adkins. I couldn't ask for anything better to start the 2013. Both Florentine and Adkins showed how much they appreciated my work and already considered me for other projects.
Also, just the simple fact that I've had the chance to work with actors that I used to just watch on tv and imagine being in a movie with. Each of them had something I'd noticed and gained from. I like to observe details and their attitude in the field taught me more than books did. The most useful thing I learned from these people is having the right attitude towards work.
Where would you prefer to work permanently, in France, or for example in Thailand, Malaysia or maybe the U.S.?
The market in Asia (H-K, Korea, Japan,…) attracts me, I like how they tell stories and I love the action. And of course Hollywood, Europe and Bollywood. I would work where interesting professionals and projects will be, where I can showcase my full potential as an actor.