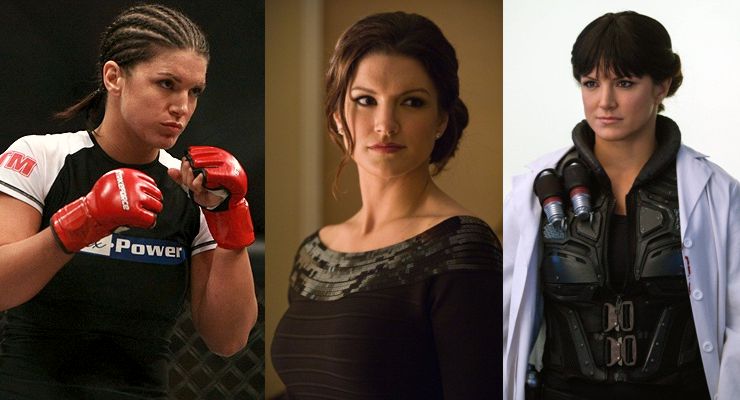 Gina Carano is an American Mixed Martial Artist, a fitness model, television personality, and an actress known for her roles in Haywire (2011), Fast & Furious 6 (2013), Almost Human (2014), and In the Blood (2014). She will be seen in Bus 657 (2015), Kickboxer: Vengeance (2015), The Opium War (2015) and in an untitled Adi Shankar Project.
In April of 2012 Gina Carano received the first Chick Norris Award for best female action star for her performance in the film "Haywire". The award was presented at the ActionFest Film Festival in Asheville, North Carolina. This award recognizes a female star who exhibits "the attitude, spirit, athleticism and grit of Hollywood legend Chuck Norris." Gina Carano, who attended the event to receive her award, called the award, "an incredible honor".
In December 2012 Gina was nominated for Best Actress in an Action Film by the Screen Actor's Guild (SAG) for her role as Mallory Kane in "Haywire".
Gina Carano was born on April 16, 1982 during a tornado warning in Dallas, Texas. Her father played for the Dallas Cowboys as a backup quarterback for Roger Staubach and Danny White from 1977-1983. In 1984, he was the starting quarterback for the USFL Pittsburgh Maulers. Gina's parents divorced when she was a child, but her father remained involved in her life and remains her biggest fan. Gina is the middle child between two sisters and the sisters were all star athletes in high school.
Growing up in Las Vegas, Gina was a natural born athlete and tomboy. She studied gymnastics, jazz, tap, ballet, rode horses, fought with her male cousins fmily gatherings just for fun, and wrestled and played football with the neighborhood boys. She graduated from Trinity Christian High School in Las Vegas, Nevada, where she excelled on the volleyball, softball and basketball teams, the latter she helped secure a state title.
Her collegiate studies include the University of Nevada, Reno where she attended one year, and the University of Nevada, Las Vegas for three where she was offered positions on both the softball and basketball teams. Her academic goal was a degree in psychology, but with only a few credits remaining she dropped everything in order to help her older sister through a crisis.
At the age of 21 Gina began training in Muay Thai Kickboxing with Master Toddy at the suggestion of then boyfriend Kevin Ross. Kevin was searching for a life-changing experience and ended up at a local Las Vegas Muay Thai Gym and Gina tagged along. A trainer approached her, telling her point blank that she was fat and needed to lose weight. She weighed around 175 lbs. and was without direction in her life. She began training and became addicted. Master Toddy saw potential in the way Gina handled herself. She took naturally to fighting with strong punches, deadly elbows and knees, a impressive overhand right, and rib-cracking hard kicks. She immersed herself completely in the sport, and advanced very quickly. Only months later she found herself in a "fight club" situation in San Francisco and she took on any female fighter placed in front of her. Since then she hasn't looked back.
At first Gina's pretty face prevented spectators from seeing her as a serious contender and that bias has haunted her throughout her fighting career. Gina is often openly laughed at, insulted, and ridiculed in front of crowds before fights, but she silences her taunters with her fists do the talking. Her Muay Thai career is comprised of an impressive 12 wins, 1 loss, and 1 draw and she is the first American woman to win a title in Thailand. The 2005 cult film Ring Girls (2005) follows Gina and her trainer, Master Toddy during her early Muay Thai career.
Gina's beauty and tenacity has helped her develop a significant fan following. In June 2006, Gina's success in Muay Thai brought her to the attention of Jamie Levine of World Extreme Fighting in the world of Mixed Martial Arts. He offered her a fight against Leiticia Pestova who holds a MMA record of 11 wins and 2 losses. It was the first-ever sanctioned female MMA bout in the state of Nevada. Levine was impressed with Gina's statuesque size of 5'8″ and 155 lbs. which put her in the starting weight class for men, and the power in Gina's kicks are comparable to a man.
MMA can be a vicious sport, so people were uneasy about women fighting in the sport. But Jamie Levine believed that gender didn't matter and he wanted to give the two women a nationwide platform to show what they could do. Gina, using the nick name "Conviction", trained relentlessly for the history-making bout. She weighed in at a muscular 135 pounds. Gina did not disappoint her fans, winning the fight in explosive ground-and-pound action in the 38th second of the first round.
Critics begin to complain that Gina was receiving preferential treatment based on her good looks and not on her talents as a fighter. She used people's criticisms as fuel for her next bout against British fighter Rosi Sexton which took place on September 15, 2006. Rosi Sexton was a cerebral fighter with a mathematics degree from Cambridge and over 10 years of martial arts experience. She had a 6-0 MMA record. Many believed that Carano would go down in flames but, with six seconds to go in the second round, Gina knocks Sexton out with an incredible overhand right. In December of 2006, Gina faced Elaina Maxwell. It was the second time the two had faced each other, the first time was in a Muay Thai bout. This fight went3 rounds and showcases Gina's powerful overhand right and improved grappling skills. She wins the unanimous decision. On February 10, 2007, Gina faced Julie Kedzie in what was billed the "Fight of the Night". It was the first televised female fight on Showtime TV. Julie Kedzie, who was once arrested with a group of 300 nuns at a protest, was a feisty brawler known for overpowering her opponents in the clench. She has a record of 8 wins and 4 losses. The amazing stand-up brawl goes the distance with Gina knocking Kedzie out flat at the end of the second round. Kedzie refused to give in, taking Carano down in the third round in a submission attempt. Carano rallied, winning by unanimous decision. The crowd gave both fighters a roaring standing ovation and Julie and Gina became training partners and good friends and remain so today.
Gina is crowned "The Face of Women's MMA" but she feels that the title is a distraction for women in the sport. Her image is everywhere. Critics, some of them other female fighters, complain that she is using sex appeal to further her career, that she is compensating for something she is lacking in the ring, that what she is doing is disrespectful to the sport, but fans can't seem to get enough of the imposing brunette. Men fall in love with her. Little girls and women find her an inspirational combination of beauty, strength, and power. Everyone is taken in by her shy smile and laid back, good-natured personality. Gina, who believes the image of a powerful, feminine woman is something to be celebrated, is baffled by the criticisms and humbled by the attention and support from her fans.
Gina wins her next two fights, the first in September 2007 against Tonya Evinger, a wrestling champion, via rear naked choke, Gina's first submission win and the next in May 2008 against Kaitlin Young. Gina had to forfeit a little over 12% of the purse to keep this fight on the card. She failed to make EliteXC's newly created 140 lb. weight class. Most MMA organizations have the featherweight division at 145 lbs. (65.8 kg.) Coming into the fight with only a three-week training camp, Carano weighed in at 144.5 lbs. (65.5 kg.) In spite of everyone's dire predictions, she dominated and the fight is stopped at the end of the second round. Gina wins by TKO. In June 2008 a sportswriter reporting on the Carano vs. Young fight states his suspicion that Gina's opponents are handpicked to make sure of the outcome becasue she is too pretty to fight. He finds women fighting in the MMA an unpleasant experience but concludes that she is quite the asset.
Gina Carano reluctantly joined the cast of American Gladiators (2008). She didn't like the idea of running around in tiny superhero spandex, but the show's producers pursued her and convinced her to sign on. She becomes known as "Crush" and cultivates a whole new fan base.
Next Gina appears as "Natasha", a Soviet Commando and Sniper, in the video game Command & Conquer: Red Alert 3. along with training partner MMA Legend Randy Couture. It is interesting that critics are don't complain about Couture 'going Hollywood', using his sex appeal, or being 'too pretty' to be in the video game.
In October 2008 Gina had only fought once in the past year and there was speculation that she would not be able to make weight for her fight against Kelly Kobold, but Gina hired a nutritionist to help with her die. At the weigh-in Gina fails to make weight on her first two attempts and the girl who refused to pose naked for "Playboy" or any publication, must strip for her third attempt. Photographers shoved and trip over each other trying to obtain the Holy Grail of photos, a bare naked Gina Carano. Gina was severely dehydrated, and others used towels to shield her from the cameras. She successfully made weight at 141 pounds.
October 5, 2008 Kelly Kobold stands at a 16-2-1 record, 6 wins by knockout and 8 by submission, and she vows to make Gina Carano the broken, bruised and bloodied face of MMA. Instead it is Gina who bloodies Kobold's face with a severe gash over the right eye. Gina unleashes killer kicks and knees and wins the fight. Gina remains undefeated and with great love, she dedicates the win to her grandfather.
In 2009 Gina begins her move into the entertainment industry and with fellow MMA athletes Kevin 'Kimbo Slice' Ferguson and Maurice Smith, the three have small, but memorable, cameos in the Michael Jai White film Blood and Bone (2009). Gina also appears on the cover of "ESPN The Magazine – The Body Issue". Posing mostly topless she shows off an impressive set of abdominals, amazing legs, and invokes more criticism.
Gina makes history again in August 15, 2009 by becoming the first female fighter to earn $100,000 for a fight. She faces Brazilian Cristiane "Cyborg" Santos in the first Women's Championship. The championship is scheduled for 5 rounds, each lasting 5 minutes,which is another first. In a hard fought battle, Gina loses by TKO at the bell at the end of the first round. But on January 6, 2012 the California State Athletic Commission announced that Cristiane Santos had tested positive for steroids after a December 2011 fight. This threw suspicion on the legitimacy of all of Cyborg's wins, including her win against Gina. Cyborg is suspended for one year, receiving a $2,500 fine. Gina, though hurt and disappointed, remains gracious and supportive of her fellow female fighter. A Carano vs. Cyborg rematch would be a huge MMA event but it is unlikely that Gina will ever return to the sport that made her a superstar.
Gina Carano has been classified by the Unified Women's MMA Rankings as the third best 145 lb (66 kg.) female fighter in the world. Her current MMA record stands at 7 wins and 1 loss.
After her devastating loss to Cristiane "Cyborg" Santo, a deflated Gina met Academy Award winning director Steven Soderbergh for lunch in San Diego. He had seen her fight earlier on CBS and dreamed of building a film around her. Immediately he was struck with her presence and intriguing mix of muscular power and eye-catching femininity. Inspired, he wrote the role of Mallory Kane in Haywire (2011) specifically for her, although she was nothing like the unsmiling, structured, alpha female character. Soderbergh assembled an impressive cast. Channing Tatum, a huge fan of Gina's and the MMA, immediately signed on when he learned she was involved in the project. Ewan McGregor, having no clue who Gina Carano was, he studied many of her fights on YouTube. Initially horrified by the violence of the sport, he met with Gina and was taken with how quiet, gentle and thoughtful she was outside the ring. He recalls how he hurt his hand when he accidentally punched her in the head during the film's final climatic fight scene. Gina was completely unaffected by the punch, but worried that she had injured the actor. Antonio Banderas found Gina to be beautiful, natural and real and he believed that she had a film career in front of her. Michael Fassbender, who Gina now considers a mentor, thought her extraordinary and was impressed with her work ethic. Michael Douglas, who topped out the A-list cast, heralded Gina's self-control.
With the help of her position on the 87Eleven Stunt team, Gina continued to be propelled to star status playing Riley in Fast & Furious 6 (2013). She began working in television in her role as Danica in Almost Human (2013) and then went on to star as Ava in In the Blood (2014). In 2015 she made both Heist (2015) and Extraction (2015). The movies Deadpool (2016) and Kickboxer: Vengeance came next in 2016, and then Scorched Earth (2018) in 2018. In 2019 she made Daughter of the Wolf (2019) and the Madness in the Method (2019).
Gina also worked in the voice over field, working on the video game Fast and Furious: Showdown (2013).
In 2019 Gina began playing Cara Dune in Disney's television series The Mandalorian (2019-2020), until cancel culture decided that her conservative views were not their own and they began searching for a reason to fire her.
Truly a pioneer in Women's MMA, she kicked down barriers and inspired and paved the way for the next wave of female fighters.
Gina Carano is truly a pioneer in Women's MMA. She kicked down barriers and inspired and paved the way for the next wave of female fighters. She recently joined the 87Eleven Stunt team, the same team that propelled her to star status with their work on Haywire (2011). With film projects like Fast & Furious 6 (2013), In the Blood (2014) and rumors of Wonder Woman flying around, Gina Carano has found her niche in the Action Heroine film market. Her newest challenge as an athlete — To cross over into film successfully.
Gina Carano was ranked #5 on the "Top Ten Influential Women of 2008" list on Yahoo!. She was profiled in a feature story for the ESPN series E:60 and was voted "Hottest Woman In America" by Big Biz Magazine in the Spring 2008 issue. On May 13, 2008, "Gina Carano" was the fastest-rising search on Google and third most searched person on Yahoo!.
She was Ranked #39 on Maxim's Hot 100 for 2014. and also in 2014, Rant Lifestyle ranked her at #29 on their "30 Hottest Women in the World" list.