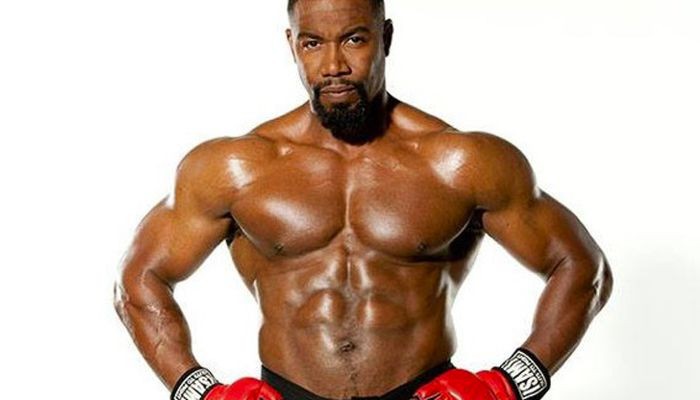 Michael Jai White has a middle name that is often mispronounced, Jai is pronounced Jye. He was born in Brooklyn New York. Before he hit his teens his family moved to Bridgeport, Connecticut. The city of Bridgeport is very close to the city of Westport, but the two cities couldn't be more different. Bridgeport boasted some of the highest crime rates per-capita, in the United States, and Westport was said to have the highest per-capita income levels in the U.S. The geographical proximity between the two cities proved to have an invaluable affect on the future acting of Michael Jai White. Michael lived in both drastically opposing worlds, with friends from the worst housing projects as well as the richest mansions and he learned to be at home in either setting. Michael chose to express himself through a burgeoning passion for martial arts.
In school, Michael Jai White hung out with the nerdier, more introverted types; but he still had to put on a street persona. He hated bullies and would often end up in battles which eventually earned him a reputation as one of the toughest and most feared street fighter's in the area.
At age 14 Michael Jai White was partially on his own and often had to fend for himself in a very chaotic world. He was already 6 ft, and 190 pounds, with a deep voice and facial hair, so he was easily mistaken for an adult. He was able to make money teaching karate at the local YMCA, by fighting in tournaments, and dancing in contests. In spite of everything, this former troubled youth graduated high school with honors and went on to college, without a clue as to what he wanted to become.
Michael jumped from university to university; UCONN,S.C.S.U., and major to major; Political Science, Communications, Engineering, all the while finding room to squeeze in an acting class or two. In college  Michael Jai White never considered acting as career choice and he eventually became a junior high school teacher with a gift for reaching troubled children. For three years he taught 5th, 6th, and 7th grade, emotionally disturbed children. This endeavor is what Michael Jai White says has been his proudest achievement. Along with his growth as an educator, came the growth of the desire to act.
Though reluctant to follow acting, Michael Jai White felt he had to get it out of his system, so in his time off he began to audition for roles in nearby Manhattan. Eventually Michael landed commercials, theatre roles, and bit parts in soaps. This was a turning point in his life. He had to decide between teaching and acting and this was a difficult decision. He finally choose acting with the blessing of his young students. In 1992 he moved to Los Angeles to pursue acting, however his acting was motivated by his desire to teach;
The actor has a responsibility to teach his audience the truth while standing in the shoes of the character he is playing at the time. Done correctly, acting can teach people about themselves as well as others. It has the power to touch and change the lives of millions at a time.
 Michael Jai White Actor
As an actor, Michael Jai White's versatility has earned him success in both television and in film. As a Black Belt in seven different karate styles, he has been able to leverage his deep connection to martial arts and emerge as a multi-faceted talent that possesses comedic chops while he has become one of the most recognized action movie actors in the industry today.
Michael was bitten by the acting bug in college, but choose to become a junior high school teacher. He spent three years teaching emotionally disturbed children in grades five through seven and notes this as one of his proudest achievements. It was around this time that Michael began giving into another one of his passions, this desire to act.
He began auditioning for roles in nearby Manhattan. He eventually landed commercials, theatre roles, and small roles in soap operas. Faced with the difficult decision to leave teaching, he chose to relocate in 1992 to Los Angeles to pursue acting full time.
Michael's first major starring role and breakout performance was in the HBO film Tyson (1995), where he played the heavyweight boxer Mike Tyson. He is the first African American to portray a major comic book superhero in a major motion picture, having starred as Al Simmons, the protagonist in the film Spawn (1997). His excellent work in Spawn won him a nomination for the Blockbuster Entertainment Award.
Michael starred opposite Jean-Claude Van Damme in Universal Soldier: The Return (1999). A few years earlier, he acted in Full Contact (1993), with Jerry Trimble. He also starred opposite fellow martial artist Steven Seagal in Exit Wounds (2001). In 2003, he starred in Busta Rhymes' and Mariah Carey's music video "I Know What You Want". Since 2003, in addition to his on screen roles, White has been doing voice work, including Static Shock and the Justice League. White showcases his martial arts skills in the direct-to-DVD film Undisputed II: Last Man Standing (2006). He also appears in Michelle Yeoh's Silver Hawk (2004). He appeared in Kill Bill: Volume 2 (2004), but his role was cut from the theatrical release. His film Why Did I Get Married? (2007) opened at number one at the box office on October 12 of that year. White played the role of the mob boss Gambol in the film The Dark Knight (2008). He also starred in the film Blood and Bone (2009) and the blaxploitation homage Black Dynamite (2009). Michael played Marcus Williams on the TBS/OWN comedy-­drama television series Tyler Perry's For Better or Worse (2011-2014).
He also starred in Kevin Tancharoen's short film Mortal Kombat: Rebirth (2010), as Jax Briggs, and reprised the role in the webseries Mortal Kombat: Legacy (2011), also with Kevin Tancharoen as director.
Michael Jai White wrote the screenplay and the story for Black Dynamite (2009) and wrote 3 Bullets (2009) where he stars with Bokeem Woodbine. He wrote the screenplay for Never Back Down: No Surrender (2016) and wrote for the TV series Black Dynamite (2011-2016).
Michael Jai White has always maintained his strong connection to his martial arts roots and numerous of his films are martial arts and action movies. He stars in Welcome to Sudden Death (2020). He can be seen in Triple Threat (2019). He wrote and stars in Never Back Down: No Surrender (2016). Michael played John "Falcon" Chapman in an installment of the Falcon movies beginning with Falcon Rising (2014). He has an awesome fight scene with Tony Jaa in Skin Trade (2104). He made his directorial debut and starred in Never Back Down 2: The Beatdown (2011), He can be seen in Tactical Force (2011), Blood and Bone (2009), Black Dynamite (2009) Undisputed II: Last Man Standing (2006), Universal Soldier: The Return (1999), and Tyson (1995). He made three shorts as well, Mortal Kombat Legacy (2011), 3 Bullets (2016) and invictus.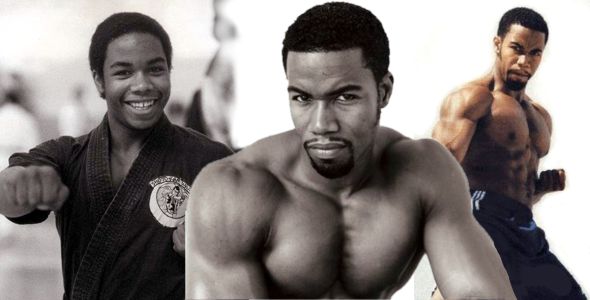 Michael Jai White Martial Artist
As a martial artist, Michael Jai White holds eight Black Belts of varying degrees in eight different martial arts forms. He began training in the martial arts at the age of eight and he achieved his first black belt at the age of twelve. He has over twenty five years of experience in the arts.
He was originally a student of the legendary Shigeru Oyama, (who was, at the time, the world renowned head of the U.S. Kyokushin Karate Association and who is currently the head of World Oyama Karate).
Michael Jai White went on to achieve a Black Belt in seven other karate styles; Shotokan, ITF Tae Kwon Do, WTF Tae Kwon Do, Kobudo, Goju Ryu, Tang Soo Do and in the Superfoot system. Michael tested for and earned his 8th degree Black Belt at the JLFS/Superfoot summer conference on October 11, 2013. He has also had years of Wu-Shu Kung Fu training under current American Wu-Shu team coach, Eric Chen.
Michael Jai White has trained privately with the likes of Bill" Superfoot" Wallace, Benny " The Jet" Urquidez, Shihan Bobby Lowe, Shokei Matsui, Jean Claude Van Damme, James Lew, Don " the Dragon " Wilson, Peter Cunningham, Billy Blanks, Gene Lebell  and Joe Lewis. Michael Jai White has also worked behind the scenes on stunt fighting sequences with Steven Segal.
Michael himself has amassed countless trophies, awards and Grand Championship honors from open "point System" to inter-federational tournaments both at home and abroad, throughout his twenty-plus years as a martial artist. The U.S. Open, North American J.K.A., World Knockdown Free sparring Champion are among many titles earned by Michael Jai White before he moved to Los Angeles to continue his already successful dramatic acting career.
In the midst of the glamour and glitz of Hollywood, Michael Jai White has not been corrupted. He states that he is a martial artist first and that he maintains his skills to stay competitive, as any current champion of "fight" or "form" would.
"Regardless of what I'm into I always want to be able to get on the training floor with anyone at any time. I am a Martial Artist, first. I apply my Martial Arts discipline, focus, strength, and spirit to my life as well as my acting work. It is a way of life. Life cannot physically or mentally put me through more than I have voluntarily traversed through Martial Arts training. I am ready for anything. From the "Mike Tyson" story to "Spawn," four to five months of rigorous filming at a time can't touch twenty years of sweat."