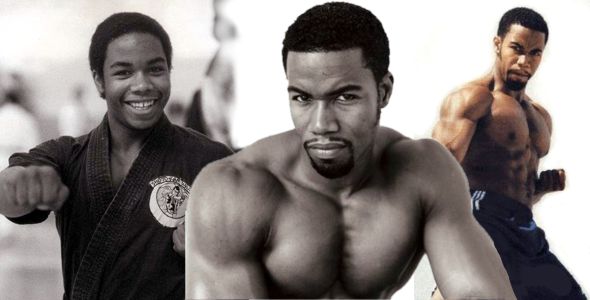 Michael Jai White has a middle name that is often mispronounced, Jai is pronounced Jye. He was born in Brooklyn New York. Before he hit his teens his family moved to Bridgeport, Connecticut. The city of Bridgeport is very close to the city of Westport, but the two cities couldn't be more different. Bridgeport boasted some of the highest crime rates per-capita, in the United States, and Westport was said to have the highest per-capita income levels in the U.S. The geographical proximity between the two cities proved to have an invaluable affect on the future acting of Michael Jai White. Michael lived in both drastically opposing worlds, with friends from the worst housing projects as well as the richest mansions and he learned to be at home in either setting.
In school, Michael Jai White hung out with the nerdier, more introverted types; but he still had to put on a street persona. Michael Jai White hated bullies and would often end up in battles which eventually earned him a reputation as one of the toughest and most feared street fighter's in the area.
At age 14 Michael Jai White was partially on his own and often had to fend for himself in his chaotic world. He was already 6 ft, and 190 pounds, with a deep voice and facial hair, so he was easily mistaken for an adult. He made money teaching Karate at the local YMCA, fighting in tournaments, and dancing in contests. In spite of everything, this former troubled youth graduated high school with honors and went on to college, without a clue as to what he want to become.
Michael Jai White jumped from university to university; UCONN,S.C.S.U., and major to major; Political Science, Communications, Engineering, all the while finding room to squeeze in an acting class or two. In college  Michael Jai White never considered acting as career choice and he eventually became a junior high school teacher with a gift for reaching troubled children. For three years he taught 5th, 6th, and 7th grade, emotionally disturbed children. This endeavor is what Michael Jai White says has been his proudest achievement. Along with his growth as an educator, came the growth of the desire to act.
Though reluctant to follow acting, Michael Jai White felt he had to get it out of his system, so in his time off he began to audition for roles in nearby Manhattan. Eventually Michael Jai White landed commercials, theatre roles, and bit parts in soaps. This was a turning point in his life. He had to decide between teaching and acting and this was a difficult decision. He finally choose acting with the blessing of his young students. In 1992 Michael Jai White moved to Los Angeles to pursue acting, however his acting was motivated by his desire to teach;
The actor has a responsibility to teach his audience the truth while standing in the shoes of the character he is playing at the time. Done correctly, acting can teach people about themselves as well as others. It has the power to touch and change the lives of millions at a time.
As a martial artist, Michael Jai White holds eight black belts of varying degrees in eight different martial arts forms. He began training in the martial arts at the age of eight and he achieved his first black belt at the age of twelve. He has over twenty years of experience in the arts.
He was originally a student of the legendary Shigeru Oyama, (who was, at the time, the world renowned head of the U.S. Kyokushin Karate Association and who is currently the head of World Oyama Karate).
Michael Jai White went on to achieve a black belt in seven other karate styles; Shotokan, ITF Tae Kwon Do, WTF Tae Kwon Do, Kobudo, Goju Ryu, Tang Soo Do and in the Superfoot system. Michael tested for and earned his 8th degree Black Belt at the JLFS/Superfoot summer conference on October 11, 2013. He has also had years of Wu-Shu Kung Fu training under current American Wu-Shu team coach, Eric Chen.
Michael Jai White has trained privately with the likes of Bill" Superfoot" Wallace, Benny " The Jet" Urquidez, Shihan Bobby Lowe, Shokei Matsui, Jean Claude Van Damme, James Lew, Don " the Dragon " Wilson, Peter Cunningham, Billy Blanks, Gene Lebell  and Joe Lewis. Michael Jai White has also worked behind the scenes on stunt fighting sequences with Steven Segal.
Michael Jai White himself has amassed countless trophies, awards and Grand Championship honors from open "point System" to inter-federational tournaments both at home and abroad, throughout his twenty-plus years as a martial artist. The U.S. Open, North American J.K.A., World Knockdown Free sparring Champion are among many titles earned by Michael Jai White before he moved to Los Angeles to continue his already successful dramatic acting career.
In the midst of the glamour and glitz of Hollywood, Michael Jai White has not been corrupted. He states that he is a martial artist first and that he maintains his skills to stay competitive, as any current champion of "fight" or "form" would.
"Regardless of what I'm into I always want to be able to get on the training floor with anyone at any time. I am a Martial Artist, first. I apply my Martial Arts discipline, focus, strength, and spirit to my life as well as my acting work. It is a way of life. Life cannot physically or mentally put me through more than I have voluntarily traversed through Martial Arts training. I am ready for anything. From the "Mike Tyson" story to "Spawn," four to five months of rigorous filming at a time can't touch twenty years of sweat."
Michael Jai White Movies:
Favela (2013)…John Chapman
Somebody's Child (2012)…Douglas
The Philly Kid (2012)…Arthur Letts
Freaky Deaky (2012″…Donnell Lewis
We the Party (2012)…Officer Davis
Never Back Down 2 (2011)…Case
Tactical Force (2011)…Hunt
Why Did I Get Married Too? (2010)..Marcus
One Angry Juror (2010)…Derrick
Three Bullets (2009)..The Man
Blood and Bone (2009)…Isaiah Bone
Black Dynamite (2009)….Black Dynamite
The Dark Knight (2008)…Gambol
Why Did I Get Married? (2007)…..Marcus
Undisputed II (2006)….George Chambers
Getting Played (2005)…..Actor
Silver Hawk (2004)…..Morris
Justice (2003)….Tre
Hotel (2003)…(TV)
Pandora's Box (2002)….Hampton Hines
Exit Wounds (2001)…..Lewis Strutt
Freedom Song (2000) (TV) ……Coleman Vaughnes
The Bus Stop (2000) (as Michael J. White)
Universal Soldier: The Return(1999)…..S.E.T.H.
Mutiny (1999) (TV)…..Ben Cooper
Breakfast of Champions (1999)……Howell
Ringmaster (1998)…….Demond
Thick as Thieves (1998)…..Pointy Williams
Spawn (1997)…..Al Simmons / Spawn
City of Industry (1997)….Odell Williams
2 Days in the Valley (1996)….Buck
Captive Heart: The James Mink Story (1996) (TV)….Elroy
Shaughnessy (1996) (TV)…..Carpenter
Ballistic (1995) (as Michael White)….Quint
Tyson (1995) (TV)….Mike Tyson
Lion Strike (1995)….Silvio
Full Contact (1993) (as Michael White)…Low-Ball
Universal Soldier (1992)….Soldier
Ring of Fire (1991/I)(as Michael White)
True Identity (1991) (as Michael White)…..Alley Guy #1
Teenage Mutant Ninja Turtles II (1991) (uncredited)..Audience Man
The Toxic Avenger III (1989) (as Michael White)..Apocalypse Executive
The Toxic Avenger II (1989) (as Michael White)..Apocalypse Executive
TV Episodes:
Metal Hurlant Chronicles..Teague (2012)
For Better or Worse…Marcus (2011-)
Black Dynamite:The Animated Series..Black Dynamite (2011-)
The Legend of Bruce Lee.. Ali (3 episodes, 2008)
House of Payne… Bryan (2 episodes, 2008)
Windfall.. Michael (1 episode, 2006)
Clubhouse.. Ellis Hayes (9 episodes, 2004-2005)
CSI: Miami.. Officer Roy Bailey (1episodes, 2003)
Soul Food .. Russell Banks (1 episode, 2001)
Boston Public .. Darren Schofield (1 episode, 2001)
Wonderland.. Dr. Derrick Hatcher (5 episodes, 2000)
JAG… Petty Officer Peter Quinn (1 episode, 1995)
NYPD Blue… Off. Reginald "Reggie" Fancy (2 episodes, 1995)
Living Single… Steve (1 episode, 1994)
Martin… Valdez (1 episode, 1994)
Renegade(1 episode, 1993)
Saved by the Bell… Military Police Man #2 (1 episodes, 1992)
Saturday Night Live(1990)…Hosted by Susan Lucci
America's Most Wanted(1990)…Walter Anderson
Producer:
Somebody's Child (2012) (Executive Producer)
Three Bullets (2009) (Producer)
Blood and Bone (2009) (Co-Producer)
PVC-1 (2007) (Executive Producer)
Director:
Never Back Down 2 (2011)
Three Bullets (2009)
Writer:
Three Bullets (2009) (writer)
Black Dynamite"(2009) (Screenplay) (Story)
Promo Video:
Mortal Kombat: Rebirth (2010)… Jax
The Moor (2009)
Black Dynamite (2009)
Invictus ( ? )
Web Series:
Mortal Kombat: Legacy (2011)…Jackson Briggs
Video Games:
The Underground Bounty Hunter (2007)… Hatch
Justice League Heroes (2006)… Green Lantern
Music Video:
YourLove by.. Nick Minaj
Hands Tied by..Toni Braxton
Give it to me by..Busta Rhymes ft. Mariah Carey
Theatre:
To Kill a mocking bird
Anything goes
A Raisin in the sun
Animation:
Batman: The Brave and the Bold..Tattooed Man(2011)
The Boondocks… Bushido Brown/Cop (1 episode 2010)
Justice League..Doomsday (2 episodes, 2003-2005)
Static Shock… Osebo (2 episodes, 2003-2004)
Commercials:
Burger King
Stunt Work:
Three Bullets (2009) (Fight Choreography)
On Deadly Ground (1994) (Stunts) (as Michael White)
Prototype (1992) (Stunts) (as Michael White)
Miscellaneous Crew:
Undisputed II (2006) (Boxing Coach) (Uncredited)
The Toxic Avenger III (Assistant wrestling coordinator)(As Michael White)
The Toxic Avenger II (Assistant wrestling coordinator)(As Michael White)
Self:
The Mo'Nique Show ..Himself (2 episodes, 2009-2010)
Way Black when (2010) (TV) .. Himself
Made in Hollywood .. Himself (1 episode, 2009)
Up Close With Carrie Keagan .. Himself (1 episode, 2009)
Unconventional (2004)… Himself
E! New Daily… Himself (1 episode, 2004)
HBO first Look … Himself (1episode, 2001)
Making "Exit Wounds (2001) TV episode… Himself
The Keenan Ivory Wayans show … Himself (1 episode, 1997)
The Making of Spawn (1997) (TV) … Himself