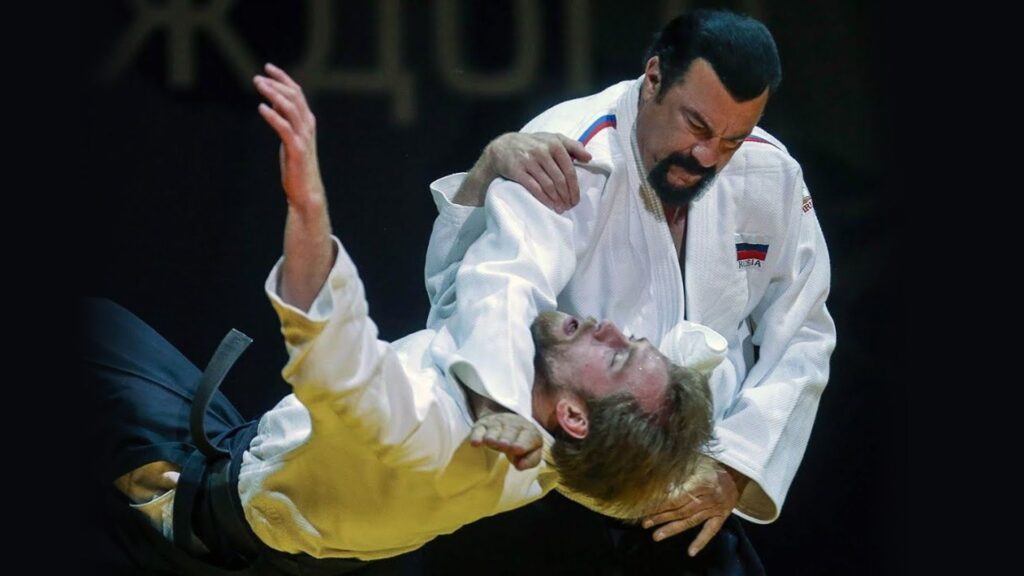 Martial artist and actor, Steven Seagal was born on April 10, 1952 in Lansing, Michigan, USA. Steven Seagal burst began his action career in films in 1988 in the Warner Brothers film Above the Law (1988).
Steven Seagal began his martial arts training at the age of seven, studying with the well-known karate instructor and author, Fumio Demura, and in the 1960's he began studying the Japanese arts of aikido, training in Orange County, California, under the instruction of Harry Ishisaka. Seagal received his first dan accreditation in 1974, after moving to Japan to further his martial arts training. He spent many years in Japan, working on his skills, and achieving the rank of a 7th dan in aikido. Coming back to the United States, he began teaching aikido to wealthy clients in the Los Angeles area when he came to the attention of Michael Ovitz, the Hollywood power broker.
The action movie genre was in full swing in the late 1980's and Michael Ovitz saw the star value in the imposing-looking Steven Seagal. Seagal's debut movie, Above the Law, was widely received by action fans and received some complimentary critical reviews. He followed up Above the Law with another slam-bang thriller, Hard to Kill (1990), where he plays a cop who is shot by the mob in an ambush, and, after he revives from a coma, he is out to get revenge. The movie also starred Seagal's wife at the time, Kelly LeBrock, who was married to him from 1987 to 1996 and is the mother of three of his children. In his next film he battles a voodoo-using Jamaican drug kingpin in the hyper-violent Marked for Death (1990), before returning to fight psychotic mob gangster William Forsythe in the even more punishing Out for Justice (1991). Having build an enormous action following, his next movie, Under Siege (1992), was a larger budget film, set aboard the battleship USS Missouri and also stars Tommy Lee Jones and Gary Busey. This is considered his best film to date, impressing both his fans and critics.
Steven Seagal's fighting style was different from that of other on-screen martial arts actioin actors of the time. Bruce Lee, Chuck Norris, and Jean-Claude Van Damme were predominantly fighters from the striking and kicking arts. However, Seagal uses the martial art of aikido, which redirects the momentum of an opponent's attack, and then uses a throw or joint lock to terminate the technique which incapacitates the opponent.
Steven Seagal carries himself differently from other martial artists and likes to dress differently, setting himself apart. He likes wearing Italian designer clothes and favors whereing black, generally with a three-quarter-length coat with an elaborate trim. Seagal's on-screen characters are often benign or timid individuals, but when the going gets rough they reveal their true identity as deadly ex-CIA operatives, or retired Special Forces soldiers, capable of enormous destruction.
Steven Seagal's box-office drawing power grew, and he began to use his film projects to promote his personal and spiritual beliefs, especially concerning the abuse of the environment. He appeared as an oil fire expert who turns against his corrupt CEO (Michael Caine) in On Deadly Ground (1994) to save the Eskimo population from an oil disaster. In Fire Down Below (1997), he plays an environmental agency troubleshooter investigating the dumping of toxic waste in Kentucky coal mines, and in the slow-moving The Patriot (1998) he plays a medical specialist who must stop a lethal virus unleashed by an extremist group.
Adding personal messages to his films had an affect on his Action fans who struggled to come to terms with this social messaging in his action films; however, Seagal's box-office remained fairly strong, but more traditional chopsocky projects followed with the buddy cop film The Glimmer Man (1996), then he plays a cameo role as a Navy SEAL alongside CIA analyst Kurt Russell in Executive Decision (1996).
In 1999 Steven Seagal made a different kind of film with the surprising genteel Prince of Central Park (2000), about a child who is searching for his mother and sets up camp inside NYC's Central Park. He returns to more familiar action territory in Exit Wounds (2001), Half Past Dead (2002), Out for a Kill (2003) and Belly of the Beast (2003). Continuing to make films, he made Clementine (2004), Into The Sun (2005) Urban Justice (2007), Machete (2010), Maximum Conviction (2012) Contract To Kill (2016), Code of Honor (2016), Attrition (2018) and so many others.
In 1997 Steven Seagal publicly announced that one of his Buddhist teachers, His Holiness Penor Rinpoche, had accorded Seagal as a tulku, the reincarnation of a Buddhist Lama. This initial announcement was met with some disbelief until Penor Rinpoche himself gave a confirmation statement on Seagal's new title. Steven Seagal often discusses his involvement in Buddhism and his devotion to studying and meditating in this ancient Eastern religion.
Steven Seagal still has a loyal fan base in the action movie genre and continues to remain a bankable movie star, even though his box-office appeal has somewhat declined since the mid 1990s.
In addition to his acting career and his study of the martial arts of aikido, Steven Seagal also plays the guitar and writes music. His songs have been featured in several of his movies including Fire Down Below and Ticker. In 2005, he released his first album, Songs from the Crystal Cave, which is a mixture of pop, world, country and blues and it features duets with Tony Rebel, Lt. Stichie, Lady Saw, and Stevie Wonder. The soundtrack to Seagal's 2005 film Into the Sun features several songs from this album. One of his album tracks, Girl It's Alright, was released as a music video single in some parts of the world.
In April 2006, Steven Seagal's second album, titled Mojo Priest, was released and he spent the summer of 2006 touring the United States and Europe with his band, Thunderbox, supporting the album.