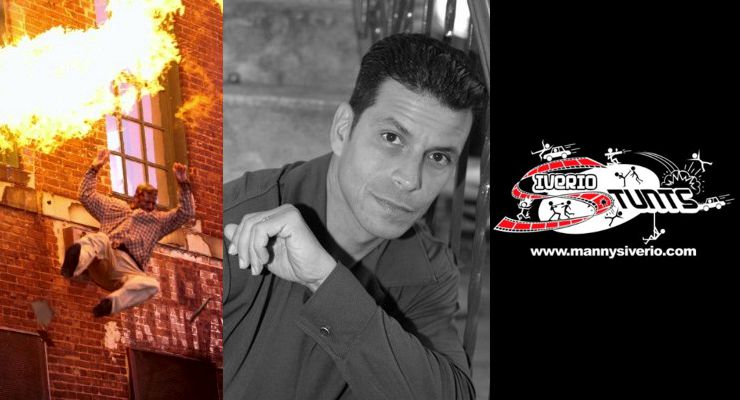 Manny Siverio's martial art background is the universal element which ties together all the components of his diversified career in stunt coordinating, stuntwork, writing, 2nd unit directing, acting and mambo dancing. He began his martial art training in 1970 at the age of 10. Over the years he has trained in the martial arts of Tae Kwon-Do, Boxing, Kick-Boxing, Kali, Grappling and Wing Chun. He has used his martial arts training in physical fitness, bouncing, writing, film work and dancing. He started his MCIA School of Fighting in Hatillo, Puerto Rico in the late 1970's and moved the school to New York City until the mid to later 1980's. His martial arts skills have helped him as a physical fitness instructor at the Jack La Lanne Clubs, Service Supervisor job for the NY Vertical Health Club, start a successful One-On-One Martial Art Training business, become a freelance writer for the martial art magazines, author two martial art training books, author an instructional martial art training video series and helped launch his film career. He has even been able to incorporate his martial art background into his mambo (salsa) dancing. Though not limited to fighting, he is highly respected in the NYC area for his fight work as both a stunt coordinator and as a stuntman. In his career he has been hired to help prepare such actors as Michael DeLorenzo, Wesley Snipes, Grant Show, Matt Dillon, Robert Townsend and Michelle Rodriguez (GIRL FIGHT) for film fight sequences. His fight choreography has been sought after by HBO (Undefeated with John Leguizamo), Showtime (Paradise TV Pilot with Kirk Acevedo) and by Fox TV (Boxing Coordinator for Jonny Zero TV series).
Manny Siverio is a New York based Latino Stunt Coordinator, Stuntman, 2nd Unit Director, Actor and Writer who has been involved in the film business for roughly 25 years.To date, he is the only Latino to simultaneously belong to SAG (Screen Actors Guild), DGA (Directors Guild of America), AFTRA (American Federation of Television and Radio Artists), WGA (Writers Guild of America) and HOLA (Hispanic Organization of Latin Artists). Not to mention the only Latino member of Stunt Specialist. He was honored by both SAG and the EEOC during their 1997 Latino Recognition Night for his accomplishments; and has been featured in such publications as Cristina Magazine, Hispanic Magazine and The San Juan Star Newspaper. He has been featured on several television programs like Univision's "Despierta America" (Hispanic version of Good Morning America). His standing in the industry has kept him busy working in NYC and traveling around the nation and Puerto Rico, performing, coordinating and directing stunts.
Manny Siverio is the winner of 2008 Best Fire Taurus Award for his work on American Gangster.
Manny Siverio started writing freelance articles for martial art magazines at 18 and has continued writing ever since. During his late teens to his mid-twenties he contributed to every major martial art magazine in the U.S. including BLACK BELT MAGAZINE, KARATE ILLUSTRATED MAGAZINE, INSIDE KUNG-FU MAGAZINE, INSIDE KARATE MAGAZINE and was a columnist for COMBAT KARATE MAGAZINE. During his tenure as a martial arts writer he authored two books for Rainbow Publications (HIGH INTENSITY WEIGHT TRAINING FOR THE MARTIAL ARTIST & THE COMPLETE GUIDE TO FOCUS GLOVE TRAINING). He later authored and starred in a 7 tape instructional martial art video series which was produced by Panther Productions. His writing interests shifted as he became more involved in the film industry and has written several screenplays to date. He got into the WGA (Writers Guild of America) when he sold a screenplay to Paramount Pictures for an episode idea of STAR TREK: The Next Generation.
Since then he has added the titled of WEB-AUTHOR to his credits when he began covering the NY Salsa Dance Scene as the original correspondent to SalsaWeb/NY and continues to do so today as Co-Publisher to SalsaNewYork.com. Currently Manny balances his Salsa writing hobby with his film writing career.
Manny Siverio started learning how to dance the New York "On 2" Style of Mambo (Salsa) dancing in 1995. His first dance instructors were Addie Diaz (who later became his wife) and Nelson Flores. He later moved on to a more advanced level and took lessons at both the Eddie Torres and Jimmy Anton's Dance Studios.
Manny eventually became a member of the Eddie Torres "Jammers" where he developed the experience that has made him the dancer he is today. He was exposed to performing on several prestigious stages as a dancer for artist such as Tito P uente and Celia Cruz. He was an original cast member to the first Off-Broadway Mambo Musical: LATIN MADNESS, has performed at the 3rd Annual Congreso Mundial de La Salsa in Puerto Rico, the 1st Annual Congreso Mundial de la Salsa in New York and the 3rd Annual West Coast Salsa Congress in Los Angeles (to name a few). Manny was the first to successfully combined his martial art & stunt background with mambo dancing. He began working with the "Latin Dance Ensemble" where he took part in choreographing a martial arts style Mambo number (Mam-Fu in 1999) and since then has choreographed a Knifefighting mambo number (Hustler late 2000) for the Addie-Tude Dance Company. He has traveled to perform in such places at Hawaii, San Francisco, Los Angeles, Puerto Rico, Hong Kong, Japan, Switzerland, London and Paris. When not working on a film projects, he usually assists as an instructor at his wife's (Addie Diaz-Siverio's) weekly dance class in New York City. Salsa-Writer: After a chance meeting in L.A. (while working on the feature: BLADE), he began to apply his writing skills to dancing when he became the first cityguide correspondent to Salsaweb.com Magazine. Using the format favored by many popular martial art magazines, Manny focused on the NY Mambo Instructor/Performer much like the Martial Art Magazines favored the Martial Art Instructor/Fighter and soon converted his section into the largest of the cityguides and the second most popular page of the entire worldwide Salsa web site. Having left Salsaweb in late 2000, Manny is currently the co-publisher of SalsaNewYork.com and has helped transformed it into the ultimate New York Salsa/Mambo dancer website that it is today with articles, interviews, instructor reviews and dancer oriented resources.