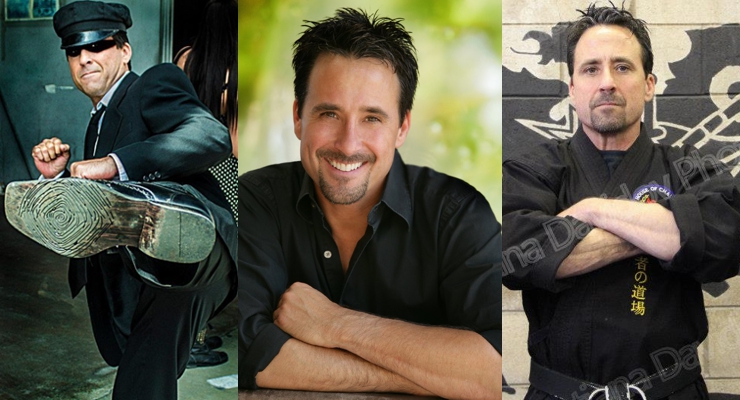 Mark Parra is a martial artist and actor known for Bachelor Man Gun Hill (2011), (2003), 13 Dead Men (2003) and Bachelor Man (2003).
Mark Parra has over twenty-five years of martial arts experience in his blood. He holds Black Belts in four different styles and disciplines. He had his first experience with the martial arts while watching Bruce Lee as Kato in the television series The Green Hornet. His second encounter was with Benny "The Jet" Urquidez and his family. In 1978, Mark began training with the Urquidez Brothers, a lifetime journey. Mark earned one of the few elite Black Belts ever given by the Urquidez Family and The Jet Center. Ten years later, Mark became the Director of Martial Arts at the Jet Center in Van Nuys, California. Mark later opened a humble dojo and called it the House Of Champions (HOC). Today, the HOC is a spectacular 6,500 sq.ft. facility that offers training to everyone from pro-athletes to young children. Recently, Mark received the Prestigious Lifetime Achievement Award for his dedication and contribution to the martial arts. It was presented by Master Cecil Peoples.
Mark's journey continued on to further his knowledge by currently studying under Arjukanpo Master Vince Palumbo of Adelaide South Australia and by Master Anthony Kleeman of Grand Master Cacoy Canete's "Doce Pares" Filipino Fighting Arts of Cebu City, Philippines. Mark also trains weekly in Brazilian Jiu Jitsu under Master Free Taylor and Master Adam Nalbantian. Currently working with World Champions Peter "Sugarfoot" Cunningham & Ricky " The "Mongoose" O'Kane in the art of Muay Thai.
Mark's shares his love for the martial arts with his passion for acting, theater, television and especially film. Interested in all aspects of show business, Mark began studying acting with the best in the business in 1981. He's been able to incorporate his martial arts into many acting roles. Over a twenty year span, he has acted in such feature motion pictures as 13 Dead Men, The Circuit I and II, Violent Zone, and HP Lovecraft's The Unnamable. Recently he's appeared in Soft Target, No Rules, and Into The Heat. Mark has also been seen on numerous TV shows including She Spies and Young and the Restless, and on educational videos such as Magnificent Seven and Youth in America.
Mark Parra has graced the cover and pages of several magazines, both here and abroad. Mark has also made a name for himself as a personal trainer to the stars. His private clients come from the Film, TV, Radio and Music Industries, with clients including Nicolette Sheridan and Eva Longoria of Desperate Housewives, Ellen K and Billy Burke of radio KISS FM, Dave Mustaine of Megadeath World Tour 1991-1992 and Paula Tricky of"Pacific Blue.
As a public service to his community, Mark and The House of Champions does charitable work with children and adults who suffer from Attention Deficit Disorder (ADD), and works against gang violence, as well as working with students with special needs. Mark and The House of Champions has appeared on LA's UPN News on FOX's Good Day LA and recently on 9 on the town where Mark shared stunt skills with actors.
Mark has worked and trained both in boxing and kickboxing with many professional and amateur fighters including World Kickboxing Champion Peter "Sugarfoot" Cunningham, Danny "Hard As" Steel, Don "The Dragon" Wilson, Mia "The Knockout" St. John, Hector Lopez and more.