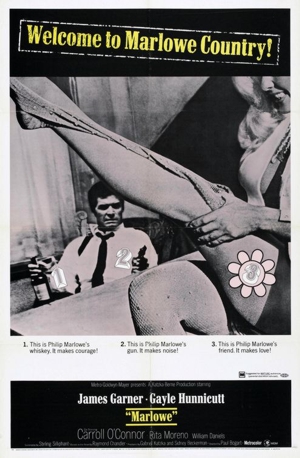 Marlowe was Bruce Lee's first movie and introduced Bruce Lee, the actor, to American audiences. Bruce played Winslow Wong in Marlowe. In the movie, Bruce is the crony of Sonny Steelgrave (H.M. Wynant) and Bruce uses his martial arts (karate chops) to redecorate Marlowe's office.
Marlowe starred James Garner as Raymond Chandler's detective Philip Marlowe and was based on Chandler's 1949 novel The Little Sister. The movie was directed by Paul Bogart and foreshadowed James Garners character in The Rockford Files.
Director: Paul Bogart
Writers: Raymond Chandler (novel), Stirling Silliphant (screenplay)
Stars: James Garner
Supporting Cast: Bruce Lee, Gayle Hunnicutt, Rita Moreno, Carroll O'Connor and Jackie Coogan
Plot: On a case to track down a missing person, Philip Marlowe (James Garner) is contacted by sweet Midwesterner Orfamay Quest (Sharon Farrell) to find her brother who had come to Los Angeles several years earlier. When Marlowe tracks down two men who knew the brother, he discovers each man has been killed with and an ice pick. He deduces that  there is more to this case than meets the eye when he is questioned by the local Lt. Christy French (Carroll OConor). Marlowe suggests the trade-mark ice pick stabbing may be the work of well-known gangster Sonny Steelgrave (H.W. Wynant), but there seems to be no real provable connection. When Marlowe finds photographic prints of popular sit-com actress Mavis Wald (Gayle Hunnicut) and realizes she is the older sister of Orfamay Quest and the missing brother, the pieces to the puzzle begin to fall into place. After a meeting with Sonny Steelgrave leads to a follow-up meeting with his crony Winslow Wong (Bruce Lee) who redecorates Marlowes office with Karate chops, Marlowe takes a meeting with a serpentine Dr. Vincent Lagardie (Paul Stevens) who attempts to sidetrack Marlowe with some special cigarettes. This leads Marlowe to the missing brother, and the most unlikely and beautiful suspect holds the key to the entire mystery.