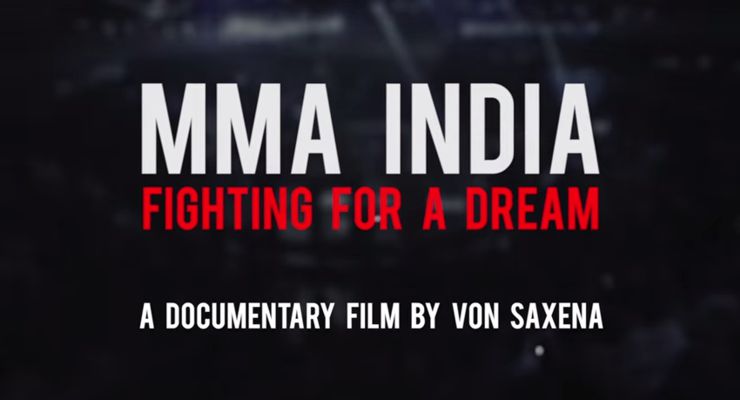 The Indian Express ~ A cage, a canvas floor in bright red and an audience on the edge of its seats. It's a hand-picked scene from the Amitabh Bachchan-starrer Naseeb (1981) that suggests the reality of mixed martial arts (MMA) in India. Delhi-based filmmaker Von Saxena sets out to show this through his documentary MMA India: Fighting for a Dream that premiered at India Habitat Centre on Wednesday evening.
The opening scene shows two MMA practitioners in a cage, incorporating a variety of combat techniques such as standing elbows, jiu-jitsu, karate, freestyle wrestling and kickboxing as they fight standing and sometimes on the ground.
Through the 85-minute long film, Saxena shows how MMA has attained the status of an alternative sport in India, especially since Full Contact Championship in 2009 and the Super Fight League (SFL) — backed by actor Sanjay Dutt and businessman Raj Kundra — in 2012 arrived on the scene.
Filmed last year, it traces the history and inception of the sport in India. The film shows how MMA has a presence in Kolkata, Bangalore, Delhi, Mumbai and Calicut and the role of the All India Mixed Martial Arts Association.
Saxena, 31, became a devout MMA fan when his brother introduced him to the sport in 2008. He says, "When I made my friends watch videos on MMA, they thought it was WWE (World Wrestling Entertainment). This film will show what MMA enthusiasts have been working on."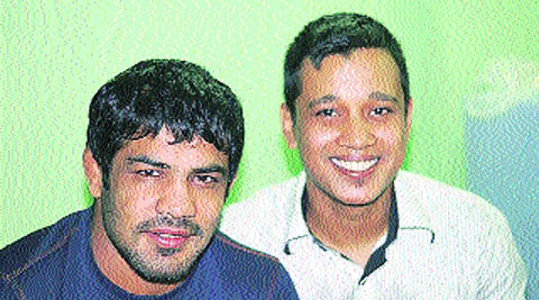 The documentary shows how the stunts at the World Wrestling Federation, now called WWE, are enacted on stage to keep the audiences entertained, as opposed to the real and unscripted action that unfolds during a MMA match. Saxena says, "In Bollywood, the actors are seen jumping, flying and using dramatic techniques. Real fighting does not work like that, which I realised after shooting this film." The documentary captures underground wars in gyms and fight nights held at amateur clubs and the SFL that takes place at the Filmalaya studio in Mumbai.
Renowned names in the sport have been interviewed in the film such as Daniel Isaac, CEO, SFL, who is one of the pioneers of MMA in India, two-time Olympic medalist and wrestler Sushil Kumar, and Alan Fernandes, who was the first Indian MMA expert to represent India overseas alongside young MMA fighters such as Bharat Khandare from Bhagur near Nasik and Pawan Maan from Dwarka. There is an interview with Priyanka Jeet Toshi from Haryana, who happens to be one of the first women fighters in the country to take up the combat sport professionally.
Siddharth Singh, who is the founder of the Crosstrain Fight Club that provides MMA training in the Capital, was a boxer from school days. In the film, he explains how he crossed over to MMA while in England. "Very few break out and cross-training does not happen. I have also featured Sushil Kumar to depict how very few move out from the kushti and akhada system," says Saxena.
Saxena has included jibes at Bollywood actors. So a lean Aamir Khan is singing Papa Kehte Hai…in Qayamat Se Qayamat Tak (1988), after which the camera quickly shifts focus to his transformed muscular body in Dhoom 3 (2013) while Salman Khan's changing physique is depicted through his contrasting looks in Saajan (1991) and Dabangg (2010).
Recently, MMA has also become increasing popular as a fitness and self-defense regime in urban centres and the documentary does not shy away from throwing light on this new trend. Many gyms have now started offering training in MMA in Delhi and Mumbai and with increasing concerns about women's safety, its application in self-defence training for women stands as its latest accomplishment.
This story appeared in print with the headline Packs A Punch