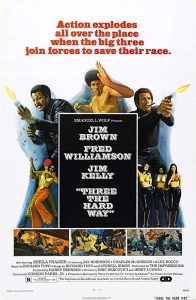 Three the Hard Way (1974) is Directed by Gordon Parks Jr. and written by Eric Bercovici, and Jerrold L. Ludwig. The film stars Jim Brown, Fred Williamson, Jim Kelly
Blaxploitation film about three martial arts specialists, one a record producer played by Jim Brown, one a PR man played by Fred Williams, and one a karate Black Belt played by Jim Kelly, who must prevent white supremacists from tainting the U.S. water supply with a toxin that is only harmful to black people.
Other films have been made to parody Three The Hard Way (1974). Undercover Brother (2002) is an example of a film that uses the plot from Three The Hard Way (1974) as a parody. When "The Man" tries to derail a black candidate's presidential campaign, Undercover Brother (Eddie Griffin) and his fellow secret agents come to the rescue by stopping the white-run "Man" before he destroys the black population of the United States through an ingested toxin. Mr. Feathers, played by Chris Kattan is "The Man's" second in command and he is named after Monroe Feather (Jay Robinson) from Three The Hard Way (1974).