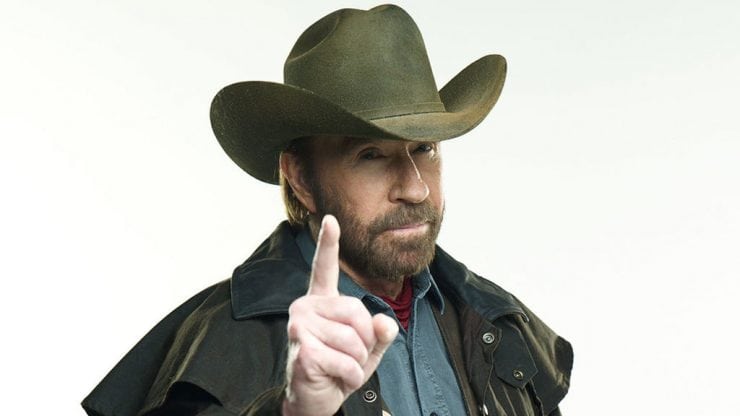 Action movie star and television star Chuck Norris (Carlos Ray Norris) was born on March 10, 1940 in Ryan, Oklahoma, United States. He began his career as a martial arts competitor who retired with a record of 183 wins, 10 losses and 2 draws. For 6 years, 1968 to 1974, he was an undefeated World Professional MiddleWeight Karate Champion defeating the World's Top Fighters. He held that title until 1974 when he retired undefeated. Chuck was named Black Belt magazine's "Fighter of the Year" in 1969. It was Chuck's knowledge of the martial arts and his use of pure martial technique in his fight scenes that made his movies and television shows exciting to watch. Chuck was a renowned teacher in the martial arts and taught many Hollywood stars including Steve McQueen, Bob Barker, Priscilla Presley and Donnie and Marie Osmond. It was Steve McQueen who urged Norris to get into acting.
It was Chuck Norris' tour in the Air Force after high school that led to his career in the martial arts and in entertainment industry. Deciding on a career in law enforcement, Chuck  joined the USAF security police. While he was stationed in Korea, Chuck realized that he had to pull his weapon to arrest a rowdy drunk and he did not feel that this was appropriate. He decided to learn martial arts and began studying the Korean martial arts of Tang Soo Do and Tae Kwan Do. Chuck became one of the first Westerner to be awarded an eighth-degree Black Belt in Tae Kwan Do.
It was also in 1969, that Chuck Norris made his acting debut in the Dean Martin film The Wrecking Crew. Then, at a martial arts demonstration at the Long Beach Internationals in California, Chuck met the soon-to-be famous Bruce Lee and in 1972 Chuck acted as Lee's antagonist in the movie Way of the Dragon (Return of the Dragon in the U.S.), which is credited with launching Chuck toward stardom. His first starring role was in the 1977 movie Breaker! Breaker! and, with subsequent films such as Good Guys Wear Black (1978), The Octagon (1980), An Eye for an Eye (1981), and Lone Wolf McQuade, he continued to prove his popularity with movie goers.
In 1984, Norris starred in Missing in Action, the first of a series of prisoner of war rescue movies based around the Vietnam War POW/MIA issue. This issue hit close to home for Norris as he lost his younger brother, Weiland, a private in the 101st Airborne Division, in Vietnam. Weiland was killed while on patrol in the defence of Firebase Ripcord. Norris dedicated his Missing in Action films to his brother's memory. Two sequels were made after Missing in Action, Firewalker and Sidekicks.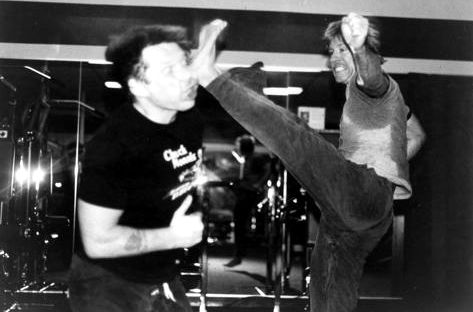 Over the next four years, Chuck Norris became the prominent star for Cannon Films. He appeared in eight films, including Code of Silence, The Delta Force, and Firewalker, co-starring with Academy Award winner Louis Gossett, Jr.. Many of these films were produced by Aaron Norris, Chuck's brother. Aaron also produced several episodes of Walker, Texas Ranger. In 1986, Chuck was involved in the production of the Ruby Spears cartoon Karate Kommandos, an animated television series that originally aired as a syndicated five episode mini-series.
This video has no sound and it still hurts to watch.
CHUCK NORRIS THEATRICAL MOVIES
The Expendable 2 (2012)
The Cutter (2005)
Bells of Innocence (2003)
Forest Warrior (1996)
Top Dog (1995)
Walker Texas Ranger 3: Deadly Reunion (1994)
Survivor Series (1994)
Curse Of The Dragon (1993)
Hellbound (1993)
Bruce Lee And Kung Fu Mania (1992)
Sidekicks (1992)
Dying For A Smoke (1992)
Hitman (1991)
Delta Force 2: Operation Stranglehold (1990)
Hero And The Terror (1988)
Braddock: Missing In Action III (1988)
Firewalker (1986)
Delta Force (1986)
Missing In Action 2: The Beginning (1985)
Invasion U.S.A. (1985)
Code Of Silence (1985)
Missing In Action (1984)
Lone Wolf McQuade (1983)
Forced Vengeance (1982)
Silent Rage (1982)
Eye For An Eye, An (1981)
Octagon (1980)
Force Of One, A (1979)
Good Guys Wear Black (1978)
Breaker! Breaker! (1977)
Bruce Lee Legend (1977)
Slaughter In San Francisco (1973)
Student Teachers (1973)
Enter The Dragon (1973)
Meng Long Guojiang (1972)
Wrecking Crew (1969)
CHUCK NORRIS TELEVISION MOVIES
Walker, Texas Ranger: Trial by Fire (2005)
President's Man: A Line In The Sand (2002)
President's Man (2000)
Logan's War: Bound By Honor (1998)
CHUCK NORRIS TELEVISION SERIES
Walker Texas Ranger (1993 – 2001)
CHUCK NORRIS DOCUMENTARIES
The Real Miyagi (2015)
In the Shadow of Chuck Norris (2014)
I Am Bruce Lee (2012)
The Gracies and the Birth of Vale Tudo (2010)