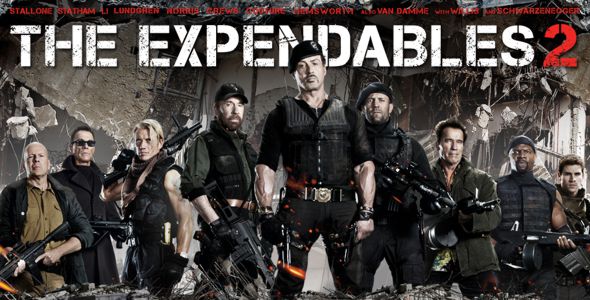 This list of Chuck Norris Films is a work in progress. Enjoy!
The Wrecking Crew (1969)
Director: Phil Karlson
Writers: Donald Hamilton (novel), William P. McGivern (screenplay)
Stunt Coordinator: Bruce Lee
Stars: Dean Martin, Elke Sommer and Sharon Tate
Bruce lee get Chuck Norris a bit part and a fight scene. Chuck plays the Man in the House of 7 Joys, and has one line to say, "May I, Mr. Helm?" Chuck is so nervous that his throat tightens up and he can barely speak. It doesn't matter, they love his fight scene!
Plot: The count has stolen 1 billion in U.S. gold, which is enough to cause a financial crisis in the world markets. I.C.E. sends in ace spy, Matt Helm, to stop the count. Matt always works alone, but the British send in Freya to aid Matt. Freya causes more problems than she solves.
Return of the Dragon (1973)
Director: Bruce Lee (this is the only movie Bruce Directed)
Writer: Bruce Lee
Stunt Coordinator: Bruce Lee
Stars: Bruce Lee, Nora Miao, Chuck Norris, Ping-Ao Wei, Chung-Hsin Huang, Malisa Longo, Bob Wall
Bruce Lee's pre-Enter the Dragon movie was a change of pace from his usual hard-hitting action films. In this picture he along with his kung-fu. This movies is Lee's attempt at directing. Return of the Dragon works because Lee is a charismatic star. Lee has great comic timing and his usual physical prowess which makes the action scenes. He also manages to utilize both humor and his martial arts skills together on occasion. The best example is a scene where Lee squares off with a group of mobster's at a restaurant. The movie benefits from its picturesque Italian setting (a novel location for a kung-fu film) and an impressive fight finale between Lee and Chuck Norris. On the down side, the film's low-budget shows and the other performers all pretty much pale in comparison to Lee. The real flaw with Return of the Dragon lies in its ending. A last-minute twist doesn't work for the audience because it is too tragic for a film that had previously been so lighthearted. Despite the depressing ending, it remains a popular blend of kung-fu and comedy for Bruce Lee fans.
Plot: A man visits his relatives at their restaurant in Italy and has to help them defend against brutal gangsters harassing them.
This is Chuck's film debut. Bruce wanted to fight and kill the "world champion" in this movie and the world champion was Chuck Norris. Bruce wins!
Breaker! Breaker! (1976)
Director: Don Hulette
Writer: Terry Chambers
Stunt Coordinator:
Stars: Chuck Norris, George Murdock, Terry O'Connor, Don Gentry, John DiFusco, Ron Cedillos
Plot: A small town in California is under the thumb of Judge Josh. Josh and his thugs use CB radios to lure truckers into town where they rough them up. But when Taw Kwan Do expert J.D. Dawes comes looking for his brother, they find that their time of reckoning has come.
Good Guys Wear Black (1977)
Director: Ted Post
Writers: Bruce Cohn (screenplay), Mark Medoff (screenplay), and Joseph Fraley (story)
Stunt Coordinator: Hubie Kerns Jr. (Eric Lee and Aaron Norris did stunt work in the movie)
Stars: Chuck Norris, Anne Archer, James Franciscus, Lloyd Hanes
This was a tough movie for Chuck Norris, because he actually had dialogue to memorize. It was also a movie that was never picked up by a studio so the actors had to rent theaters and they made money from the ticket sales. It also had one of his exception scenes where he does a flying side kick through the windshield of a moving car.
Plots: An ex-US Army commando must find the reason why his comrades from his unit are being systematically murdered before he is next.
A Force of One (1978)
Director: Paul Aaron
Writers: Pat E. Johnson (story), Ernest Tidyman (story & screenplay)
Stars: Jennifer O'Neill, Chuck Norris, Clu Gulager, Ron O'Neal
Martial artists in the movie: Bill Wallace, Aaron Norris, Rick Prieto, Pat Johnson, Carlos Valencia, Robert Barrow
Plot: A team of undercover narcotics agents is conducting an investigation when things mysteriously go haywire and one by one, the squad is eliminated by an assassin. The police enlist the aid of karate champion Matt Logan to help discover the identity of the karate killer.
The Octagon (1979)
Director: Eric Karson
Writers: Paul Aaron (story), Leigh Chapman (screenplay & Story)
Stunt Coordinator:
Stars: Chuck Norris, Karen Carlson, Lee Van Cleef, Art Hindle
Martial artists in the movie: Tadashi Yamashita, Richard Norton, Gerald Okamura
Plot: A martial artist must defeat a plan by ninjas to create a worldwide training camp for terrorists.
An Eye for an Eye (1980)
Director: Steve Carver
Writers: James Bruner (screenplay & Story), William Gray (screenplay)
Stunt Coordinator:
Stars: Chuck Norris, Christopher Lee, Richard Roundtree, Matt Clark, Mako
Martial artists in the movie: Toru Tanaka, Rick Prieto
Plot: Sean Kane is forced to resign from the San Francisco Police Department's Narcotics Division afer he goes berserk when his partner is murdered. He decides to investigate alone and follows a trail of drug traffickers into unexpected high places.
Silent Rage (1981)
Director: Michael Miller
Writer: Joseph Fraley, Edward Di Lorenzo
Stunt Coordinator:
Stars: Chuck Norris, Ron Silver, Steven Keats
Martial artists in the movie:
Plot: In the hospital of a small town, three doctors experiment on a man called John Kirby. As a result, John becomes a mute, maniacal, murderer who has the ability to heal automatically whenever he gets injured. He kills everyone he comes across so the town's sheriff goes after him, but he can't stop someone who can't be hurt or die.
Forced Vengeance (1981)
Director: James Fargo
Writers: Franklin Thompson, James Fargo
Stunt Coordinator:
Stars: Chuck Norris, Mary Louise Weller and Camila Griggs
Martial artists in the movie: Richard Norton
Plot: A casino security guard is forced into violence from when the Hong Kong mob threatens his friends.
Lone Wolf McQuade (1982)
Director: Steve Carver
Writers: B.J. Nelson (screenplay & Story), H. Kaye Dyal (story)
Stunt Coordinator:
Stars: Chuck Norris, David Carradine, Barbara Carrera, Leon Isaac Kennedy
Plot: J.J. McQuade is a Texas Ranger who doesn't exactly follow the rules, is unruly, and prefers to work alone, which earns the nickname, Lone Wolf McQuade. When he discovers some criminals have automatic weapons, he discovers that they were stolen from the military. He tries to handle on his own, as usual, but in the end, an old friend, and a prisoner, whom he was keeping under wraps, are killed. He is then relieved of duty. But then an FBI agent, who also wants to get these guys, offers to help McQuade, and along with a rookie, they track down the mastermind.
This was one of Chuck's favorite movies.
Martial artists in the movie: Chuck Norris,
Missing in Action (1984)
Director: Joseph Zito
Writers: Arthur Silver (characters), Larry Levinson (characters), Steve Bing (characters), James Bruner (screenplay), John Crowther (story), Lance Hool (story)
Stars: Chuck Norris, M. Emmet Walsh, David Tress, Lenore Kasdorf, James Hong
Martial artists in the movie: Chuck Norris, James Hong, Jean-Claude Van Damme
Plot: Colonel James Braddock is an American officer who spent seven years in a North Vietnamese POW camp. 10 years later Braddock accompanies a government investigation team that goes to Ho Chi Minh City to investigate reports of Americans still held prisoner. Braddock gets the evidence then travels to Thailand, where he meets Tuck, an old Army buddy turned black market kingpin. Together, they launch a mission deep into the jungle to free the American POWs from General Trau.
Code of Silence (1985)
Director: Andrew Davis
Writers: Michael Butler (screenplay andstory), Dennis Shryack (screenplay and story), Mike Gray (story)
Stars: Chuck Norris, Henry Silva and Bert Remsen, Henry Silva, Mike Genovese
Plot: A Chicago cop is caught in a middle of a gang war while his own comrades shun him because he wants to take an irresponsible cop down.
Invasion U.S.A. (1985)
Director: Joseph Zito
Writers: James Bruner (screenplay), Chuck Norris (screenplay), Aaron Norris (story), James Bruner (story)
Stars: Chuck Norris, Richard Lynch, Melissa Prophet | See full cast and crew
Delta Force (1986)
Director: Menahem Golan
Writers: James Bruner, Menahem Golan
Stars: Chuck Norris, Lee Marvin, Martin Balsam
After a plane is hijacked by terrorists, The Delta Force are sent in to resolve the crisis.
Firewalker (1986)
Braddock: Missing in Action (1987)
Hero and the Terror (1988)
Delta Force 2: Operation Stranglehold (1990)
Sidekicks (1992)
Hellbound (1994)
Top Dog (1995)
Forest Warrior (1996)
Chuck Norris: Private Lesson (1997)
Logan's War: Bound by Honor (1998)
The President's Man (2000)
Bruce Lee and Kung Fu Mania (2001)
The President's Man 2 (2002)
Bells of Innocence (2003)
Dodgeball: A True Underdog Story (2004)
The Cutter (2006)
The Expendable 2 (2012)