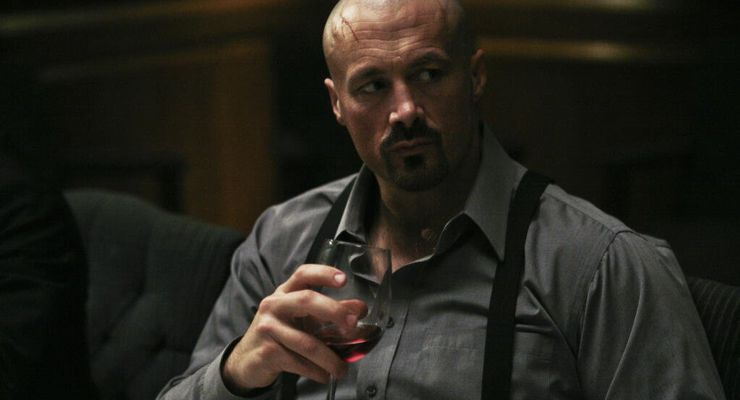 Paul Lazenby says that he is and actor and stuntman, a combat sports journalist and a face puncher. He is known for his work on The Chronicles of Riddick (2004), X-Men: The Last Stand (2006) and X-Men 2 (2003).  He portrayed Mr. Robbins in the first season Arrow episode, "Home Invasion".
Paul Lazenby is:
Paul Lazenby is a NFC Canadian mixed martial arts champion.
Paul Lazenby is Undisputed Canadian Muay Thai kickboxing champion.
In 1997, with no prior combat sports experience, Paul Lazenby became the first Canadian ever to fight in Japan's "Pancrase Hybrid Wrestling" MMA organization. He is the only Canadian in history to fight Pancrase champion Masakatsu Funaki.
He took 3rd place in the 1995 Canadian Strongman Championships.
He won a Silver medal in the Canadian Junior Powerlifting Championships (Canadian record 601 lb. deadlift).
He was one of the primary figures in the campaign to re-legalize the sport of Mixed Martial Arts in Vancouver during its ban between 2007 and 2009.
Paul Lazenby played one of Stone Cold Steve Austin's opponents in the underground fighting movie "Damage", suffered a broken nose during filming.
He was Stunt double for former WWE wrestler "Stone Cold" Steve Austin for the movies "The Stranger", "Hunt to Kill", "Tactical Force", "Recoil", "Maximum Conviction" and "The Package".
Paul Lazenby is husband of the late WWE wrestler Marianna Komlos aka "Mrs. Cleavage".
He is stunt coordinator for the "EA Sports UFC" and "EA Sports MMA" video games.
Paul Lazenby trained at Calgary's Hart Brothers Pro Wrestling Camp by Lance Storm and Chris Jericho.
He was the first superheavyweight fighter in history to hold Canadian titles in MMA and Muay Thai at the same time.
Paul Lazenby is certified as a professional MMA judge by Big John McCarthy's C.O.M.M.A.N.D. organization.