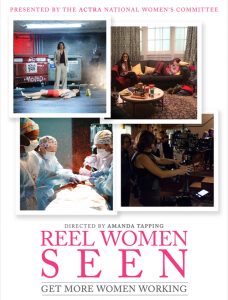 Reel Women Seen (2017) is a nation-wide collaborative effort by the ACTRA National Women's Committee, and takes a comedic look at how women are underrepresented in all areas of screen-based media, most notably: as protagonists; behind the scenes in creative, writing and directorial roles; and in key technical roles.
Reel Women Seen (2017) tells the story of the realities faced by women in the film and TV industry yet simultaneously depicts the necessary, possible and achievable ways to transform them. The story is set in common TV backdrops – from a police procedural to a sitcom (complete with laugh track), to a medical drama, to a webisode series. One continuous narrative unfolds through a series of brief parodies, ending with resolve for change. The project features an ensemble cast of women as widely diverse as imaginable. Reel Women Seen (2017) is shot in Vancouver and Toronto, and supported by unions, guild, industry professionals and suppliers.
The talented crew and all-female cast include members of: ACTRA; IATSE locals 873, 891, 669 and 667; DGC BC; DGC ON; WGC; NABET; Screen Composers Guild of Canada; and Teamsters.
According to Director Amanda Tapping, "Reel Women Seen (2017) takes a light-hearted yet poignant look at the lack of female representation in multi based media. It aims not to poke fun at the stereotypes and underrepresentation facing women but rather to shine a light on it. In turn, the hope is to make people think about what they see on their screens (and behind the scenes) and how to change it for the better. Our aim is to also encourage young women to aim higher and to pursue careers in what is an often male dominated industry. If women are seen in key positions then girls have something to aspire to. If the public sees women in key positions and being better represented on their screens then the old stereotypes fade away. We will go from being an anomaly to being the norm. In essence we want to shift the paradigm. And we want to have fun doing it!"
The short came out on May 25, 2017 in Canada.
Cast
Victim: Valerie Sing Turner
Kennaway: Carmen Moore
Fisher: Kristin Lehman
Mom: Jennifer Podemski
Grandma: Rosemary Dunsmore
Teen Daughter: Krystal Hope Nausbaum
Young Daughter: Saara Chaudry
Patient: Valerie Sing Turner
Dr. Old: Gabrielle Rose
Nurse: Veena Sood
Dr. Young: Jodelle Ferland
Dr. Minority: Rukiya Bernard
Producer: Heather Allin
Actress: Jajube Mandiela
Samantha: Samantha Wan
Amanda: Amanda Joy
1st Assistant Director: Ellen David
Director: Cary Lawrence
Screenwriter: Karen Robinson
Director of Photography: Tommie Amber Pirie
Directed By: Amanda Tapping
Written By: Elvira Kurt
Produced By: Heather Allin
Director of Photography: Kim Derko, C.S.C.
Edited By: Lara Mazur, CCE
Original Score By: Janal Bechthold
Production Designer: Diana Magnus
Associate Producers: Cary Lawrence, Catherine Lough Haggquist, Farah Merani, Freya Ravensbergen, Jodi Sadowsky, Christine Willes, Daintry Dalton (ACTRA)
Production Managers and Line Producers: Maura G.C. Ferrand
(Toronto) and Patti Poskitt (Vancouver)
Post-Production
Post Production Supervisor: Denise Lee Hutchinson
Sound Editor: Claire Dobson
Music Supervisor: Dondrea Erauw
DI Post Project Manager: Julia Niendorf
Crew
Camera Operators: Christina Kasperczyk (Vancouver), Tammy Jones (Vancouver), Sylvaine Dufaux (Toronto)
Gaffer: Kerri Coombs (Vancouver)
Key Grip: Maya Nadine Chang (Vancouver)
Best Boy Electric: Sarah Beck (Toronto)
Best Boy Grip: Randi Lee Reilly (Toronto)
Category
People & Blogs
Music in this video
Learn more
Listen ad-free with YouTube Premium
Song
Free The World
Artist
NEFE
Licensed to YouTube by
UMG (on behalf of Universal Music Canada)