Peter Mayhew was born on May 19, 1944 in Barnes, London, England. He was an English hospital worker, who inadvertently found himself catapulted into films. He was the towering gentle giant responsible for bringing Chewbacca to life. Mayhew stood 7'3″ and was the son of a policeman. He spent a short time in the field of engineering before discovering that he felt more fulfilled by hospital service. In the mid-1970s, he was working as a hospital orderly at London's King's College Hospital when he was featured in a newspaper article about men with large feet. Film producer Charles H. Schneer saw Peter's photo, with him literally standing above the crowd around him. Charles H. Schneer cast him in Sinbad and the Eye of the Tiger (1977), Ray Harryhausen's special effects film.
It was just over a year later that Peter was asked if he wanted to take on another role. He was told the role was a big hairy beast. It was the role of Chewbacca, the faithful 200 year-old Wookiee in Star Wars: Episode IV – A New Hope (1977) that changed Peter Mayhew's life forever.
Following the original Star Wars trilogy, Mayhew did several commercials in the Wookiee costume including one for Cingular and Orange associated with Star Wars: Episode III – Revenge of the Sith (2005). In 1997, the twentieth anniversary celebrations of Star Wars were announced with the release of the "Special Edition" and all the conventions started.
Peter was active on the "Star Wars" convention circuit where he signed autographs for fans and love for the gentle giant grew consistently throughout the years.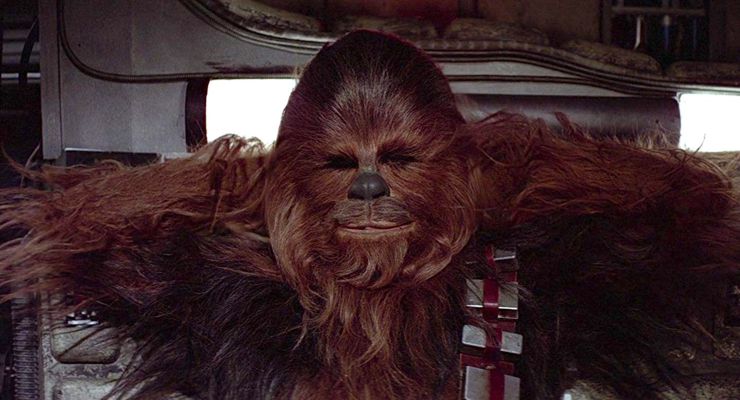 Besides his service in London's King's College Hospital, he worked tirelessly for charities such as Wounded Warriors and and the Make-A-Wish Foundation. He was known for helping families in crises providing food, supplies and support to children and their parents. Having worked in a hospital he knew how difficult it was for children and he would regularly become Chebacca and visit hospitals to cheer up sick children and their parents.
Harrison Ford said, "Peter Mayhew was a kind and gentle man, possessed of great dignity and noble character."
Peter Mayhew died from a heart attack on April 30, 2019, in Boyd, Texas. His death broke his fans hearts. Peter truly was a man whose heart was bigger than he was.
Peter founded a non-profit 501(c)3 charity organization called "The Peter Mayhew Foundation" which is "devoted to the alleviation of disease, pain, suffering, and the financial tollbrought on by life's traumatic events. By providing its available resources directly to deserving children and adults in need, we assist numerous charitable organizations in order to promote and boost their effectiveness and provide support where needed."
He was also ran his website, chewbacca.com which was the website where fans could get autographed photos and official merchandise.
Peter Mayhew wrote two children's books, "Growing Up Giant" and "My Favorite Giant"