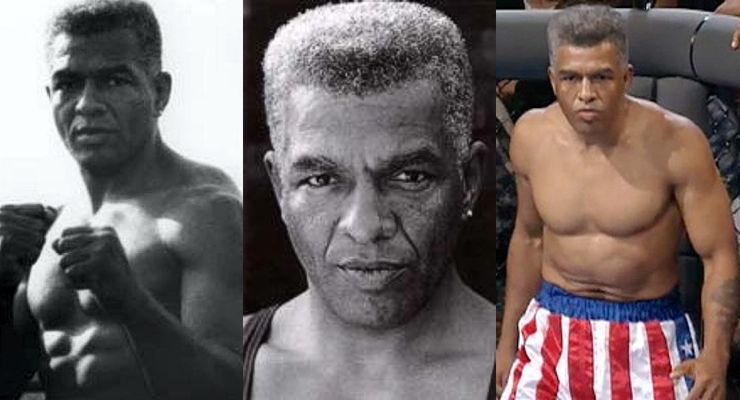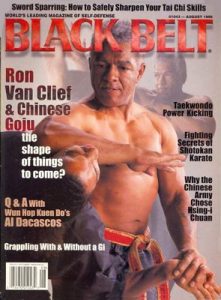 Ron Van Clief is an American martial artist and action film actor in both Hollywood and Hong Kong films. He was born on January 25, 1943 in Brooklyn, New York. He served as a  U.S. Marine from 1960 to 1965 and served in the Vietnam war in 1965. He became a New York City Transit Police Officer in 1965 and served until 1968. He was an instructor for the U.S. Secret Service from 1993 to 1998.
Ron "The Black Dragon" Van Clief started martial arts training in his early teens. At 5 feet 10 inches and 190 pounds, Van Clief was fast, powerful, and tough. He won 10 New York State Full-Contact Karate Championships. He won multiple Karate Point-Fighting titles. By the early 1970s he had earned his 10th Degree Black Belt. His karate record was reported to be 110-8. In 1994 at age 51, he launched a comeback on December 16, 1994 fighting former World JuJitsu Lightheavyweight and Ultimate Fighting World Champion Royce Gracie. The Black Dragon landed one good punch, but was taken to the canvas where after a valiant battle was submitted with a rear naked choke near the four-minute mark. This ended one of the greatest fighting careers in martial arts history. Ron went on to serve as the commissioner of the UFC. He retired from competition in 2002 after winning the All American Karate Championship at age 60. Ron competed in over 900 tournaments in over 40 years on the tournament circuit and he retired as a 5 time world karate/kungfu champion and 15 time all American champion.
Ron Van Clief was a student of some of the greatest martial artists including Goju-Ryu master Peter Urban, Frank Ruiz, and Moses Powell. He also studied with WingTsun founder Leung Ting, and he studied Modern Arnis (Remy Presas) and Brazilian jiu-jitsu (Joe Moreira). Ron Van Clief created his own style of martial arts, called "Chinese Goju," in 1971. In his art he attempted to unify Japanese style goju-ryu with its roots in Chinese martial arts. He currently holds the rank of 10th degree red belt (shidoshi or grandmaster), in his system. He earned numerous black belts in his martial arts career, including black belts in karate (Goju-ryu), jujutsu, judo, kung fu and tae kwon do.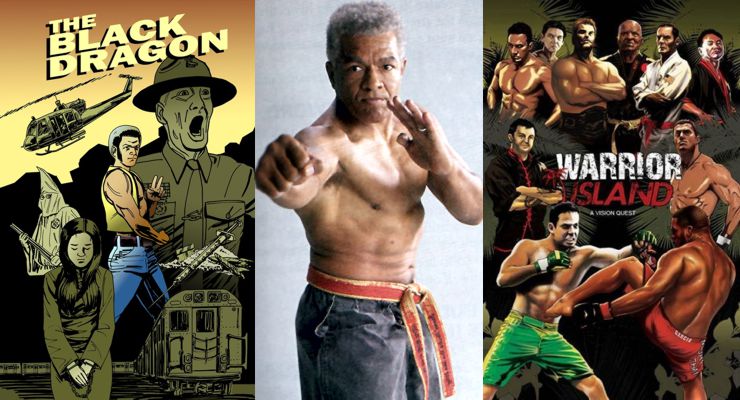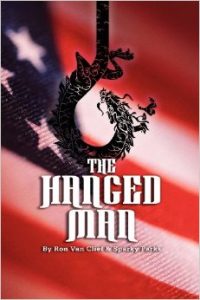 Ron Van Clief is the author and creator of a number of instructional books including The Manual of the Martial Arts written in 1982. In 1984 and 1985 he wrote A Complete Introduction to Preparation for and Techniques of the Martial Arts for white belts and another book for green and purple belts. He wrote Black Heroes of the Martial Arts in 1996. In 2012 he wrote The Hanged Man: The Story of Ron Van Clief with Lance D. Parks. He also has two comic books BLACK DRAGON and WARRIOR ISLAND and he has produced videos.
Ron Van Clief was Black Belt Magazine's 2002 Instructor of the Year.
Ron Van Clief was a member of the Screen Actors Guild for over 3 decades. He got his first acting job when he and George Estraga were selected for roles with Jason Pai Pao in the 1974 Hong Kong film The Black Dragon (aka Super Dragon) directed by Tony Liu.
Some of his film roles during the 1970s were Blaxploitation films, films regularly featuring soundtracks of funk and soul music with primarily black casts. These films also capitalized on the then-novelty of an African-American martial artists, following in the tradition of Jim Kelly's role in Enter the Dragon. Ron Van Clief starred alongside Leo Fong in a Filipino action film called Bamboo Trap in 1975. Because of his films roles, Bruce Lee called Van Clief by the nickname "The Black Dragon" and it stuck. Ron Van Clief was the fight choreographer for the film The Last Dragon.
One of Ron Van Clief films that was never released was "The Art of Cliefing", directed by Jason Dash. The producers pulled the funding at the last minute, due to widespread protests in Korea.
Ron Van Clief also performed various voice-over roles for the international television series, Kung Faux, which took old 1970's martial arts films and re-cut them down to standard television half hour lengths.