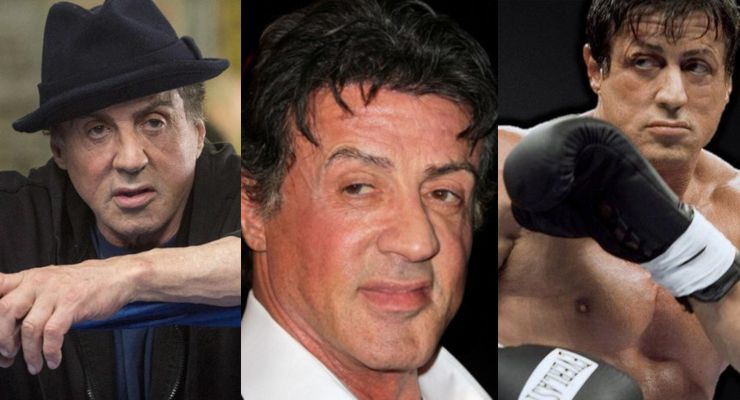 Action actor Sylvester Stallone is also a screenwriter and director known best for his characters in the Rocky and Rambo series of films.
Sylvester Stallone was born on July 6, 1946, in New York's Hell's Kitchen. His father was an Italian immigrant, and his mother is half French (from Brittany) and half German. Sylvester attended the American College of Switzerland and the University of Miami, earning a B.A. degree. He got small parts in films such as The Party at Kitty and Stud's (1970) and Klute (1971) and the comedy Bananas (1971). His career break came when he got the lead, along with Henry Winkler The Lords of Flatbush (1974) the teen gang film. A few other jobs came his way but most notable was his role as Machine Gun Joe Viterbo in the Roger Corman-produced film Death Race 2000 (1975). Stepping out of his role as actor, Sylvester Stallone wrote Rocky, a film script inspired by the 1975 Muhammad Ali-Chuck Wepner fight in Cleveland. His script was Stallone wrote a film script about a fighter nobody knew who was given a "million to one opportunity" to fight for the heavyweight title. His script became Rocky (1976), a cinematic legend receiving ten Academy Award nominations, winning the Best Picture Award of 1976 and beginning one of the most fan and financially successful movie franchises ever. Stallone became Hollywood's hottest new star.
Following Rocky (1976) Stallone starred in F.I.S.T. (1978), a film loosely based on the life of Teamsters boss "Jimmy Hoffa", and then directed and starred in Paradise Alley (1978) before he brought Rocky Balboa back for another round in Rocky II (1979). Rocky II was was not as successful as the first Rocky but the film still had a strong box office. His next films, Nighthawks (1981) and Victory (1981) failed to engage his audiences so Stallone went for round three with Rocky III (1982). With Clubber Lang, played by ex-bodyguard, Mr. T., The third installment of Rocky outperformed the first sequel at the box office. but Stallone retired his prizefighter for a couple of years as another mega-franchise was about to commence for the busy actor.
Rocky Balboa went into retirement and Green Beret, John Rambo, was born. Rambo was created by Canadian-born writer David Morrell and Morell's novel was adapted to the screen with Sylvester Stallone playing the in the lead role beginning with First Blood (1982). The movie was a surprise hit and worldwide. A sequel soon followed with Rambo: First Blood Part II (1985). This second film was a major money maker for Stallone and set him up as one of the top male stars of the 1980s. The now amazingly popular Sylvester Stallone went for round four with Rocky IV (1985) as Rocky Balboa climbed into the ring once again to defend American pride against a Soviet threat in the form of a towering Russian boxer named "Ivan Drago" played by Dolph Lundgren.
Sylvester Stallone went on to star his macho type characters in a slew of other action films that were met with mixed emotions from his fans. Those films included Cobra (1986), Over the Top (1987), Rambo III (1988), and Tango & Cash (1989).
It wasn't long before Rocky returned in Rocky V (1990). Tommy "Machine" Gunn was played by real-life heavyweight fighter Tommy Morrison, who is the great-nephew of screen legend John Wayne. Stallone next starred Oscar (1991), and the the hilarious Stop! Or My Mom Will Shoot (1992). Next came the futuristic action film Demolition Man (1993) and the comic book-inspired Judge Dredd (1995). Next came a bit different role for Stallone when he took on a dramatic role in Cop Land (1997) with Robert De Niro and Ray Liotta. Next Stallone used his vocal talents to voice Weaver in the animated story Antz (1998). He then tried to reprise the role of Jack Carter, made famous by Michael Caine, in the remake of Get Carter (2000). This was followed by the racing film Driven (2001), and he then guest-starred as the "Toymaker" in the third and immensely popular Spy Kids film series, Spy Kids 3: Game Over (2003). Boxer Rocky Balboa came back to star in Rocky Balboa (2006) and Sly reappeared in another of the series of Rambo films, Rambo (2008).
Sylvester Stallone took on the character of Barney Ross in The Expendables (2010), The Expendables 2 (2012), The Expendables 3 (2014) and The Expendables 4 has been announced. He brought back Rocky Balboa as trainer and mentor to Adonis Johnson, the son of his late friend and former rival Apollo Creed in the film Creed (2015) and in Creed II (2018) the newly crowned light heavyweight champion Adonis Creed faces off against Viktor Drago, the son of Ivan Drago. Rambo will return in Rambo 5 (2019) when Rambo goes up against a Mexican cartel in what's reported to be his last adventure. Sylvester Stallone also stared as Ray Breslin in Escape Plan (2013), Escape Plan II (2018) Escape Plan 3: Devil's Station (2019).
Sylvester Stallone has become one of the all time best loved action stars and his film characters have had considerably influence on modern popular culture.