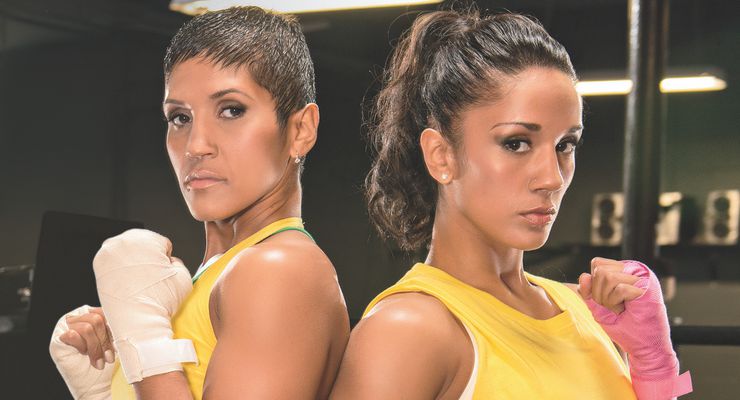 Amanda Serrano is the younger sister of Cindy Serrano and the two are known as The Serrano Sisters in the boxing industry. They are the only world champion female sisters in Professional boxing today. Both sisters are multi world champions, Amanda 26 is a three time three division world champion. Currently she is the UBF featherweight world champion and was formerly the WBO lightweight world champion and also the IBF super featherweight world Champion. Cindy 33 is a two time two division world champion. Currently she's the UBF lightweight world champion and was formerly the UBF super featherweight world champion.
With their beauty and incredible boxing skills these sisters have been making the transition from boxing to mainstream MMA.
The Serrano Sisters have been featured in over 25 magazines, graced the cover of six. (Did huge spreads for top magazines) an 8 page spread for Muscle & Fitness Hers as well as a 12 page spread for the high fashioned XEX Magazine.
They were featured on National TV, American Latino channel 5, Telemundo channel 47's Luz de America. A special sports edition program for fox 5 by Duke Castiglione. Also on an Emmy winning documentary/ Latino Americans of NY for channel 13
The Serrano Sisters can be seen in Fight Valley (2016) a movie co-staring MMA Fighters Miesha Tate, Cris Cyborg and Holly Holm.
Cindy and Amanda have also been featured in 5 music videos alongside music greats Loaded Lux, RedMan, Method Man, Cuban Link, and R&B legends Force MD's.
Having been blessed themselves, The Serrano Sisters are always looking for ways to give back to others. Just a few of the events they have participated in include a 5k run for battered women in New Jersey, four meet and greet events (Motivational speaking) for the Boys & Girls Club of New York, funding a battered Mother & Child shelter gift event and Toys For Tots at Christmas. They are also on the Board of an Anti bullying campaign called Worthy Lifestyles.
Cindy and Amanda are going to continue building their brand and giving back to those in need. "Getting and giving are the two best feelings. They should always go together!" says Amanda.
The Serrano Sisters created a Magazine BodyNStyle to give those who are worthy the opportunity to tell their own story when their story has not yet been heard. "Life is about just that! Getting the right opportunity and maximizing it," adds Cindy.