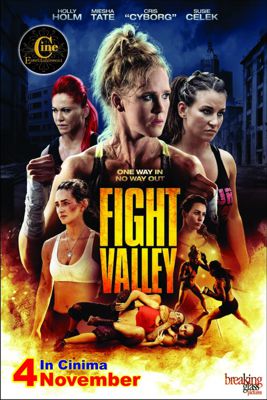 Fight Valley (2016) was written and directed by Rob Hawk. The film stars Susie Celek, along with mixed martial artists, Miesha Tate, Holly Holm, and Cris Cyborg. The Serrano Sisters, professional boxers who recently turned to MMA, are also in the film.
A young woman is found dead after getting involved in an underground fighting ring. Her sister Windsor begins training under a respected ex-fighter as she searches for the killer.
Fight Valley (2016) Tori Coro (Chelsea Durkalec) is found beaten, bloody and dead in a forest, and no one knows the reason for her death. Rumor has it that she is another victim of a fight club organized clandestinely in a deserted industrial park and known as Fight Valley. Weeks pass and the police have yet to find any clues so Tori's sister, Windsor (Susie Celek), comes to town to begin her own investigation. She learns that the Coro's fought for money to make ends meet. Windsor soon realizes that she may be forced to fight in the valley if she is going to find the truth about the mysterious death of her sister so she begins to train with Jabs (Miesha Tate) who is an experienced fighter and the former Champion of the underground club who left the valley promising never to return. Windsor will have to fight in her sisters footsteps if she wants to come face to face with the killer in Fight Valley.