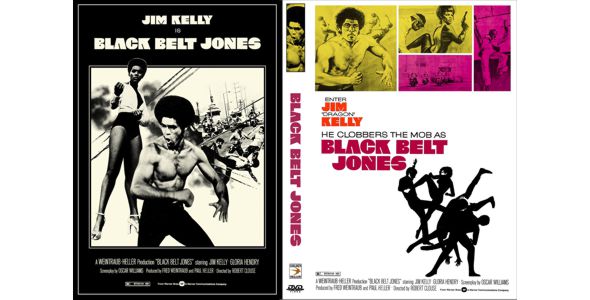 Los Angeles Times | January 10, 2010 | By Steve Ryfle
Warner Home Video releases 4 Film Favorites Urban Action Collection, a Jim Kelly DVD set with Black Belt Jones, Flack Samson, Three the Hard Way and Hot Potato.
Before Jackie Chan and Jet Li, before Chuck Norris, Jean Claude van Damme and Steven Seagal, Jim Kelly earned his place in the pantheon of martial arts heroes fighting alongside Bruce Lee in 1973's "Enter the Dragon." With his lightning-quick fists and feet, cocksure attitude and repertoire of quotable one-liners, the Afro-sporting, chisel-chested Kelly was as cool and flashy as Lee was fast and lethal.
Nearly four decades on, Kelly has become a certified cult film legend — the 2009 blaxploitation spoof "Black Dynamite" contained more than one homage to his movies — though his Hollywood career was all too brief.
This week, Warner Home Video will release its Urban Action Collection, featuring three of Kelly's classic films on DVD for the first time: 1974's "Black Belt Jones" and "Three the Hard Way" and 1976's "Hot Potato." A fourth entry in the set, 1974's "Black Samson," stars Rockne Tarkington, the actor who was originally set to play Kelly's groundbreaking role in "Enter the Dragon."
The collection and a new wave of public appearances are going a long way toward helping Kelly reclaim his legacy as Hollywood's first African American fighting film icon.
"I broke down the color barrier — I was the first black martial artist to become a movie star," said Kelly, 63, the owner and director of a tennis club in the San Diego area. "It's amazing to see how many people still remember that, because I haven't really done much, in terms of movies, in a long time."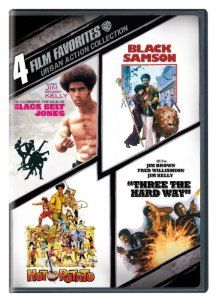 Kelly owed much of his initial success to a combination of athletic prowess, raw ambition and a little luck. Raised in Millersburg, Ken., and San Diego, where his father ran a locker-rental service for U.S Navy sailors, Kelly excelled at sports in high school and attended the University of Louisville on a football scholarship, but he abruptly quit school in protest of a coach's racist treatment of a fellow player.
He discovered karate by chance in the mid-1960s and quickly made it his life's focus. By decade's end, he was living in Los Angeles, studying and competing with prominent martial artists and teaching at his own karate school.
"My ultimate goals were to get into the movie business, to become famous, to make a lot of money and motivate and inspire young people, people of all nationalities and colors," Kelly said during an interview last month. "But I didn't know anything about acting. And there weren't a lot of black heroes in the movies at that time. I felt that with the martial arts, I could offer Hollywood something different. So my goal was to become a world champion martial artist and try to get noticed."
In 1971, Kelly won the middleweight division title at the Long Beach International Karate Championships. Soon afterward, he was hired to train actor Calvin Lockhart in karate for the 1972 thriller "Melinda," and he ended up playing a martial arts instructor. His breakthrough role in "Enter the Dragon" followed — after Tarkington unexpectedly dropped out of the production.
"Two or three days before we left to shoot in Hong Kong . . . suddenly I was stuck without an actor," producer Fred Weintraub recalled. "Somebody told me about a school that Jim Kelly had on Crenshaw Boulevard. I went down to see him, watched him work out and hired him immediately."
As Williams, an inner-city karate master on the run from racist cops, Kelly had just a few short fights, but with his funky fashion sense and unquestionable sexual prowess — in one memorable scene, he takes a veritable harem to bed — he made a lasting impression on moviegoers, particularly African American males.
" 'Enter the Dragon' is a primary text for my whole generation, and Jim Kelly's presence is invaluable," said film and television director Reginald Hudlin. "Jim Kelly looked cool, he had a perfect mushroom-bomb-shaped Afro, he carried himself in a stylish way, and he was political. You were glad to see yourself represented onscreen in general but specifically by him. Jim Kelly conveys a level of class that not every black exploitation-era hero had."
The movie was a giant hit, and Kelly was rewarded with a non-exclusive, three-picture contract with Warner Bros. He was the first martial artist signed to such a deal.
Between 1974 and 1976, he landed his biggest roles in the films contained in the new DVD collection: In "Black Belt Jones," he played a secret agent fighting the mob; in "Three the Hard Way," he teamed with ex-NFL stars Jim Brown and Fred Williamson to thwart a white supremacist plot; "Hot Potato" follows Kelly into the jungles of Thailand to rescue a diplomat's daughter who's been kidnapped.
When Kelly's studio contract ended in the late 1970s, black action movies and martial arts films had fallen out of favor. Instead of midbudget studio projects, Kelly now starred in ultra-low-budget schlock titles including "Black Samurai," "Death Dimension" and the Hong Kong-made "The Tattoo Connection."
By the 1980s, Kelly was in movies only rarely; he turned his attention to tennis and became a ranked professional player on the USTA senior men's circuit. Since then he's divided his time between athletic and business pursuits, practically disappearing from view except for a 2004 Nike TV commercial with NBA star LeBron James titled "Chamber of Fear," a pastiche of kung fu movie tropes.
His prolonged absence seems to have enhanced his icon status rather than diminished it, however.
"Jim Kelly was gone for so long, some people thought he was dead," said David Walker, co-author of "Reflections on Blaxploitation." When Kelly appeared at Comic-Con International in San Diego last summer, "everybody went nuts when they found out he was there because he's a true living legend, and there's still a mystique about him," Walker said.
Added Hudlin: "The iconography that Jim Kelly established as the cool martial artist with the giant 'fro resonates to this day. If within only a few films you can create an image that lasts over 30 years, you must have done something really right. And he did."
Kelly has attended a few other events to sign autographs and take pictures with fans. Still physically fit, he doesn't rule out another action movie role, either.
"I never left the movie business," Kelly said. "It's just that after a certain point, I didn't get the type of projects that I wanted to do. I still get at least three scripts per year, but most of them don't put forth a positive image. There's nothing I really want to do, so I don't do it. If it happens, it happens, but if not, I'm happy with what I've accomplished."