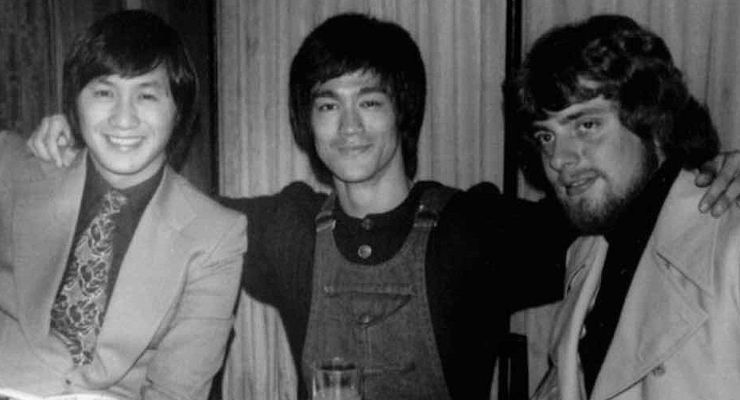 Andre Morgan is an internationally renowned film and television producer.
Morgan was born in a French military hospital in Rabat, Morocco while his father served in the U.S. Navy. Since his father moved almost yearly to posts around the world, he attended multiple schools in Europe, England, and the United States. In 1963, the family settled in Overland Park, Kansas.
Morgan later attended the University of Kansas with a triple major of Chinese History, Asian Studies, and Mandarin. In June, 1972 – five months after President Nixon "opened" China – he left for Hong Kong to serve a one-year internship with Golden Harvest, a fledgling motion picture company founded two years earlier by Raymond Chow, a former program director for Voice of America.
Andre Morgan rose quickly at Golden Harvest – from intern subtitling films to assistant marketing manager to vice president of international operations and producer and, finally, to partner and CEO. Starting with Way of the Dragon and Enter the Dragon – still regarded as the best martial arts movies ever made – and continuing for twelve years, his strategic planning was instrumental in providing the small film studio with a global stage. Boldly expanding content beyond the Hong Kong and Chinese-speaking market, opening offices in L.A., London, and Mexico City, and successfully negotiating the acquisition of several cinema circuits, Morgan helped turn Golden Harvest into one of the largest film businesses in Asia. In 1978 he arranged the purchase of Pan Asia Films and formation of a critical trilateral distribution alliance with Toho-Towa of Japan and the Cathay Organization. Pan Asia films and Golden Towa dominated Pan Asian distribution for decades. In the process, he along with partner Raymond Chow launched the international careers of the legendary Bruce Lee, young stuntman Jackie Chan, director John Woo, and many other Hong Kong legends.
Having proven his ability to build a foreign-based enterprise, Andre Morgan sold his interest in Golden Harvest in 1984 and turned his full attention to Hollywood. With Albert S. Ruddy, producer of The Godfather, he founded the Ruddy Morgan Organization (RMO). Implementing a singular style and business practice unique to the film world, the two developed the RMO into the longest-running and most successful independent production company in the entertainment world, producing over 40 films and 400 hours of television. Million Dollar Baby (Academy Award Best Picture), The Cannonball Run, Martial Law, and Walker: Texas Ranger are just a few of their extraordinary successes.
Morgan also managed a variety of talent for RMO, helping to shape the career trajectories of such Hong Kong notables as Peter Chan, Sammo Hung, Stanley Tong, Academy Award winning cinematographer Dean Semler (Dances With Wolves, Apocalypto), and other film and television luminaries.
Invited by the Chinese government, and to expand RMO's global reach, Morgan returned to China in 2000. He was the driving force in the creation of Hweilai Studios in Shanghai – the first private sector studio in China, opened in 2001. By providing a permanent state-of-the-art production and post-production facility that rivaled any in Hollywood, Hweilai not only became the hub of top-flight Chinese productions, but also the home for English-language movies and television produced in Shanghai.
Since launching RMO in China in 1999, Andre Morgan has achieved several firsts while producing many well-received films. In 2002, he Executive Produced Flatland, the first Sino-American television series. In 2005, he was the Executive Producer on the first Sino-American film co-production – Merchant Ivory's The White Countess, starring Ralph Fiennes and Vanessa Redgrave. His production of Peter Chan's Perhaps Love – the first Chinese musical in 25 years – was chosen as Hong Kong's 2006 Oscar entry and won 22 international awards, including 6 Hong Kong Film Awards. In 2007, their epic masterpiece – The Warlords, starring Jet Li, Andy Lau, and Takeshi Kaneshiro – garnered 17 awards and 19 nominations, including Best Picture at the Hong Kong Film Awards. He has also produced multiple television series in China.
Today, Andre Morgan commutes regularly between the U.S. and Asia, maintaining an active presence in the Pacific Rim's fast developing markets. He continues as a frequent panelist and guest speaker for both media and business forums. He sits on the Advisory Board of the Asia World Film Festival and is Vice-Chairman of the Chinese-American Film Festival, which he co-founded in 2005. He is a member of the Academy of Motion Picture Arts and Sciences and Writers Guild of America.
He founded and remains a partner in Siren Films Ltd. of Shanghai and Morgan & Chan Films of Hong Kong. In Los Angeles, he is the CEO of Windsong Pictures. Morgan has half a dozen projects currently in the works. He is relaunching Cannonball Run with Warner Bros., producing Doolittle with Perfect Village (formerly Village Roadshow), Genghis Khan, Point Thunder, and others in various stages of development.
His most recent film, Reborn, releases in theaters throughout China in August, 2018.
Source: Andre Morgan