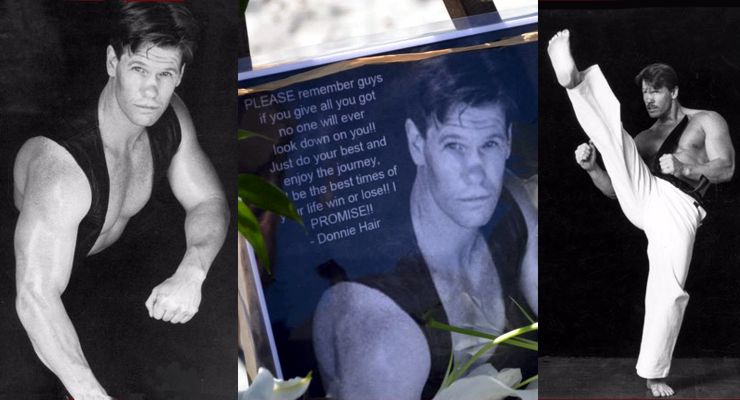 Just after the formation of the Professional Karate Association in 1974, Brevard County became the unlikely place for East Coast kickboxing tournaments and the fabled Cocoa Beach night club, Brassy's, became the sport's even more unlikely venue.
ESPN began broadcasting PKA kickboxing events from Brassy's in 1981, and Donnie Hair along with his mentor, the legendary Don "The Dragon" Wilson (who was also Brassy's fight promoter), were regularly featured in those first filmed bouts.
"Fighting at Brassy's was awesome," Hair, a Cocoa Beach resident since the age of four, recalls. "The events were always packed, and it was always exciting fighting with Don Wilson as the main event."
A formidable kickboxing champion who was rated 6th in the world, Hair was President of the Cocoa-based USA MMA Kickboxing Promotions. It was through this organization that Brevard would once again play host to the sport with a series of fights at Levelz night club in downtown Melbourne. USA MMA Kickboxing Promotions was a company that took in adhering to the honorable precepts of pure karate — and kickboxing, its logical descendant — that helped make the sport the phenomenon it has since become.
After reading a book called "Karate for Kids" while in elementary school, Hair fell in love with karate, and his enthrallment with a 7th-grade friend's "Yoshukai Karate" t-shirt sparked his interest in the training in Yoshukai, one of the myriad branches of karate. Yoshukai is defined more by mental discipline than physical discipline. The art teaches that one should "Master your mind, to put it simply, and the body will follow".
Hair was always nostalgic about his following of the Yoshukai path. "Karate was very different back then from what it is today," he said. "You earned your belts, you didn't buy them. Classes cost $10 a month, so there was no financial interest in keeping you around if you didn't train hard and show respect and discipline. Back then, instructors bragged about how many students they could make quit, not how many black belts they promoted."
"When I heard about a PKA full-contact event taking place in Melbourne, I asked my teacher, Sensei Larry Pate, if I could fight," Hair remembers. "He said, 'Meet me at the dojo tomorrow night.' We met there — it was at the Cocoa Armory — and he beat the crap out of me and asked if I still wanted to fight full-contact. My answer was 'Yes, sir!'"
"Kickboxing was actually called 'full-contact karate' back then," Hair reflected. "The events were held on concrete floors and the fighters wore newly-invented foam padding on their feet and hands. I knew at that point I would be a full-contact fighter, but I was too young. I wasn't able to fight until I earned a brown belt."
Studying Yoshukai with Pate helped keep Hair in good stead when, at the age of 15, he participated in his first kickboxing bout at the Melbourne Auditorium in 1976 and began fighting professionally four years later. It's was the same discipline that Donnie Hair tought his students, and it was through Sensei Pate that Hair earned his 5th-degree black belt.
Apart from the physical skills Yoshukai helped him master, the discipline was also responsible for Hair's disarming humility.
"Although I won more fights than I lost," he said, "the memorable fights that stick out in my mind are the ones that were losses."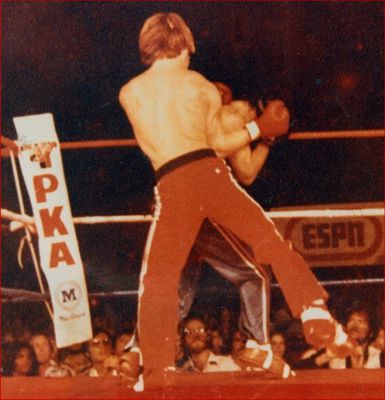 One of his first defeats in a professional bout came at the hands one Jeff Overture in Dallas. "It was the first time my grandmother had come to watch me fight," Hair reveals. "It was the first time I was ever knocked out and they carried me out past my grandma. Needless to say, she never came back to watch me fight."
"Another memorable fight was against a guy named A. W. Mohammed. I was told he had four professional kickboxing matches. After he left-hooked me to death after five straight rounds, I found out that he had over 30 pro boxing matches," he laughs.
"But my most memorable win was two years later with also A. W. Mohammed. I knocked him out in the second round, and put six stitches in his top lip."
In 1980, things changed dramatically for Hair when he met Don Wilson, an 11-time World Champion and prolific actor who is widely considered the best kickboxer of all time.
"I knew of Don because he beat two of my instructors in full-contact karate matches in Melbourne," Hair tells me. "Then I ran into him running on the beach. We were both training for the fights at Brassy's and he invited me to his gym. Soon after that, I was Chief Martial Arts Instructor at his studio in Cocoa Beach. That was the beginning of a lifelong friendship."
In 1989, Hair conceived of the "Super Fights" series of bouts and founded his first promotional company, USA Kickboxing, Inc., through which he promoted over 100 amateur kickboxing events and three Pro World Title events.
Impressed by Hair's promotional abilities, Wilson asked him to relocate to Los Angeles to act as Promotions Director and Assistant in his film production company. Through his work in Hollywood, Hair went on to star in a number of martial arts films — including "Mortal Kombat," "Night Hunter," and two installments of the "Bloodfist" series — and he worked as a stuntman, technical advisor, and fight choreographer for several others.
In 1994, Hair and Wilson joined forces to create "The Challenge of the Dragon," a martial arts star search competition that presaged television's current fascination with contest-driven entertainment. Held to a capacity crowd at Prince's Glam Slam nightclub in Downtown L.A., the challenge featured martial arts champions from all over the country vying for a featured role in a Wilson-produced action film. In keeping with the duo's strong ethics, the event also doubled as a fundraiser for a local charity called "Cities in Schools." It was a trend Hair continued until his death with his ongoing supporting the Wounded Warrior Project and AVET (American Veterans Empowerment Team).
Hair's belief in sportsmanship and honor is what earned his organization the impressive distinction of having overseen over 60 bouts without any major injuries. "The main thing is to make sure fighters are matched with even skill levels," he explained. "I also use the best referees and medical staff available. Strictly adhering to standards and rules of the sanctioning bodies is essential. A lot of people want to see bloody fights — 'the ground-and-pound' — which is not allowed in amateur fighting. You have to keep in mind these guys have to go to work the next day."
The common thread of safety and respect running through all of Hair's promoted events stemed, unsurprisingly, from core Yoshukai tenets. The most virulent misconception laypeople might have about the fighters Hair deals with today is that they're arrogant and disrespectful of each other. "That's what you might see on TV," he said, "but in my experience, MMA (Mixed Martial Arts) fighters show nothing but honor, respect, and sportsmanship towards each other."
Donnie Hair promoted Live Cage Fight events as a series of Amateur MMA & Muay-Thai Kickboxing matches sanctioned by IKF Kickboxing and ISCF MMA. Most of his events took place at Levelz (4250 W. New Haven Ave.) in downtown Melbourne. Donnie was an IKF and ISCF Fight Promoter and Judge.
Donnie Hair was born on April 15, 1961 and he passed away on May 1, 2014 at 8:13 pm. Donnie was only 53 years old. On June 7, 2014, a Celebration of Life was held for Donnie Hair at Manatee Park, Cocoa Beach, Florida. Lifetime friend of Donnie's, Bill Sapp, shared a Bible reading and a testimony about and for Donnie. RIP Donnie, we will see you again.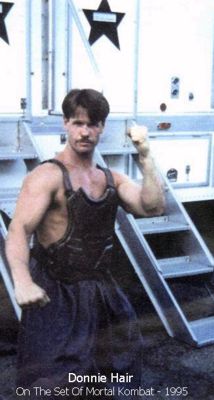 Donnie Hair Filmography:
Night Hunter (1996) [Actor …. Uniformed Cop] [stunts]
Bloodfist VIII: Trained to Kill (1996) [Actor …. Emeric Pressburger] [fight choreographer]
aka "Bloodfist VIII: Hard Way Out" – USA (DVD title)
The Power Within (1995) [Actor …. Assistant Instructor]
Bloodfist VII: Manhunt (1995) [stunts]
aka "Manhunt" – USA (video title)
Mortal Kombat (1995) [stunt ninja]
Lion Strike (1995) [Actor …. Stan]
aka "Ring of Fire III: Lion Strike" – USA (DVD title)
Blackbelt (1992) [Actor …. Dojo Mercenary]