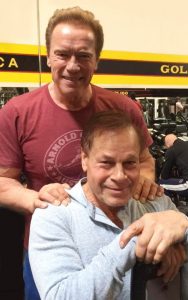 Franco Columbu was 78 when he died in a drowning accident in San Teodoro, Sardinia, Italy on August 30, 2019. He was an Italian actor, author, champion bodybuilder, powerlifter and World's Strongest Man competitor, as well as a Doctor of Chiropractic and best friend and training partner to Arnold Schwarzenegger for over half a century. Franco would often appeared in small movie roles alongside Schwarzenegger and both were seen in the documentary Pumping Iron (1977) and again in the TV movie documentary Raw Iron: The Making of Pumping Iron which celebrated the 25th anniversary of the original Pumping Iron (2002). Franco was credited as director of movie within a movie in Last Action Hero (1993) which starred Schwarzenegger. It was Franco Columbu who trained Sylvester Stallone for Rambo: First Blood Part II (1985).
Franco Columbu was born in Ollolai, Sardinia, Italy. He began his athletic career as a boxer, and went from there into the sport of Olympic Weightlifting, powerlifting and later into bodybuilding, winning the title of Mr. Olympia in 1976 and 1981. In 1977, Columbu competed in the first World's Strongest Man competition and was in first place in total points during the competition; a remarkable outing, considering that Franco weighed much less than all his competitors.
Next came the refrigerator race, which is a downhill race where a huge, heavy refrigerator is strapped to the competitor's back. Franco was ahead when he stumbled, and was shown on national television as he collapsed from a grotesquely dislocated leg. This ended his participation in the World's Strongest Man contest and doctors told him he would never walk again. Franco Columbu did walk again, fully recovering in just three years. After Arnold Schwarzenegger's comeback victory in the 1980 Mr. Olympia, Franco followed suit and won the 1981 Mr. Olympia.
Franco Columbu became a long time friend of Arnold Schwarzenegger, after the two met in Munich in 1965. The two competed against one another in several international-level bodybuilding competitions. Arnold and Franco were inseparable during the early to mid-1970s and were training partners. Columbu served as the best man at the wedding of Schwarzenegger to Maria Shriver in 1986. Columbu and Schwarzenegger had both been encouraged to come to America by bodybuilding guru Joe Weider in 1969.
Franco Columbu was considered one of the world's strongest men from the moment he arrived in America in 1969. He held already gained a number of powerlifting and Olympic weightlifting world records. He also performed a strongman act where he would blow up a hot water bottle like it was a balloon. He would also lift vehicles on stage while someone else was changing the tire, and did repetitions deadlifting over 700 lbs. Not only was Franco Columbu a weightlifter and a legend in the iron game and body building, but he was also a highly respected Doctor of Chiropractic in Southern California.
Franco Columbu passed away in a drowning accident in Italy on August 30, 2019. He was an amazing athlete, a champion in many sports and a caring human being and doctor as well as the best friend of Arnold Schwarzenegger for half century. Schwarzenegger Tweeted the comment below which included a link to his heartfelt letter to Franco.
I love you Franco. I will always remember the joy you brought to my life, the advices you gave me, and the twinkle in your eye that never disappeared. You were my best friend. https://t.co/X3GhZKlgAd

— Arnold (@Schwarzenegger) August 30, 2019