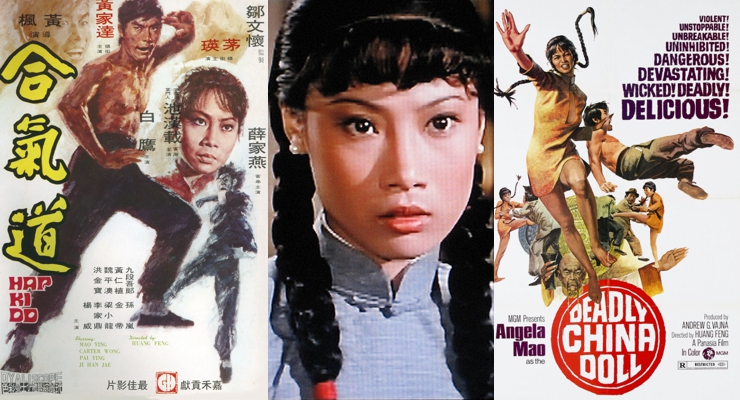 Taiwanese actress Angela Mao (Mao Ching Ying) was considered the most important martial arts actress of her time. In the 1970s and '80s Studios considered her the female Bruce Lee and she could easily be called the first martial arts feminist, but she would never think of herself this way. You may remember her in Robert Clouse's Enter the Dragon (1973) as Bruce Lee's sister or in Hapkido (1972) starring with Carter Wong and Sammo Kam-Bo Hung. Her other well known martial arts films include The Angry River (1971), Thunderbolt (1973), The Fate of Lee Khan (1973), When Taekwondo Strikes (1973) (Tai quan zhen jiu zhou) and The Tournament (1974) (Zhong tai quan tan sheng si zhan). She starred in over 30 films made in Hong Kong or Taiwan during this decade.
Angela Mao never sought stardom, but she was a vicious contender for any opponent she fought, with pony tails flying. She was known for playing the demure, obedient female who became the mighty avenger and this won her the hearts of fans everywhere.
Angela Mao's career was not a long one, but it was impressive. She was one of the first women to make the action break-through in the film industry, which had reserved action and fight scenes for males. Females were considered ornaments, not leads in films, but Angela Mao changed all that when she was introduced to Raymond Chow of Golden Harvest by a writer friend who had seen her in the Peking Opera. Chow signed her to a 5 year contract and her first Golden Harvest film was The Angry River (1971).
Angela Mao was born in 1950 and grew up in Taiwan. Her family were entertainers for the Peking Opera House and she began studying voice at 5 years of age. This began her career in the Chinese Opera where she studied martial arts, developing her skills helped along by her flexibility. When she was in her 20's, she move to Hong Kong to get involved in the film industry because that was where the money was, and she was helping support her family. While in Korea filming Lady Whirlwind aka Deep Thrust (1972), she studied Hapkido, earning her 3rd dan Black Belt and when she returned to Hong Kong she made the film  Hapkido (1972). Angela's fighting and acrobatic skills were real, not just choreographed. She quickly became enamored with the new kung fu style which was moving into the film industry and in demand by Hong Kong producers.
Retiring from films in 1982 when she became pregnant with her son, it wasn't until 1993 that she moved to be with her husband in Queens, New York, where he had opened a construction company. Since living in New York, she, her husband and son have opened three restaurants including Mama King in 1996 in Flushing, Nan Bei Ho in Bayside, which is a suburb of Queens in 1997 and Guo Ba Inc. also in Bayside. Serving authenticate Taiwanese food, these restaurants are popular with Americans.