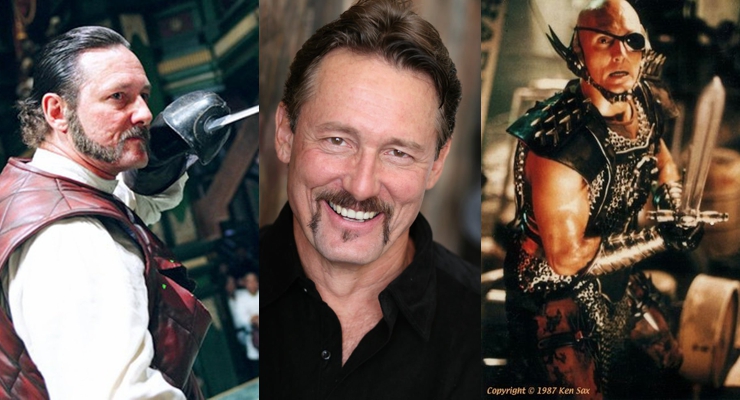 Martial Artist Anthony De Longis is an Actor, Voice Over Artist, Director, Fight Coordinator and Weapons Expert. He's has worked with some of the biggest names in the entertainment industry including Harrison Ford, Tom Cruise, Michelle Pfeiffer , Jet Li, Brendan Frasier, Ron Howard, Yuen Woo Ping, Tim Burton, David Carradine, Patrick Swayze, Angelica Huston, Placido Domingo, and Charlton Heston, to name a few.
He has portrayed Shakespeare's notorious villain, Iago, in Othello, in two different productions. He has co-starred in the popular movies Fearless, Road House, played Balde in Masters of the Universe, Circle of Iron, Jaguar Lives and The Sword and the Sorcerer. He created the role of Kazon leader Maje Culluh for Star Trek Voyager, guest starring in five of the series' episodes.
Anthony De Longis television appearances include roles in NCIS LA, Revolution, Grimm, Myth Busters, Leverage, ER, The Outer Limits, The Queen of Swords, The Adventures of Sinbad, Conan the Adventurer, Babylon 5, and Highlander the Series.
Anthony De Longis played Claus Van Zandt in the soap Opera Days of Our Lives and he stars as Sheriff Leigh Marshal in Rock Star Games' Red Dead Redemption and General Serrano in Bullet Storm.
From 1985 to 2003, Anthony De Longis was Fight Director for the Los Angeles Music Center Opera. He was Swordmaster / Stunt Coordinator for episodes 1-6 of The Queen Of Swords, and Swordmaster for Secondhand Lions.
His directing debut came with his short film, Blood Trail, about an instructor of the sword who must hunt down the student he raised and trained because he has become a murderer. This film won Best Western and Best Action Short at the Action On Film Festival.
As a Fight Director and choreographer, Anthony De Longis is known for his skill and knowledge in a broad range of bladed weapons arts. Using this knowledge he builds his action scenarios using real working techniques to tell a more dynamic action story. De Longis introduced the unique style of Spanish rapier fighting to the audiences in Highlander the Series and created a more efficient, effective and visual style of whip work for Michelle Pfeiffer's "Catwoman" and Harrison Ford's "Indiana Jones" in Crystal Skull. He has also demonstrated his practical skills with blade, whip, gun and horse on History Channel's More Extreme Marksmen, Myth Busters, Lock & Load, Triggers, 101 Weapons That Changed the World and Deadliest Warrior.
Anthony De Longis and fight choreographer/director Ed Douglas formed Palpable Hit Productions in 1999 "to teach, support and promote the use of safe and exciting fight choreography in theatre, film and television based upon the combative truth of the weapon".
In 2015 Anthony De Longis played Sheriff Gary Kidd in Gunz: The Story of Billy the Kidd, a pilot television show.
Anthony De Longis is also an accomplished horseback rider and he is a founding member of The Australian Light Horsemen, a mounted cavalry team which performs realistic combat routines with sabers, lances, bullwhips and pistols. He is also a member of the California Desperados, the Cowboy Mounted Shooters Association and the Single Action Shooting Society, and has trained with the Governor General's Horse Guard in Ontario, Canada
Anthony De Longis is a published writer, member of the Academy of Motion Picture Arts and Sciences, Academy of Television Arts and Sciences, SAG/AFRTA, Actors Equity Association, Academy of Canadian Television and Radio Actors, Union of British Columbia Performers, Society of Canadian Fight Directors and an honorary member of the Society of American Fight Directors. In 2008 he was honored with inductions into the Black Belt Hall of Fame as Weapons Instructor of the Year and the International Knife Throwers Hall of Fame in 2009.
Anthony is married to the beautiful Mary de Longis,  who was born in Stephenville, Newfoundland, Canada. She is an actress and stuntwoman known for her work on  on Blood Trail 2: The Trail Home (2011), Blood Trail (2010) and Deadliest Warrior (2009). She also has a Ph.D in Cell Biology and Anatomy from Louisiana State University (LSU) School of Graduate Studies, in Shreveport, Louisiana.