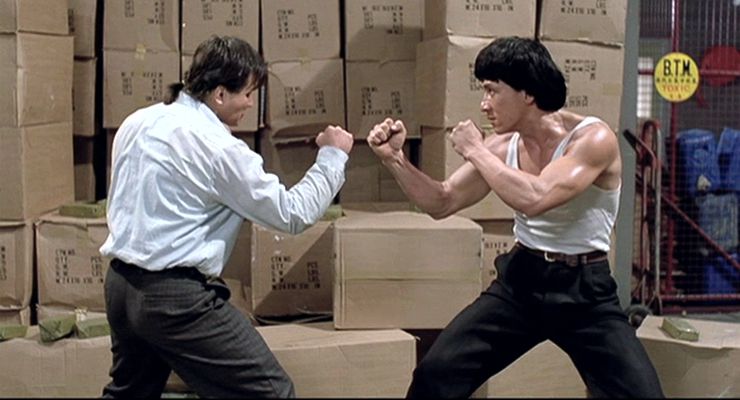 Benny Urquidez Reunites with Jackie Chan In $65-Million Epic, Dragon Blade (2015)
Shanghai, China — For the third time, legendary retired kickboxing king Benny "The Jet" Urquidez is working with superstar Jackie Chan in Dragon Blade, an epic historical action film about Roman soldiers and Chinese soldiers teaming up to fight a greater foe. The period film's budget of US $65 million reportedly makes it the most expensive Chinese-language film ever made.
Dragon Blade also stars American actors Adrien Brody and John Cusack. Chan and Urquidez have previously faced off in two of Chan's most memorable fights, in Wheels on Meals and Dragons Forever. Cusack is a longtime student of and business partner with Urquidez', battling him in Grosse Point Blank. The movie's target release date is February 19, 2015, during the Chinese New Year. Will Chan and Urquidez face off for a third time in Dragon Blade?
The Hollywood Reporter ~ The $65 million historical action movie is the most expensive Chinese-language film ever to go into production.
John Cusack and Adrien Brody will star as Roman soldiers lost in ancient times in Hong Kong action star Jackie Chan's latest project, the historical epic Dragon Blade.
The movie has finished shooting at Hengdian World Studios and will soon start shooting on location in the historic city of Dunhuang and the Gobi Desert, Chan said at the Shanghai International Film Festival.
Directed by Daniel Lee, Dragon Blade is inspired by a missing legion of Roman soldiers that traveled into China in 48 B.C. "I'm really excited to be in a movie with two of the most respected actors working today," said Chan. "It gives me confidence that the decade we spent researching and developing the script has produced something of a world-class standard." The cast also includes South Korea's Choi Si-won, member of the K-pop band Super Junior, who has previously appeared in A Battle of Wits. Cusack will play Lucius, a Roman general who led a legion of 1,000 soldiers into Han Dynasty China. Brody will play Tiberius, who assassinated Rome's Consul Crassus and chased after Lucius with a force of 100,000 soldiers. Chan stars as the Commander of the Protectorate of the Western Regions, who teams up with Lucius to protect China's borders and sovereignty. "It is a dream to finally work with Jackie. Aside from my longtime appreciation for his many talents, he is a beacon of generosity, and an inspiration to me," said Brody. "Dragon Blade is a tale of mythical proportions — of good prevailing over evil — and an opportunity for me to explore a character whose ambition challenges his honor."