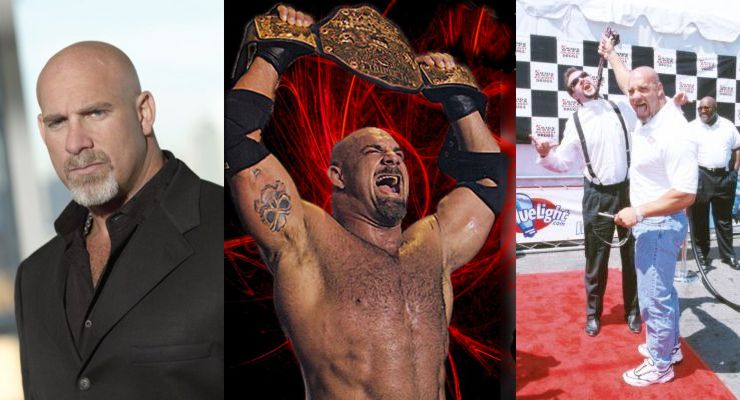 Bill Goldberg is an actor, former football player, and a former professional wrestler who appeared in World Championship Wrestling (WCW) between 1997 and 2001, and in World Wrestling Entertainment (WWE) between 2003 and 2004. He is notable for his long undefeated streak in singles competition and he once owned the largest mixed martial arts facility in the United States, in Atlanta.
Bill Goldberg trained in the World Championship Wrestling Power Plant wrestling school and entered the ring for this first professional fight on September 22nd, 1997. He became World Championship Wrestling United States Champion on April 21, 1998 by defeating Raven. His reign lasted until July 26, 1998 when he gave it up after winning the World Heavyweight title from Hulk Hogan. He was World Championship Wrestling World Heavyweight Champion from July 6, 1998 until December 27, 1998 when he was defeated by Kevin Nash, ending his undefeated streak.
Bill Goldberg first WWE match was against The Rock Dwayne Johnson at the 2003 Backlash Pay-Per-View. It was The Rock's last match before leaving to film The Rundown (2003).
Bill Goldberg is a two-time world champion. He is a one-time WCW World Heavyweight Champion and a one-time World Heavyweight Champion in WWE. Both his reigns were represented by the Big Gold Belt. He is recognized as the only undefeated world champion in the history of sports entertainment, and the first man to hold a version of the Big Gold Belt, (which represents multiple world championships) in both WCW and WWE. Bill Goldberg is also a two-time WCW United States Heavyweight Champion and one-time WCW World Tag Team Champion, with Bret Hart. Goldberg headlined many pay-per-views for WCW and WWE, including closing WCW's premier annual event, Starrcade, on two occasions.
Bill Goldberg appeared several times at Japanese Wrestling events due to his friendship with legendary wrestlers Nobuhiko Takada and Naoya Ogawa.
Bill Goldberg was a football player before he was a professional wrestler. He played college football with the Georgia Bulldogs and earned his degree in psychology. He played pro football with the Atlanta Falcons and the Los Angeles Rams, then signed with the Carolina Panthers. His football career was ended due to an injury. After retiring from wrestling, he worked as a commentator for the mixed martial arts promotion EliteXC until its closure. As of 2010, he has been the host of Garage Mahal on the DIY Network.
Bill Goldberg is famous for his catchphrase "Who's next?"
Bill Goldberg was inducted into the National Jewish Sports Hall of Fame in 2010 and on April 6, 2018, Bill was inducted into the WWE Hall Of Fame.
As an actor, Bill Goldberg is known for The Longest Yard (2005), Ready to Rumble (2000) and Looney Tunes: Back in Action (2003).
Bill Goldberg is the co-host, along with Tu Lam, of the History's Channels Forged in Fire: Knife or Death (2018) where The country's most experienced bladesmiths, martial artists and knife experts slice, stab and chop their way through a blade-shattering gauntlet for a chance at winning a $20,000 grand prize.