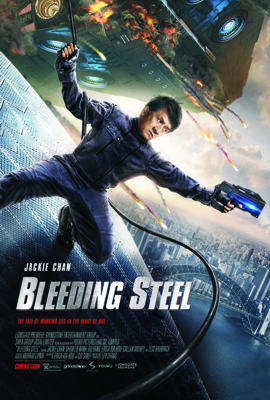 Lionsgate has released a new poster and trailer for Bleeding Steel (2017), the action thriller featuring memorable battle sequences with martial arts legend Jackie Chan. Believe it or not, Jackie Chan is still awesome at 64 years old. The cast also includes Show Lo, Nana Ou-yang, Erica Xia-hou, Callan Mulvey, and Tess Haubrich. The film is directed by Leo Zhang and executive produced by Murray Lipnik. Max Huang, a member of the Jackie Chan Stunt Team, is a stunt coordinator for the film.
In an action-packed drama reminiscent of '80s techno-sci-fi thrillers, Jackie Chan stars as Lin Dong, a police inspector from modern Hong Kong. He must leave his daughter, Nancy (Na-Na OuYang) in a hospital to die of leukemia in order to protect Dr. James (Kim Gyngell), a geneticist who has developed a bio-chemical heart. Everything goes a arye when Lin tries to blow up Andre (Callan Mulvey), the man attempting to kidnap Dr. James. Lin discovers the Dr. James created Andre, turning him into the world's first bio warrior, but Andre becomes a deranged, mecha-enhanced villain who needs the heart that Dr. James invented if he is to survive.
13 years later in Sydney, Australia, author Rick Rogers releases a book titled Bleeding Steel about a girl with a mechanical heart. This leads Lin to travel to Syndey, Australia tracking the heart and Lin soon discovers that Andre needs the bio-chemical heart created by Dr. James, but this invention has been surgically implanted by Dr. James into Lin's supposedly dead daughter, Nancy. With the help of a young hacker, Leeson (Show Lo), Lin tries to connect the dots between the device that haunts his daughter, his enemy's sinister army run by the Woman in Black (Tess Haubrich), and a strange cultural phenomenon called "Bleeding Steel."
An English-dubbed version of Bleeding Steel (2017) will be released in U.S. theaters and on demand by Lionsgate Premiere on July 6th, 2018.