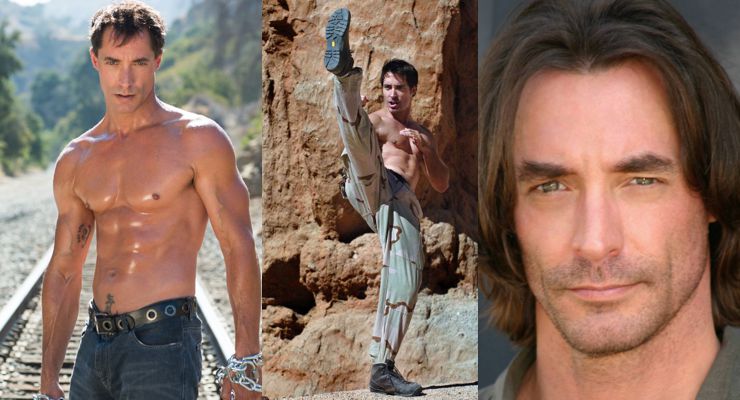 Martial artist, motorcyclist, actor, producer, director and lawyer, Brad Thornton was born in Detroit, Michigan and raised by his grandparents and aunt and uncle.
Brad Thornton came to Los Angeles, CA, where he landed a number of roles, but his first big lead was in the feature film Kickboxer 4. The film inspired him to learn about the production and legal aspects of the entertainment industry. He took a hiatus from acting to go to law school and graduate with a Law Degree (Juris Doctorate) from Southwestern Law School in Los Angeles. He passed the California State Bar and soon became a partner as head of litigation at a prestigious Beverly Hills Entertainment Law firm.
After working with a litany of producers, Brad Thornton left his law partnership to go back to his passion of acting. He landed a role in the film Shakespeare's Richard III as Dorset. He then started Krakatua Films with actor Louis Mandylor and produced and played the lead role in the The Cursed and then co-produced and acted in the award winning film The Sensei directed by Diana Lee Inosanto, Bruce Lee's God-daughter.
Brad Thornton began studying martial artist at the age of 13. He is a black belt in multiple martial arts. He began knife and full contact stick fighting in 2001. He was a World Stick Fighting Champion in 2005 and in 2005 he was the Babakan full contact stick and knife fighting Gathering of Warriors Champion. His skills as a martial artist have also given him opportunities for executive protection and body guard work. He worked for over a year as security for Governor Arnold Schwarzenegger and his family.
He continues working in the film industry as an actor, producer and is directing his first feature film Rich in Spirit which is a documentary about the journey home for the homeless on the streets of Nashville, Tennessee. In 2011, he started his production company Hopewood Films, an independent production company dedicated to producing high-quality, commercially viable and innovative feature films and reality-based television shows that reflect the strength and diversity of the human spirit.
In 2016 Brad Thornton starred as Captain Starslayer Merin in Star Warefare Rangers and the Cyborg Witch of Endor.
Brad is married to fellow martial artist, motorcyclist, actress and writer Miranda Kwok.