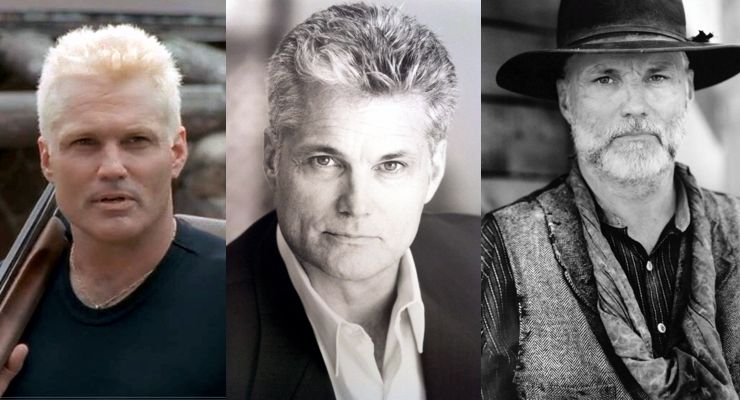 Marshall Teague was born on born April 1953. He is an American film and television actor who has appeared in over 130 films and television shows. He is best known for his role in the 1989 cult movie Road House and for his recurring role on the 1990's science fiction series Babylon 5 as a Narn named Ta'Lon. Marshall Teague also appeared in the 1996 film The Rock and the 1998 movie Armageddon.
He played Black Jack Pershing in the film Rough Riders.
Teague's other TV appearances included Walker, Texas Ranger where he has made some guest appearances as different characters. He (as a different character) was Walker's first nemesis and last in the final showdown. He made a guest appearance on Babylon 5 as a human in the Season One episode "Infection" and made a guest appearance on the Babylon 5 spinoff Crusade as Captain Daniels in the episode "The Long Road". He has had some regular roles on television in the soap opera Days of Our Lives as Leonard Stacy in 1984. He starred on the 1980s HBO series 1st & Ten as Mac Petty in 1984.
Marshall Teague has made guest appearances on many TV shows, including Columbo: Uneasy Lies the Crown, Stargate SG-1, The Fall Guy, Automan, Knight Rider, She Spies, The A-Team, Sliders, Star Trek: Deep Space Nine in the season 4 episode "Hippocratic Oath" and on Star Trek: Voyager in the season 3 episode "Distant Origin".
He is known as the voice of Krunk in the video game Crash Nitro Kart.
Marshall acted in the film The Cutter in 2005, with Chuck Norris and in 2012 he acted with another martial artist, Fred Williamson, in the film Last Ounce of Courage, a film endorsed by Chuck Norris.
In 2014 he recited in One Heart and he is the protagonist of Stranger.
Marshall Teague was a former US Navy Commander and Memphis Deputy Sheriff. He studied Tae Kwon Do, Hapkido and was a NATO Kickboxing Champion.
Because he was a dead ringer for Mike Stone (the fight choreographer/stunt double in Enter the Ninja), he played Stone (Rick Colton) in the mini series Elvis and Me.