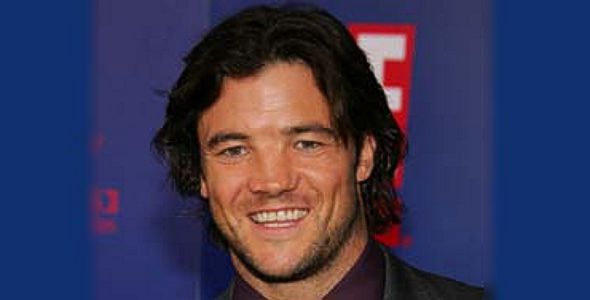 Buster Reeves was born on January 7, 1975 in Huddersfield, Yorkshire, England. It was watching movies like Jackie Chan's Snake in Eagles Shadow (2978) and Bruce Lee in Enter the Dragon (1973) that got him interested in the martial arts. He wanted to "kick ass" like everyone else, but he soon discovered that martial arts was not about "kicking ass". He was 11 years old, in 1986, when he began studying traditional Wado Ryu and Shotokan karate. He then moved into freestyle, and this move changed his life. Under the guidance of his instructors he won the British junior title and at age 13 he placed in the "Guinness Book of Records" for the most kicks done at head height in a minute (218, later beating his own record with 256 kicks). He still holds the record today.
Buster dominated the men's division since he was eighteen. At the "Gold Coast Classic" in Florida he won in spectacular style against the four time champion. At age nineteen he was ranked number one in Europe and at twenty captured the world middleweight ju-jitsu title in New Zealand. In 1996, at twenty-one, he won the world light-heavyweight title in West Virginia in the United States. At twenty three, in 1998, he won the world heavy-weight title in Reno, Nevada along with the Sportsman of the Year award.
He and his brother Gary, a kickboxer, ran a martial arts club at Stile Common Junior School on Headfield Road, Newsome, in Huddersfield and Gary handled the PR, helping to promote Buster in the early days of his career.
Undefeated in all three weight divisions, at twenty five he retired for a short time to concentrate on developing a stunt career. Having competed in ju-jitsu, kickboxing, points kickboxing, and mixed martial arts, Buster had a great amount of fight experience. He moved to Los Angeles and began training at Gold's Gym where he met up with friend Don "The Dragon" Wilson. Don helped open doors to many of the gyms in the area, including that of Benny "The Jet" Urquidez. Buster chose to do most of his training under Benny.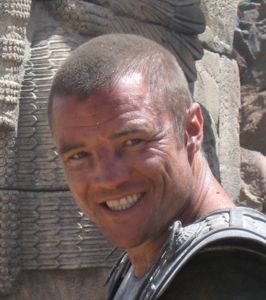 With his extensive background in the martial arts, boxing, gymnastics (county squad) and high diving (north of England champion), Buster worked his way into the movies, via the Gladiators TV series where he was a competitor. He moved into the movies, working in blockbusters like Tomb Raider and Blade 2. He did stunt work in Die Another Day (2002). Before the filming of the movie Troy (2004), Buster went to live with Brad Pitt in Hollywood. Buster trained Brad in the use of the sword and mixed in his martial arts training to get Brad in shape for the movie in a short five weeks. Buster stunt doubled for Brad as well. In Batman Begins (2005) and The Dark Knight (2008) he was stunt double for Christian Bale. In The Bourne Ultimatum (2007) he was a stunt performer and in Terminator Salvation 2009) he was stunt double for Christian Bale as John Connor, In Clash of the Titans (2010) he was fight choreographer, stunt coordinator and stunt double for Sam Worthington. In 2010 he was involved in the production of Game of Thrones for HBO and coordinated the stunts. In 2011 he was a stunt performer for Cogan's Trade and did stunt work for Green Lantern. In The Dark Knight Rises (2012), Buster was fight arranger and stunt double for Tom Hardy.
In 2009 Buster was awarded one of the biggest prizes in the stunt world when he won the the prestigious "best fight" at the Taurus World Stunt Awards in Los Angeles for a fight scene in the Batman movie, The Dark Knight. In this particular scene Batman struggles to save a group of hostages who Joker has disguised as his own men, This forces Batman to attack a SWAT team and the Joker's henchmen in order to save the real hostages. This was Buster's third Taurus nomination and his first win. His first nomination was for Best Fight, doubling Brad Pitt in Troy, during the epic fight between Achilles and Hector.
Buster has also studied the Keysi Fighting Method which is the method used to choreograph some of the fights in the two Batman movies he worked on.