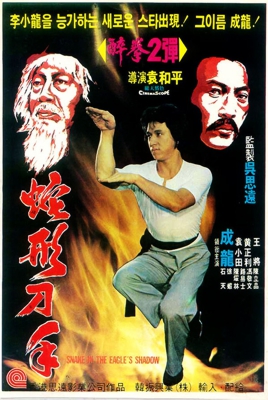 Snake in the Eagle's Shadow (1978) is a Hong Kong martial arts action film. This film was the directorial debut of Woo-ping Yuen. It stars Jackie Chan, Jang Lee Hwang and Woo-ping Yuen's real father, Siu Tin Yuen and it was followed by another of Yuen Woo-ping films, Drunken Master (1978), which also starred Jackie Chan, Hwang Jang Lee and Yuen Siu Tien, and followed a similar story-line.
Snake in the Eagle's Shadow (1978) takes place toward the end of the Ching Dynasty in China, after a 200 year old clan known as the deadly Eagle Claw Society has eliminated every martial art style except for the Snake Fist. Lord Sheng Kuan [Jang Lee Hwang – Drunken Master (1978), Hit Man In The Hand Of Buddha (1981)] developed the deadly eagle claw style to devastating effect using it on the followers of the Snake Fist technique, killing all except the group's elderly leader Pai Chang-tien ["Simon" Siu-Tien Yuen – Drunken Master]. When an orphan named Chien Fu [Jackie Chan Rush Hour (1998), Operation Condor (1991)] who has been abused by the Eagle Claw Society, saves Pai's life, the master teaches the youth some of the finer points of the Snake Fist style. When Chien Fu nurses Pai back to health following an ambush by two of Shangkuan's followers, Pai teaches the orphan everything he knows. Later, Chien watches with amazement as his pet cat kills a cobra, giving him the beginning of a new deadlier technique that eventually defeats the evil Shangkuan.
This film helped create Jackie Chan's winning screen persona as a put-upon everyman and kung-fu comedian. This film proved to be so popular that director Yuen Woo-ping, Simon Yuen, and Jackie Chan went on to make the smash hit Drunken Master (1978) later that year. ~ Jonathan Crow, All Movie Guide.
Director: Woo-Ping Yuen
Writers: Chi Yuan Hsi, Huo An Hsi
Stars: Jackie Chan, Siu Tin Yuen, Jang Lee Hwang
Rating: PG