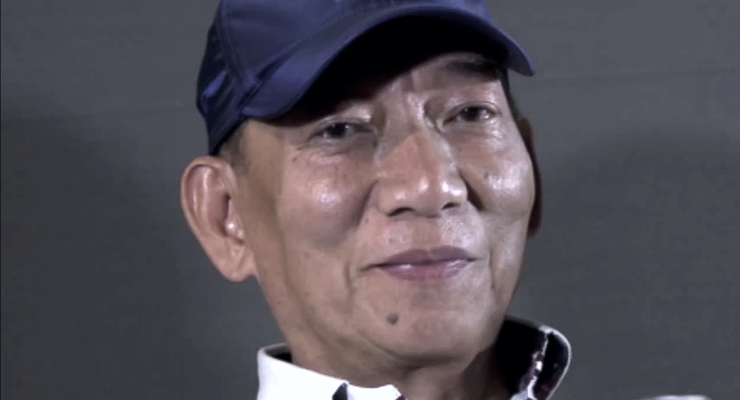 Woo-ping Yuen, a Chinese stuntman, actor, martial arts choreographer and film director was born in 1945 in Guangzhou, China. He is renowned as one of the most successful and influential figures in the Hong Kong action cinema. Woo-ping Yuen is one of the inductees on the Avenue of Stars in Hong Kong along the Victoria Harbour waterfront in Tsim Sha Tsui, Hong Kong along with Tsui Hark, Chow Yun-fat and about 104 others. Yuen is also a son of Siu-tien Yuen, a renowned martial arts film actor.
Woo-ping Yuen attended the Peking Opera school China Drama Academy in Hong Kong along with Biao Yuen and Sammo Hung. He left the school before Jackie Chan became a student. Woo-ping Yuen is the brother of Cheung-Yan Yuen Kung Fu Hustle (2004), Charlie's Angels: Full Throttle (2003) and Fist of Legend (1994), Shun-Yee Yuen (Iron Monkey (1993), CJ7 (2008), Kung Fu Hustle (2004), Yat Chor Yuen, The Miracle Fighters (1982), Gui ma tian shi (1984) and In the Line of Duty 4 (1989), and Brandy Yuen, Drunken Master (1978), Teenage Mutant Ninja Turtles (1990) and Jade Claw (1979).
Woo-ping Yuen achieved his first directing credit in 1978 on the martial arts action film, Snake in the Eagle's Shadow (1978), starring starring Jackie Chan, Hwang Jang Lee and Yuen Woo-ping's real life father, Siu Tien Yuen. This was followed quickly by Drunken Master (1978) with the same stars. Both of these films were smash hits, and they launched Jackie Chan as a major film star, turning Seasonal Films into a major independent production company, and starting a trend of comedy in martial arts films that continues to this day.
Woo-ping Yuen went on to work with stars including Sammo Hung in Magnificent Butcher (1979), Biao Yuen in Dreadnaught (1981), Donnie Yen in Iron Monkey (1993), and Jet Li and Michelle Yeoh in Tai Chi Master (1993), and Wing Chun (1994).
Woo-ping Yuen's works, particularly his action choreography on Fist of Legend (1994), attracted the attention of the Wachowski brothers, two American film directors, screenwriters and producers who hired Woo-ping Yuen as the martial arts choreographer on The Matrix (1999). This collaboration was such a success, plus his action choreography on the following year's hit Crouching Tiger, Hidden Dragon (2000), that he became highly sought after in Hollywood. He went on to work on The Matrix sequels and Kill Bill (2003).
More recently Woo-ping Yuen's work as an action choreography in Hong Kong cinema have included Kung Fu Hustle (2004), starring Stephen Chow, and Fearless (2006), starring Jet Li.
Woo-ping Yuen also choreographed the action sequences in The Forbidden Kingdom (2008), a Hollywood martial arts–adventure film, which was the first film to star two of the best-known names in the martial arts film genre, Jackie Chan and Jet Li in the same film. Woo-ping Yuen worked as a fight choreography consultant on Ninja Assassin (2009).
In late 2010, Woo-ping Yuen released his first film as director since 1996, True Legend (2010), starring Vincent Zhao and Jay Chou. True Legend premiered at Fantastic Fest 2010, where Woo-ping Yuen was presented with a Lifetime Achievement Award/sword by the Wu-Tang Clan's RZA. In 2010 he did the stunt choreography on Bollywood's Enthiran (2010), a science fiction techno thriller.
I feel I am old-fashioned," Woo-ping Yuen adds, "so whenever I can, I prefer to shoot kung-fu scenes for real and use traditional wire work to enhance the actions in the movie. Yet at the same time, special effects and visual effects can definitely enrich and help the portrayal of kung-fu and the power it involves.
Recently, The Weinstein Company announced that Wo Ping Yuen is going to direct Crouching Tiger, Hidden Dragon 2 – The Green Destiny (2016). The script for the movie has been written by John Fusco (Spirit and Hidalgo), and filming began in March 2014. The movie is due out in February 2016. The original Crouching Tiger, Hidden Dragon, was based on the fourth of a five-book series known as the Crane Iron Pentalogy by Chinese author Wang Dulu, published between 1938 and 1942. The fifth book, called Iron Knight, Silver Vase, will be the basis of this new film sequel. The story is about the son of one of the characters of the original, the Iron Knight, and how he was switched as a child with a baby girl, the Silver Vase, and his attempt, as an adult, to find his true identity. It is expected that the film's plot will take great liberties.