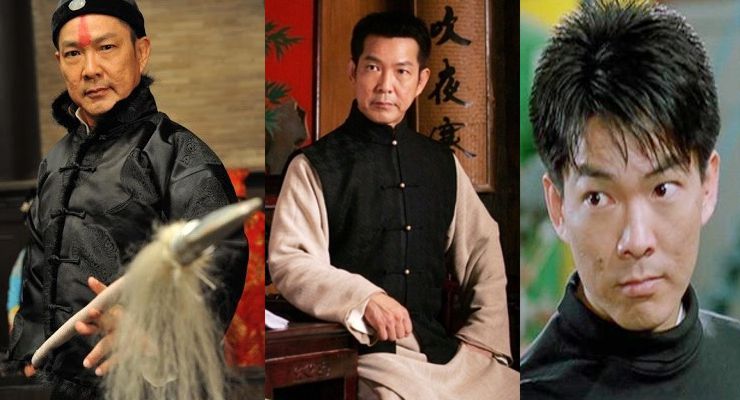 Actor, stuntman and action choreographer Biao Yuen is regarded as one of the most acrobatic martial artists and the most underrated among his contemporaries including Jackie Chan and Sammo Hung, who along with Biao Yuen, were part of the Seven Little Fortunes. Biao Yuen has appeared in over 130 films and in 8 television series in Hong Kong.
Born on July 26, 1957 in Hong Kong, Biao Yuen was first enrolled in the China Drama Academy at the age of 5 or 6 and was the youngest student at this time. He trained with Sammo Hung, Jackie Chan, Corey Yuen, and Wah Yuen under master Jim-Yuen Yu. While attending the Academy Jackie Chan took Biao Yuen under his wing and the two becoming lifelong friends.
Biao Yuen stayed at the Academy until he was 16 years old when he moved to America with Master Jim-Yuen. He lasted only 2 years in the states and then moved back stating that there were no opportunities for Chinese martial artists to star in American films.
Biao Yuen began working as a stuntman and extra in the early 1970s. He worked on Fist of Fury (1971) (The Big Boss), and Way of the Dragon (1972), and then became a stunt double for Bruce Lee on Enter the Dragon (1973). In Game of Death (1978), Biao performing the acrobatics and stunts that the Bruce Lee "body double", Taekwondo expert, Kim Tai Chung, was unable to perform. Yuen continued working as a stuntman, doubling for actors in Hong Kong action films and taking on supporting actor roles.
He played bit roles in films like Stoner (1974), Shao Lin Men (1976) (Hand of Death), until he receive his first major break when Sammo Hung cast him in Knockabout (1979). The role that gave Biao full exposure and established him as a A-list star was The Prodigal Son (1981), which starred and was directed by Sammo Hung, then Dreadnaught (1981) directed by Yuen Woo-pin. Next, Jackie Chan cast him in the classic Project A (1983), Wheels on Meals (1984) and Dragons Forever (1988)
Moving out on his own, Biao Yuen became stunt coordinator for the film Carry on Pickpocket (1982) (1982) and there he met his future wife. The film Mong ming yuen yeung (1988) (On The Run) confirmed his abilities as a critically acclaimed actor. The following year he starred in what may be considered his best film, The Iceman Cometh (1989), in which he starred with acclaimed actress Maggie Cheung. The film is regarded as a cult classic with fantastic fighting scenes, hilarious comedy, and the great chemistry between Biao Yuen and Maggie Cheung. Next he starred with Jet Li in the acclaimed Once Upon a Time in China (1991), but many of his s scenes were edited from the film. He then directed his first movie A Kid from Tibet (1992) (1992) and also starred in the film. In 1994, he worked once again with Sammo Hung in Don't Give a Damn (1995) (1995).
Biao Yuen went to the United States to work with Jackie Chan as the action choreographer on Shanghai Noon (2000). He then co-starred with Sammo Hung in The Avenging Fist (2001). In the Japan Hong Kong film No Problem 2 (2002), Biao Yuen starred in a much more comedic role.
Back in Hong Kong, Yuen starred in a TVB series called Real Kung Fu (2005) with Yuen Wah, Maggie Siu, Leung Kar Yan, Jack Wu and one of Sammo Hung's real life son, Timmy Hung.
Yuen plays Inspector Steve Mok in Robin B Hood (2006) along with his long-time friend Jackie Chan.
In 2007 he finished filming the Wing Chun TV series (a remake of the 1994 series that had preceded the film Wing Chun) with Nicholas Tse, Sammo Hung and another of Sammo's sons, Sammy Hung. In the series, Biao plays an elder version of the character Leung Jan, the role he played 25 years earlier in The Prodigal Son (1981), and father to Tse's character. The series has been re-edited for release as a film called Shuang Long Ji (Legend of Twins Dragon). Due to the high volum of violence in the film, its release has been delayed as it has been banned in Mainland China.
Yuen appeared as a guest judge on the China Beijing TV Station reality television series The Disciple, which airied in Mainland China and was produced by, and featured Jackie Chan. The aim of the program was to find a new star, skilled in acting and martial arts, to become Chan's "successor", the champion being awarded the lead role in a film. It concluded on June 7, 2008, with the series winner being announced in Beijing.
Biao Yuen also starred with Bryan Leung and Chun Hua Ji in Legend of Shaolin Kung-fu II: Thirteen Cudgel Monks. It was edited down and released as Kung Fu Master (2010) in the United States.
More recently Biao Yuen has worked on The Legend Is Born: Ip Man (2010) with Sammo Hung, and in Tai Chi Hero (2012).