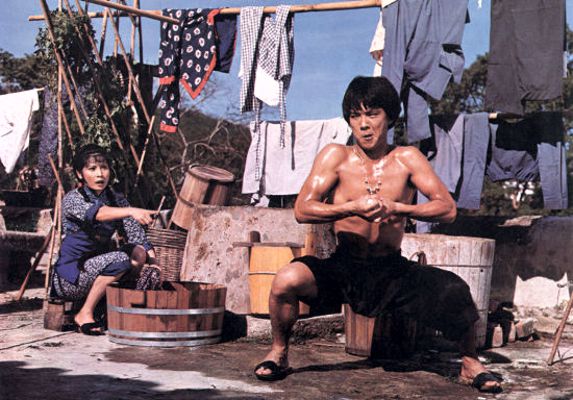 The action comedy horror film Dreadnaught (1981) is a Hong Kong martial arts film directed by Woo-ping Yuen. The film stars Biao Yuen, Ka-Yan Leung (Bryan Leung) and Tak-hing Kwan.
Woo-ping Yuen is the Action Choreographer along with The Yuen's Group.
His wife is killed when bounty hunters attempt to captured the very violent and short-temper criminal named White Tiger (Shun-Yee Yuen). Alone, he continues to run from the police and joins a theater troupe as a disguise. He begins killing anyone who angers him or who suspects his identity. He attempts to kill a very cowardly laundry boy named Mousey (Biao Yuen) several times but is unsuccessful when Mousey manages to run and hide in the funniest places. Unbeknownst to Mousey, his older sister has been training him in Eagle's Claw kung fu by making him do laundry in a very peculiar fashion.
"Go dry the clothes."
"Yes Mistress."
"Use your two fingers just like you were taught to do."
"But why two fingers? Its easier to use both hands."
"Its our families kung fu and don't you forget it."
"Its a waste of time if you ask me."
When White Tiger kills Foon (Ka-Yan Leung) a very close friend of Mousy's, Mousy overcomes his cowardliness and seeks revenge using his families kung fu.
The martial arts and acrobatics in Dreadnaught (1981) are spectacular and the film includes a well choreographed fight scene between two pairs of men who are supposed to be participating in a Lion Dance contest. There is also a very comical scene between White Tiger and Fei-Hung Wong (Tak-Hing Kwan) where Fei-Hung Wong uses Chinese medicine, including moxibustion, to heal White Tiger. Another comical scene sees Marshall Pao (Mei Sheng Fan) calling a death a 'crime of passion" because . . . well, you will just have to watch the film to find out.
It is said that Dreadnaught (1981) is not as action-packed as other Woo-ping Yuen films, but the imaginative use of kung fu in this film is superb. A great example is the scene when the Demon Tailor "measures" Wong Fei-Hung.
Some Hong Kong film fans complained that Biao Yuen was just to weak in this film, but we felt that this only added to the greatness of the film because when Mousey is finally forced to fight he discovers his true abilities and saves the day. It is amazing that Biao was able to stay in character throughout this film, even during the very long and very strenuous fight scenes, scenes which we rarely see anymore. Well done, Biao Yuen!
Dreadnaught (1981) is really a great film and we highly recommend it!