Tak-hing Kwan was born on June 27, 1905 in Guangzhou, China. He was a Hong Kong actor who played the role of martial artist folk hero Fei-hung Wong in at least 77 films, between the 1940s and the 1980s. He is the only person in cinema history to have portrayed the same person so many times. He made over 130 films in his lifetime. In 1955, he was elected to chairman of Chinese Artist Association of Hong Kong. He was awarded the Member of the Order of the British Empire (MBE) in 1983. During World War II Tak-hing was in a troupe of patriotic entertainers and had a price put on his head by the Japanese.
The father of Tak-hing Kwan died when Tak-hing was very young and Tak-hing worked to help support the family. He worked as a cowherd until he was 12 years old, then worked in construction until he was 13 when he took a job as a waiter in a restaurant in Singapore. He eventually joined a Cantonese opera troupe under Cheng Hsin-pei.
Tak-hing Kwan film debut was in The Singing Lovers (aka Romance of the Songsters). The movie was made in the U.S. for Grandview Studios and it is only the second Cantonese-language talkie ever made. His first starring roles came two years later in Song of the Yesterday (aka Yesterday's Song) and Song of Sadness (Cange). Both were released in 1935.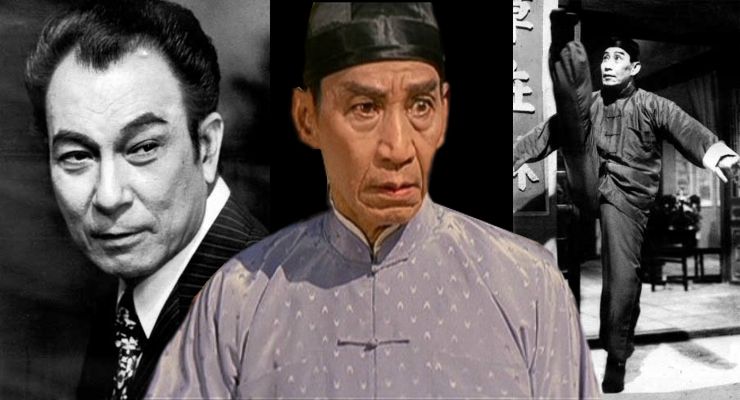 Tak-hing Kwan's first martial arts film was Knight of the Whip (1936). The Story of Huang Feihong Part 1 (1949) was the first film in which he starred as Fei-hung Wong. The film was directed by Wu Pang and produced by the Yong Yao Film Company. The film included Shih Kien as the villain and Li Lan. Li Lan was the very first winner of the Miss Hong Kong Pageant, and the first of many winners who became famous actresses in Hong Kong. The partnership between these talented individuals allowed for huge success and together they explored new ideas and situations which were later used in sequels and other action films. In 1956 alone, a total of 25 Fei-hung Wong films were released.
Tak-hing Kwan actually worked on films with two of the students of Lam Sai-wing (himself a student of the real Wong Fei-hung. First, Leong Wing-hang, who worked as action director on Wong Fei-hung films as well as other Kwan vehicles including The Five Heroes' Deadly Spears (1951). Later he worked with Lau Cham, father of Lau Kar-leung and Lau Kar-wing.
In 1970, Kwan went into semi-retirement as there were no Fei-hung Wong films being made. He opened a martial arts school and a number of herbal centers, whose soup, and an ointment for bruises, were well known in Hong Kong. It wasn't until 1974, when Golden Harvest revived the role of Fei-hung Wong, that Tak-hing Kwan came out of retirement. He was then paired with Sammo Hung in The Skyhawk. Other films followed allowing Kwan to play his most familiar role. These included Magnificent Butcher (1979), Magnificent Kick (1980), and Dreadnaught (1981). In 1976, Hong Kong's Television Broadcasts Limited (TVB) also aired a 13-part television series featuring Kwan Tak-hing as Wong Fei-hung. He was now in his 70's, and although he was doubled for the more athletic scenes, he was still in very good shape and remarkably fit and flexible.
In 1986 Tak-hing Kwan appeared in cameo roles in The Family Strikes Back and Aces Go Places 4 (both 1986). His final film appearance was in the 1994 family comedy film It's a Wonderful Life!. He was 89, and he had been acting for some 61 years.
Tak-hing Kwan died on June 28, 1996 of pancreatic cancer. He was 92 years old. Bey Logan, in an audio commentary for the film The Magnificent Butcher, tells us that there is a grave marker for Tak-hing Kwan in Kowloon territory, but that Tak-hing Kwan's ashes were taken to San Francisco to rest with those of his second wife, who he met while raising money for the Chinese war in the U.S.
Source: Wikipedia