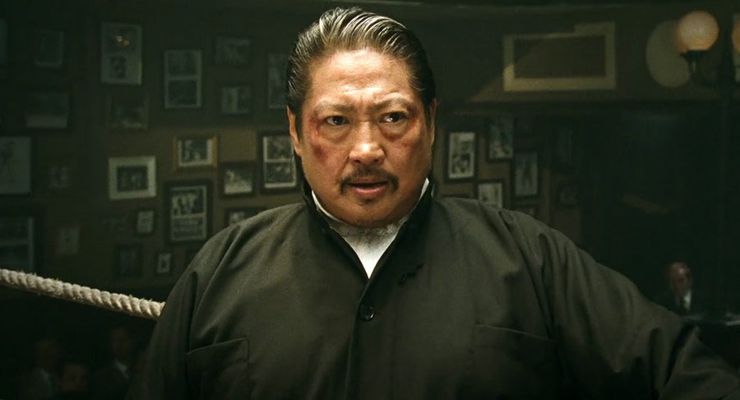 Sammo Hung is a Hong Kong actor, martial artist, film producer and director who has starred in over 75 films and worked in 230 films as either director or action director, fight choreographer, or stunt coordinator. He is known for his work in martial arts films and Hong Kong action cinema. He has collaborated with Bruce Lee, Jackie Chan, King Hu, and John Woo, all superstars of their fields in the action film genre.
Born in Hong Kong on January 7, 1952, Sammo Hung (Hung Kam-bo) began his acting career while training in acrobatics, martial arts and dance as a child at the China Drama Academy in Hong Kong. This Peking Opera school was run from a small theatre in the Lai Chi Kok amusement park in Kowloon by Master Yu Jim Yuen. Master Yuen was a northern kung fu practitioner and a very stern teacher. Children were usually enrolled in the academy for a 7 to 10 year period and Master Yuen taught them the acrobatic and acting skills that would later carry them into Chinese Theatre and action films. Students of the opera school all adopted their sifu's given name "Yuen" as their family name. Sammo Hung received acclaim for his performance with a Master Yuen's Peking Opera troupe called "The Seven Little Fortunes." Peers of Sammo Hong's from the academy are some of Hong Kong's top action film talents including Jackie Chan, Yuen Biao, Corey Yuen, Yuen Wah, Yuen Tak, and Yuen Bun.
On a side note, Sammo Hung was first called Sammo in Hong Kong because he resembled a popular Chinese cartoon character. The character's name was "Sam Mo" which in Cantonese means "three hairs," and "Sam Mo" had only three hairs.
Sammo Hung came from a family of entertainers. He is the grandson of actress Szu-ying Chien and writer/director Chung-Ho Hung. Before he was even a teeager, Sammo Hung made his feature film debut as an actor and he has continued to work in numerous martial arts films not only as an actor, but as a director, producer and choreographer.
Sammo Hung is internationally known as a pioneer and trend-setter in Hong Kong action films where he helped spearhead the Hong Kong New Wave movement of the 1980's with his film about a commando raid in Vietnam, Eastern Condors. He also helped reinvent the martial arts genre and started the vampire-like Jiang Shi genre. He is also credited with helping his fellow entertainers by giving them acting, stunt or production jobs in his films. He helped launch the careers of international stars Yuen Biao, Michelle Yeoh, Andy Lau and Cynthia Rothrock.
Sammo Hung's big break as a film actor came when he accepted the role as a sparring partner in the Bruce Lee film Enter the Dragon in 1973. Later he was asked by Golden Harvest to step in as fight choreographer for the unfinished Game of Death after Bruce Lee died. To finish the movie it was necessary to couple pre-existing sequences that had already been shot by Lee with new sequences using a stunt double and this allowed Game of Death to be completed.
In 1977 Sammo Hung made his film directorial debut with the film The Iron Fisted Monk. In 1978 Sammo starred in and directed a tribute to his friend and star, Bruce Lee, with the comedy "Enter The Fat Dragon". These two movies, along with Jackie Chan's "Snake In Eagle's Shadow" and "Drunken Master", started the kung fu comedy genre, which soon became a mainstay of Hong Kong cinema. With the movies, "Encounters Of The Spooky Kind", which he starred in and directed , and "Mr. Vampire," which he produced, he created and popularised the comedy kung fu horror genre.
He had already established his reputation as a skilled physical comedian in 1978 with "Enter the Fat Dragon" (Fei Lung gwoh gong). He continued n the 1980's by adding more comedies, which included the box office smash movie Winners and Sinners. This film included the Lucky Stars, a group of comedians including Sammo Hung, Jackie Chan and Yuen Biao. They were also know as the Golden Trio. They would continue to collaborate on other films, including Meals On Wheels, which, it is says by Inside Kung Fu Magazine, has the best fight scene put on film between Jackie Chan and Benny "The Jet" Urquidez.
Many of the successful films that Sammo Hung produced and starred in throughout the 1970s and 1980s were made for Hong Kong's leading film studio, Golden Harvest, who he worked with for over 20 years. A fall out over the movie Into the Fire caused them to part ways in 1991.
The 1994 film Ashes Of Time directed by Wong Kar Wai also caught the attention of the cinematic world and Sammo Hung was action sequence designer for the film.
The Jet Li film "Once Upon A Time In China And America" and then with Jackie Chan's "Mr. Nice Guy" were two more films directed by Sammo Hung and both not only topped the Hong Kong box office, but Mr. Nice Guy was the highest budgeted Hong Kong film of its time and was a co-production with New Line Cinema.
Sammo Hung worked on two American Jean-Claude Van Damme movies, Double Team (1997) and Knock Off (1998), as special action director and 2nd unit director.
From 1998 to 2000, Sammo Hung starred in an American TV series, Martial Law, with Arsenio Hall. The show was a success and Sammo Hung turned out to be the only East Asian who headlined a prime time network series.
In 2001 Sammo Hung starred in The Legend of Zu (2001), or Zu Warriors, the long-awaited sequel to the 1983 hit Zu Warriors from the Magic Mountain. In Kung Fu Hustle (2004), Sammo Hung did the preliminary martial arts choreography but he left the film for personal reasons in the middle of the movie and did not receive credit for his work. He played the legendary folk hero Wong Fei Hung in Jackie Chan's Disney's Around the World in 80 Days a character played by Jackie Chan in the Drunken Master series.
In 2005, Sammo Hung played Kong Long in Daniel Lee's Dragon Squad and in Wilson Yip's Sha Po Lang (aka Kill Zone) he played a villain for the first time in over 25 years, and had his first ever fight scene against Donnie Yen.
Sammo Hung's role as the adoptive father of Wu Jing was one of the key relationships in Sha Po Lang. Hung's scenes were dropped from the final film as the director couldn't find a way to fit them in. In response to this, a prequel film was planned. Hung starred alongside Wu Jing again in 2007's martial arts action comedy Twins Mission. In early 2008, Hung starred in Fatal Move, in played a rival triad gang leader along with Ken Lo . Hung also starred in, and performed action choreography for, Daniel Lee's Three Kingdoms: Resurrection of the Dragon, with Andy Lau and Maggie Q. The film, was based on the book Romance of the Three Kingdoms.
In October 2008, Antony Szeto's film, Wushu, starring Sammo Hung, premiered in Beijing. Wushu was unveiled by Golden Network Cannes Film Festival in 2008. Jackie Chan was the film's executive producer, and he also worked on the film as an advisor, assisting with casting and marketing the film. Sammo Hung worked once again with director Wilson Yip and star Donnie Yen, as the action director for the 2008 film Ip Man.
Sammo Hung received a Star Asia Lifetime Achievement Award to honor his legacy of onscreen work at the 2010 New York Asian Film Festival, where four of his films were shown. IP Man was shown. Sammo Hung choreographed the action in Ip Man. He co-starred in the festival's official opening night film, Ip Man 2, as Hung Gar master who challenges Ip Man. Also shown was the action-cooking-comedy Kung Fu Chefs in which he starred. The Festival also had a special screening of Hung's 1987 Vietnam War movie, Eastern Condors, and before the screening Sammo Hung chatted onstage about his career.