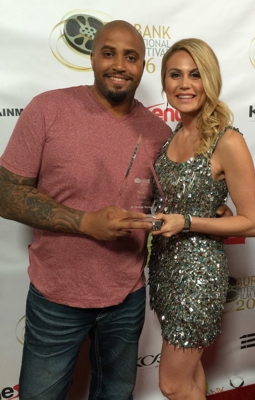 R Marcos Taylor is an American martial artist, actor, stuntman, and fight choreographer. He can be seen in numerous television shows and films including Above the Shadows (2019) Dead Man Down (2013), Life of Crime (2013), Hostages (2013-2014), Sons of Anarchy (2014), The Martial Arts Kid (2015), Straight Outta Compton (2015),  Gotham (2016), Luke Cage (2016), and Paying Mr. Getty (2016) for which he won Best Actor in a Action/Comedy at the 2016 Burbank International Film Festival.
At five years old, R Marcos Taylor wanted to be Superman. When he realized that this couldn't happen, he decided that learning karate was the next best thing. Marcus went on to earn a black belt in Karate, and along the way he developed a love for many different martial arts. In addition to karate, Marcos has trained intensively in Taekwondo, Muay Thai, Capoeira, and Hapkido, and he has more than twenty years of training in these arts. Marcos holds the rank of Kru in Muay Thai. Marcus also trains in several other martial arts including Kung Fu, Boxing, Judo, Ninjitsu, and Gracie Jui Jitsu. He has fought in tournaments and won titles including the New Jersey State Taekwondo Champion 1994, YB Choi Taekwondo Invitational Champion 1995, and the Muay Thai Warriors Cup Super-Heavy Weight Champion 2010.
R Marcos Taylor has worked as a certified personal trainer, gym owner, professional fighter, and bodyguard, and has taught martial arts and self-defense locally and internationally for the last twenty-four years.
R Marcos also works as an actor and stuntman. His strongest areas are fight scenes, stunt doubling, choreography, and stunt falls.
Paying Mr. McGetty Trailer
R Marcos Taylor in Blue Blood – Acting
R Marcos Taylor on Nurse Jackie – Acting
Becoming Superman was unrealistic, but R Marcos Taylor found the study of martial arts was far more rewarding and that is why he has spent over 30 years in martial arts and why he is hopes for many more years of training in, and teaching, the arts he loves.
Filmography
Stunts (21 credits)
2016 Luke Cage (TV Series) Amos (and stunts – 4 episodes)
2016 Code of Honor (Stunts)
2015 Straight Outta Compton Suge Knight (as R. Marcus Taylor)
2015 Gotham (TV Series) (stunt performer)
2014 The Martial Arts Kid Scam Artist (and stunts) (post-production)
2014 Sons of Anarchy (TV Series)
Poor Little Lambs (2014) … East Dub #4 (uncredited)
2014 Teenage Mutant Ninja Turtles (stunt performer) (post-production)
2014 Broken Angels (action coordinator) / (fight choreographer)
2014 The Following (TV Series) (stunts – 1 episode)
– The Reaping (2014) … (stunts)
2014 Revolution (TV Series) (stunts – 1 episode)
Dreamcatcher (2014) … (stunts – uncredited)
Hostages (TV Series) (stunts – 11 episodes)
Endgame (2014) … (stunts – uncredited)
Suspicious Minds (2014) … (stunts – uncredited)
Fight or Flight (2013) … (stunts – uncredited)
The Cost of Living (2013) … (stunts – uncredited)
Off the Record (2013) … (stunts)
Burden of Truth (2013) … (stunts)
Loose Ends (2013) … (stunts)
The Good Reason (2013) … (stunts)
Hail Mary (2013) … (stunts)
Sister's Keeper (2013) … (stunts)
Truth and Consequences (2013) … (stunts – uncredited)
2013 Force of Execution (stunt double)
2013 Agents of S.H.I.E.L.D. (TV Series) (stunts – 1 episode)
The Bridge (2013) … (stunts)
2013 Eastbound & Down (TV Series) (stunt double – 1 episode)
Chapter 28 (2013) … (stunt double: Dontell Benjamin)
2013 Person of Interest (TV Series) (stunts – 2 episodes)
Mors Praematura (2013) … (stunts – uncredited)
Relevance (2013) … (stunts – uncredited)
2013 Life of Crime (stunt performer) / (stunts)
Golden Boy (TV Series) (stunt performer – 6 episodes, 2013) (stunt double – 1 episode, 2013)
Next Question (2013) … (stunt performer – uncredited)
Longshot (2013) … (stunt performer – uncredited)
Sacrifice (2013) … (stunt performer – uncredited)
Atonement (2013) … (stunt performer – uncredited)
Scapegoat (2013) … (stunt double: Detective Don Owen – uncredited)
Vicious Cycle (2013) … (stunt performer – uncredited)
Pilot (2013) … (stunt performer – uncredited)
2013 Dead Man Down (stunts)
2012 CSI: NY (TV Series) (stunts – 2 episodes)
Late Admissions (2012) … (stunts – uncredited)
\Clue: SI (2012) … (stunts – uncredited)
2012 Blue Bloods (TV Series) (stunts – 2 episodes)
Greener Grass (2012) … (stunts)
The Life We Chose (2012) … (stunts)
2012 White Collar (TV Series) (stunts – 1 episode)
Honor Among Thieves (2012) … (stunts)
2011 Black Jack (TV Movie) (stunt performer)
2011 How to Make It in America (TV Series) (stunt double – 1 episode)
I'm Good (2011) … (stunt double)
Actor (17 credits)
2017 Girl from Compton (TV Movie) (filming)
Suge Knight
2017 Baby Driver (post-production)
Armie
2016 Paying Mr. Getty
Tyrell
2016 Luke Cage (TV Series)
Amos
2016 Sunset Park (post-production)
Tattoo
2016 Code of Honor
Enforcer 2
2016 Jackson Bolt
Abrafo
2016 Enter the Fist and the Golden Fleecing
Customer Surveyor
2015 Wild for the Night
Bould (as R. Marcus Taylor)
2015 Straight Outta Compton
Suge Knight (as R. Marcus Taylor)
2016 Dark Military (post-production)
Chief Pillman
2014 The Martial Arts Kid (post-production)
Scam Artist
2014 Broken Angels
Mike McKenzie
2014 The Following (TV Series)
Lily Guard
The Reaping (2014) … Lily Guard
2014 Revolution (TV Series)
Patriot #2
Dreamcatcher (2014) … Patriot #2 (uncredited)
2013 Hostages (TV Series)
Tough Guy
Truth and Consequences (2013) … Tough Guy (uncredited)
2013 The Blacklist (TV Series)
US Marshall
The Courier (2013) … US Marshall
2013 Life of Crime
Borsalino
2013 Nurse Jackie (TV Series)
Illustrated Man
Forget It (2013) … Illustrated Man
2013 Project Genesis (TV Mini-Series)
John
2013 Dead Man Down
Harry's Jamaican #5
2013 Person of Interest (TV Series)
Grisham Thug
Relevance (2013) … Grisham Thug (uncredited)
2012 Blue Bloods (TV Series)
Felix The Doorman
The Life We Chose (2012) … Felix The Doorman
2011 Black Jack (TV Movie)
Terrorist #1